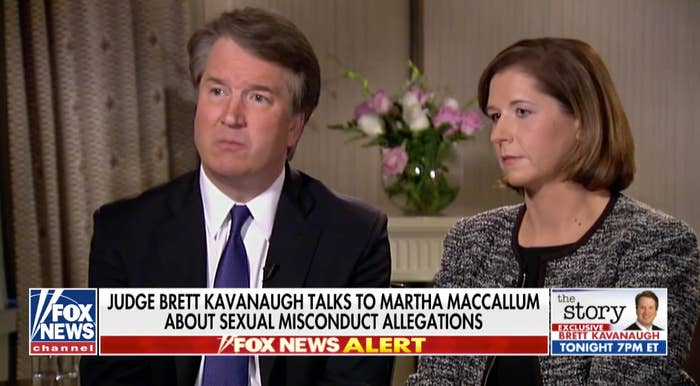 Supreme Court nominee Brett Kavanaugh has once again denied he ever sexually assaulted anyone, telling Fox News in an interview Monday he won't let false allegations "drive [him] out of this process."
The interview was an unusual move for a candidate hoping to be confirmed to the high court, and came after two women accused Kavanaugh of sexual misconduct. In light of the allegations, Democrats have called for his nomination hearings to be postponed, or that his name be withdrawn completely.
Seated beside his wife, Ashley Estes Kavanaugh, the nominee told Fox News' Martha MacCallum that he wasn't going anywhere, and demanded repeatedly — 17 times to be exact — for a fair process.
"I'm not going to let false accusations drive us out of this process, and we're looking for a fair process where I can be heard and defend my integrity — my lifelong record," he said. "My lifelong record of promoting dignity and equality for women, starting with the women who knew me when I was 14 years old. I'm not going anywhere."
But Kavanaugh dodged a question on whether the FBI should investigate the allegations, saying simply that he wanted to be heard.
A Senate Judiciary Committee hearing is scheduled for Thursday to hear testimony from Kavanaugh and Christine Blasey Ford, a Palo Alto University professor who has said the judge assaulted her when they were teenagers.
"The truth is I've never sexually assaulted anyone, in high school or otherwise," Kavanaugh said Monday. "I am not questioning, and have not questioned, that perhaps Dr. Ford at some point in her life was sexually assaulted by someone at some place, but what I know is I've never sexually assaulted anyone."
Kavanaugh added that he was a virgin in high school and for "many years after" when asked to respond to the sexual misconduct allegations.
Ford has said that Kavanaugh and his friend pushed her into a bedroom at a high school party in the 1980s. Kavanaugh held her down, she has claimed, covered her mouth so she couldn't scream, and tried to take off her clothes.
"I was never at any such party," Kavanaugh told Fox News. "The other people who alleged to be present have said they do not remember any such party. A woman who was present, another woman who was present who was Dr. Ford's lifelong friend, has said she doesn't know me and never remembers being at a party with me at any time in her life."
He also denied exposing his penis at a Yale University party, which has been described by Deborah Ramirez. Ramirez said she was drunk at a party when someone put their penis in her face, which she had to push away. Though she can't recall some details of that night, Ramirez said she remembers Kavanaugh pulling up his pants and laughing.
"I know I never did that," Kavanaugh said. "If I had done that, it would have been the talk of campus."
The New Yorker reported that one classmate said he thought about the alleged incident many times over the years, whenever Kavanaugh was in the news. Another told the New Yorker he had heard the story, but didn't know the woman student was Ramirez.
Kavanaugh admitted he drank alcohol in high school — his yearbook jokingly listed him as treasurer of the Keg City Club — but in response to questions from MacCallum, he said he never drank so much that he couldn't remember his actions.

"Yes, people might have had too many beers on occasion," he said. "I think all of us have probably done things we look back on in high school and regret or cringe a bit, but that's not what we're talking about."
His wife added she never doubted him, pointing to the 17 years they've known each other.

"He's decent," she said. "He's kind. He's good. I know his heart."
Kavanaugh added that he had spoken to President Trump earlier on Monday, and said that the president continued to support his nomination. Late Monday, Trump tweeted that the accusations made against Kavanaugh were "False."