Blue Bell Is Recalling All Of Its Products Over Listeria Fears
Chocolate chip cookie dough ice cream samples tested positive for listeriosis, the company said Monday, after an outbreak first prompted a recall last month.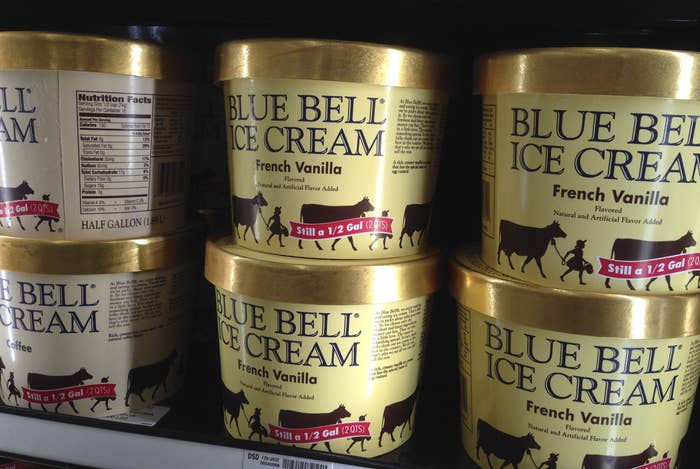 Blue Bell Creameries announced Monday the company is recalling all of its products on store shelves nationwide because of a potential for listeria contamination.
The company first recalled several of its products in March after three people in Kansas died. The recall expanded earlier this month to include five other people who had become ill with the same strain of listeria.
The outbreak was originally linked to several products made at a plant in Oklahoma, but the company said Monday's decision came after listeria was found elsewhere — half gallons of chocolate chip cookie dough ice cream produced March 17-27. Several tests showed listeria to be present in different places and plants, the company said.
The voluntary recall of all ice cream and other products was their attempt to do the right thing, the CEO of the Texas-based company said Monday. Blue Bell sells ice cream in 23 states and internationally.
"The best way to do that is to take all of our products off the market until we can be confident that they are all safe," Paul Kruse said in a statement.
"We are heartbroken about this situation and apologize to all of our loyal Blue Bell fans and customers," Kruse continued. "Our entire history has been about making the very best and highest quality ice cream and we intend to fix this problem."
The company said it was unsure how the bacteria was introduced, so it decided to take the recall company-wide. Customers should return any ice cream, frozen yogurt, or other products to the store they were purchased for a refund.
Going forward, products will only be sold after they are tested to be safe, the company said, and the Oklahoma plant will remain closed while it's investigated. Sanitation, testing, and employee training will also be increased. Limited distribution of Blue Bell products is expected to resume soon, the company said.
"We want enjoying our ice cream to be a source of joy and pleasure, never a cause for concern, so we are committed to getting this right," Kruse said.