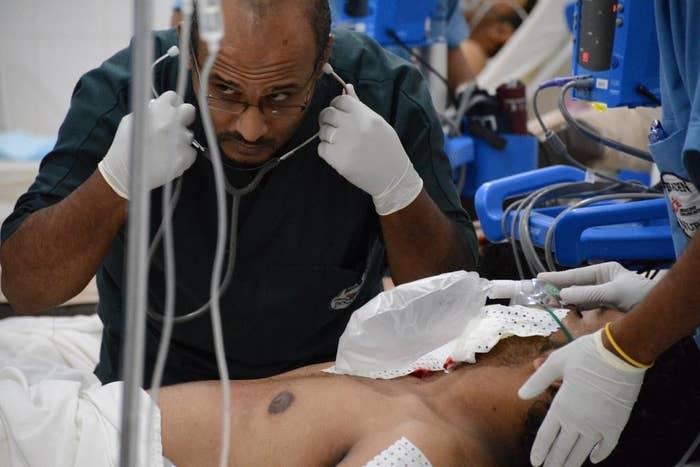 Eleven people were killed and at least 24 others wounded after an airstrike hit a hospital in war-torn Yemen on Monday afternoon. An additional three people died from their injuries late Monday, increasing the death toll to 14.
The Medecins Sans Frontières (MSF), or Doctors Without Borders, facility in Hajjah had housed a maternity ward, emergency room, and surgery, the group said. Nine people — including a staff member — were killed immediately, and two others died as they were transported to another hospital, the group said.
The group said it was outraged by what was the fourth attack on an MSF facility in the last 12 months.
"People in Yemen continue to be killed and injured while seeking medical care," Teresa Sancristóval, MSF emergency program manager for Yemen, said in a statement. "The violence in Yemen is having a disproportionate burden on civilians. We want to express our outrage at having to send condolences once more to the families of our staff member and 10 patients, who should have been safe inside a hospital."
The group added that it had repeatedly shared the location — including GPS coordinates — of its hospital with all parties to the ongoing conflict. It blamed the strike on a Saudi-led coalition.
"MSF asks all parties and particularly the Saudi-led coalition responsible for the attack to guarantee that such attacks do not happen again," the group said.
Over the past weeks, the hospital had seen an increase in patients with war-related wounds, the group said. At the time of the airstrike, 23 people were in its surgery unit, 25 people and 13 newborns in its maternity ward, and 12 others in its pediatric facility. The number of people in its emergency room was still being determined.
In spite of a recent resolution by the United Nations condemning violence against medical facilities, Sancristóval said nothing had been done by international leaders to protect medical facilities in Yemen.
"Without action, these public gestures are meaningless for today's victims," she said. "Either intentional or as a result of negligence, this is unacceptable."