Two more women accused Republican Senate candidate Roy Moore of sexual misconduct on Wednesday, bringing the number of women who have come forward to at least seven.
Tina Johnson told AL.com that Moore groped her in 1991 in his law office after she sought to hire him in a custody petition. Gena Richardson told the Washington Post he called her high school to ask her on a date in 1977 — then forced his tongue into her mouth during a kiss after they saw a movie.
Johnson's account was published by AL.com just moments after Moore's attorney held a press conference to discredit the accusations of another woman. The new accusation comes as Moore has faced increasing pressure from Republicans to prove his innocence or end his campaign. On Tuesday, Fox News host Sean Hannity gave an ultimatum that Moore must show evidence of his innocence by Wednesday night or lose Hannity's support.
"You must remove any doubt," Hannity said. "If Judge Moore can't do this, then he needs to get out of this race."
Johnson told AL.com that she was 28 years old when she and her mother went to Moore's law office in Gadsden, Alabama. They were seeking to hire Moore to handle a custody petition involving Johnson's 12-year-old son, she said.
Moore, who was married, began flirting with Johnson, repeatedly commenting on her appearance, and asking if her young daughters were as pretty as she was, she told AL.com. The comments made her uncomfortable, she said, as did how close Moore sat next to her.
As she and her mother left the office, Moore came up behind her and grabbed her butt, she told AL.com.

"He didn't pinch it; he grabbed it," Johnson said, adding that she was so shocked she didn't say anything in response.

The other woman, Richardson, told the Washington Post she was working at the Gadsden Mall's Sears when she met Moore as a high school senior in 1977. The then-30-year-old attorney asked her to give him her phone number, but she declined, saying her Southern Baptist minister father wouldn't approve, she told the Post.
He called her high school a few days later and again asked her out, she told the Post. They met to see a movie, and afterward, as she was trying to leave, he grabbed her and kissed her, she said.
"It was a man kiss — like really deep tongue," she told the Post. "Like very forceful tongue. It was a surprise. I'd never been kissed like that. And the minute that happened, I got scared then. I really did. Something came over me that scared me. And so I said, 'I've got to go, because my curfew is now.'"
Meanwhile, an attorney for Moore called for an investigation of the claims made by Beverly Young Nelson, who said the candidate groped and assaulted her in 1977, when she was 16.
At a press conference on Monday with attorney Gloria Allred, Nelson showed her yearbook, which featured a message calling her "beautiful" and was signed with Moore's name. Moore denied her allegations to reporters on Monday night.
"I can tell you without hesitation this is absolutely false," he said. "I never did what she said I did. I don't even know the woman. I don't know anything about her."

Within Alabama, Moore's religious supporters have been ready to take him at his word. But an increasing number of Republicans have called for him to step aside in his pursuit for Alabama's open Senate seat. And while President Trump has yet to take a stance on the accusations of misconduct, his daughter Ivanka Trump told the Associated Press on Wednesday she believed the women who had come forward.
"There's a special place in hell for people who prey on children," she told the AP. "I've yet to see a valid explanation and I have no reason to doubt the victims' accounts."
On Wednesday, Moore's longtime attorney Phillip Jauregui sought to provide hard evidence that the women were lying. Speaking outside the white brick building that serves as Alabama GOP headquarters, he called for Nelson's yearbook to be turned over for review by handwriting experts.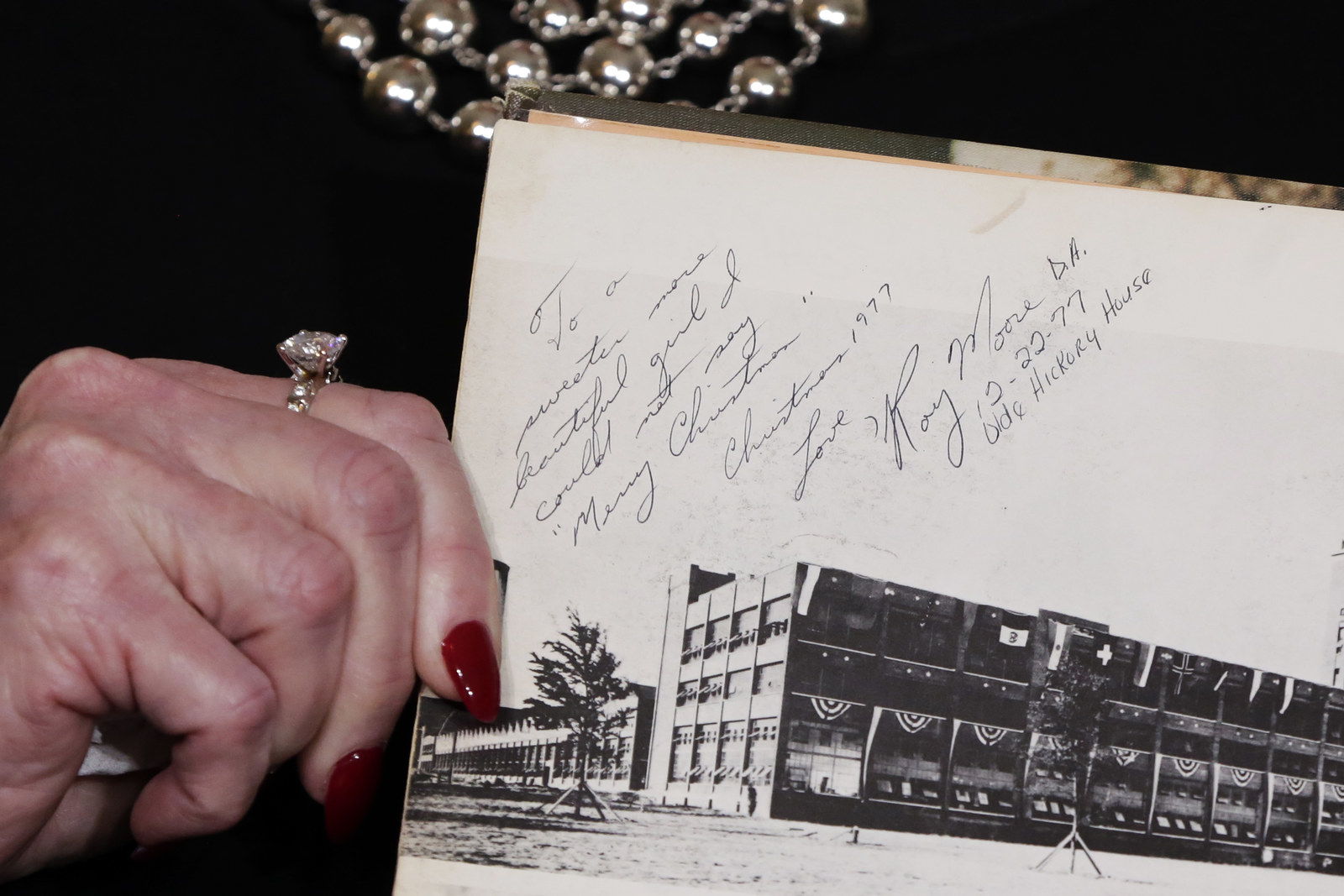 "Look at the 1977 after 'Merry Christmas.' Look at these two 7's and then look below at the '77," he told reporters. "And I want to ask you, do you think it was written by the same person?"
Jauregui also said that Nelson had sought a divorce in 1999 in Etowah County; the judge in the case was Moore. Jauregui accused Nelson of lying about not having contact with Moore since the alleged assault when she was a teenager. And he linked the yearbook message — signed "Roy Moore D.A." — to her divorce papers.
"Judge Moore can't ever remember signing his name with D.A. after it, but he had seen it before," Jauregui said. "You know where he had seen it? When he was on the bench, his assistant, whose initials are D.A., Deborah Adams, would stamp his signature on documents and put D.A. That's exactly how the signature appears on the divorce decree that Judge Moore signed, dismissing the divorce action with Ms. Nelson."
Jaregui left without taking questions — though reporters shouted several, including asking for an explanation of why Moore earlier denied knowing Nelson. Moore campaign chair Bill Armistead stayed for a moment longer to hand out visual aids: a copy of Nelson's divorce case and a copy of a Business Insider article with a blown-up photograph of Moore's alleged signature in Nelson's yearbook.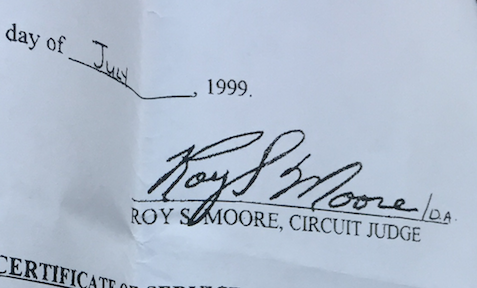 Allred responded to Moore's attorney in a phone call to CNN. Allred has requested the Senate Judiciary and Ethics Committee hold a hearing on Moore's conduct, and she said Nelson has volunteered to testify under oath if such a hearing takes place. Under that type of professional setting, Allred said they'd also agree to have the yearbook examined by an independent expert.
"The time has come for Roy Moore to announce whether he is willing to be examined under oath concerning his conduct with regard to the five accusers before the Senate committee," she said. "And we're looking forward to the Senate's response and his response to that question."
Shortly after Johnson's account was published, the Moore campaign released statements from 12 women who praised his character and conduct toward them. They included family friends, relatives, his former receptionist, and a former girlfriend.
"NEVER did he in any way make me feel uncomfortable, flirt, or make advances towards me," wrote Elaine Conner Watson, who worked in an office adjoining Moore's when she was 16. "He was always a kind and respectable man. We are still friends to this day and I would put my life in his hands if need be."

Moore also wrote an open letter to Hannity on Wednesday, reiterating the points his lawyer had made about the yearbook and his contact with Nelson during her divorce case. He called for voters to judge him by his career of public service and questioned the timing of the accusations so close to the election.
"I adamantly deny the allegations of Leigh Corfman and Beverly Nelson, did not date underage girls, and have taken steps to begin a civil action for defamation," Moore wrote. "Because of that, at the direction of counsel, I cannot comment further."