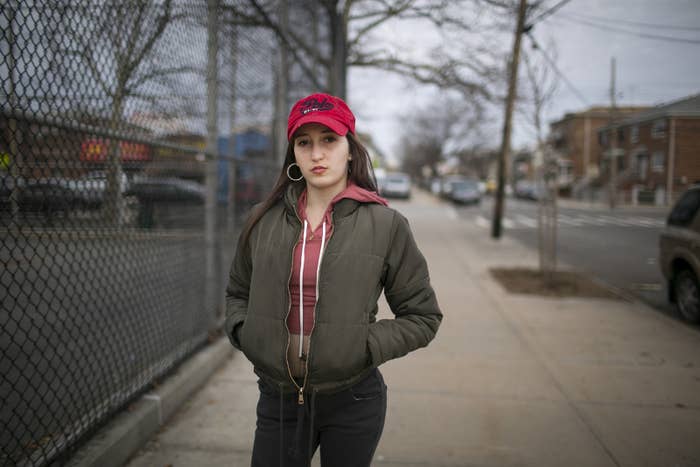 Rape charges were dropped Wednesday against the two former New York Police Department officers accused of assaulting an 18-year-old woman in the back of a police van.
The Brooklyn District Attorney's Office in a statement cited "serious credibility issues" in its case regarding Anna Chambers, who told investigators and BuzzFeed News that she and friends were confronted in September 2017 by two officers for alleged marijuana possession. Her friends were let go, and Chambers said she was handcuffed and placed in the back of a police van, where the officers took turns raping her.
Surveillance video showed the officers later dropping Chambers off, and a rape kit found semen matching the DNA of detectives Eddie Martins and Richard Hall. The officers resigned from the NYPD, and in October 2017, they were charged with 43 crimes, including rape and kidnapping.
But on Wednesday, those charges were dropped, and Martins and Hall will face trial only for taking bribes and official misconduct — counts that don't relate to what Chambers, now 20, said she experienced.
"It's outrageous. It's shocking that these rapists can get off the hook," Chambers' attorney Mike David told BuzzFeed News. "It's just unbelievable."
The former officers did not refute the DNA evidence as the case proceeded, but their attorney, Mark Bederow, told BuzzFeed News that the men did not rape Chambers and said she had lied in several statements.
Wednesday's news brought relief to his clients, but Bederow said he believed Chambers' statements were red flags that should have prevented prosecutors from ever pursuing rape charges.
"We're also frustrated because they never should have been brought in the first place," he said.

The defense's suggestion, that Chambers consented to sex with the officers while she was under arrest, was legal in 2017 in New York and 34 other states. Chambers has said she told the officers no, and her attorney added to BuzzFeed News that the power dynamics of the situation — two police detectives versus a 5-foot, 2-inch tall teenager who'd been handcuffed — do not allow the possibility for consent.
"You cannot consent to sex under those circumstances," he said.
Since BuzzFeed News' story highlighting her case, the New York legislature passed a bill specifying that a person in police custody cannot consent to sex with an officer.
Prosecutors in Brooklyn on Wednesday said they believe that sexual conduct between an officer and a person in custody should be a crime.
"However, that was not the law at the time of the incident," the District Attorney's Office said in a statement. "Because of this and because of unforeseen and serious credibility issues that arose over the past year and our ethical obligations under the rules of professional conduct, we are precluded from proceeding with the rape charges."

David, Chambers' attorney, denied that she had lied and characterized the focus on credibility issues as an attempt to take attention away from the evidence of rape. He added the District Attorney's Office had turned against his client when she refused a plan to bring lesser charges against the former officers; she wanted to go to trial for rape.
"She decided to speak out, and they shut it right down," David said. "It's a very bad message to future victims of sexual violence, especially against law enforcement."
Chambers previously told BuzzFeed News that she wanted to come forward to hold police accountable and encourage other victims to speak out. On Wednesday, her attorney said she was in tears.
"She spoke out about what happened to her, and they shamed her, smeared her, demeaned her. And now they even dropped the charges," he said.
Martins and Hall are scheduled to return to court May 8 on the misconduct and bribery charges. David said he would also be asking the US Attorney's Office to pursue a federal civil rights violation case on Chambers' behalf.
He added he'd like to see legislatures in every state, as well as the federal government, change laws regarding consent and people in custody — something that Chambers' case proves is necessary.
Even Bederow acknowledged the impact the case had.
"The law has changed as a result of this case," he said. "That's a fact."
But outside the bigger debate about consent, he maintained the former officers were not guilty.
"There was no rape in this particular case," he said.