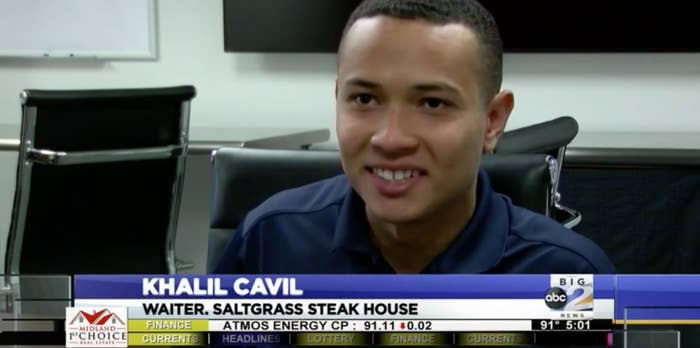 A Texas waiter who claimed a customer left a racist note instead of a tip is out of a job after admitting he lied about what happened.
Khalil Cavil, 20, shared a photo on Facebook last week, showing a $108.73 check from his job at Saltgrass Steak House in Odessa. On the receipt, his name — Arabic for "friend" — was circled with the comment "We don't tip terrorist."
In his Facebook post, which has now been deleted, Cavil said he wanted to make people aware of racism. The image went viral, and he spoke with local media outlets about his intent to remain positive in the face of hatred.
But on Monday, his employer and Cavil himself said the story was fake.
"After further investigation, we have learned that our employee fabricated the entire story," Saltgrass chief operating officer Terry Turney said in a statement to BuzzFeed News.
Cavil admitted he had lied to the Odessa American, and he apologized.
"I did write it," Cavil told the newspaper. "I don't have an explanation. I made a mistake. There is no excuse for what I did."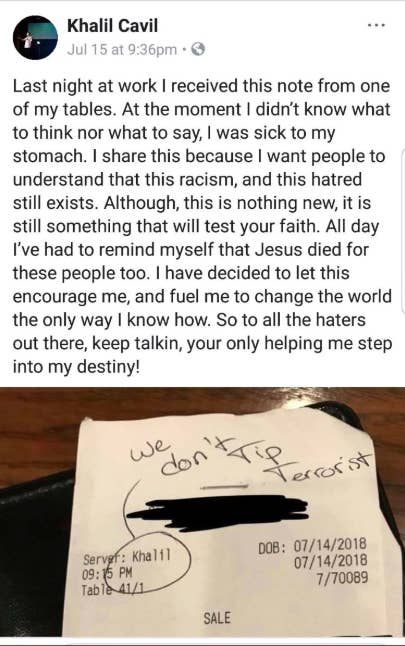 Cavil's lie sparked outrage and prompted messages of solidarity on social media as well as donations to make up for the lost tip.
"It was not about the money," Cavil told local TV station Big 2 before coming clean. "It was never about the money. It was about shedding light on an issue I'm passionate about."

In spite of his name, Cavil is not Muslim and does not have family ties to the Middle East. He told Big 2 his father named him after a friend from the military. In his initial Facebook post as well as interviews, Cavil spoke about his Christian faith.
"I had to think, what would Jesus do in this situation?" Cavil told Big 2. "I hope the [person] who left me that note finds Jesus. I hope he can experience the love that I've experienced from Jesus Christ."
Initially, Cavil's story drew support from his employer: Saltgrass Steak House banned the customer. After disclosing the full truth, Cavil no longer works there, the Odessa American reported, and the ban has been reversed.
"The customer has been contacted and invited back to our restaurant to dine on us," Turney said.
Turney added that the company does not tolerate racism.
"Racism of any form is intolerable, and we will always act swiftly should it occur in any of our establishments," Turney said. "Falsely accusing someone of racism is equaling disturbing."