Health and Human Services Secretary Tom Price on Wednesday applauded police officers who arrested a West Virginia reporter after shouting questions at him at the state capitol, saying the reporter "was not in a press conference."
"I want to commend the West Virginia capitol police, they did what they thought was appropriate," Price said during a press conference in New Hampshire where he was meeting with state officials over the opioid crisis. "It is important to appreciate that gentleman was not in a press conference. We were walking down the hall and the capitol police acted as they felt was necessary."
Price's comments came a day after Dan Heyman, a radio journalist for Public News Service, said he repeatedly asked Price about whether domestic violence could be a pre-existing condition under the proposed American Health Care Act. Price had been meeting with West Virginia lawmakers along with President Trump's counselor Kellyanne Conway to discuss opioid addiction.
Heyman was reportedly yelling the questions when he was stopped by police.
"I was recording audio on my phone, and I reached it out to him, past his staffers and other people who were with him, and I asked the question of him repeatedly," Heyman told other reporters on Tuesday night.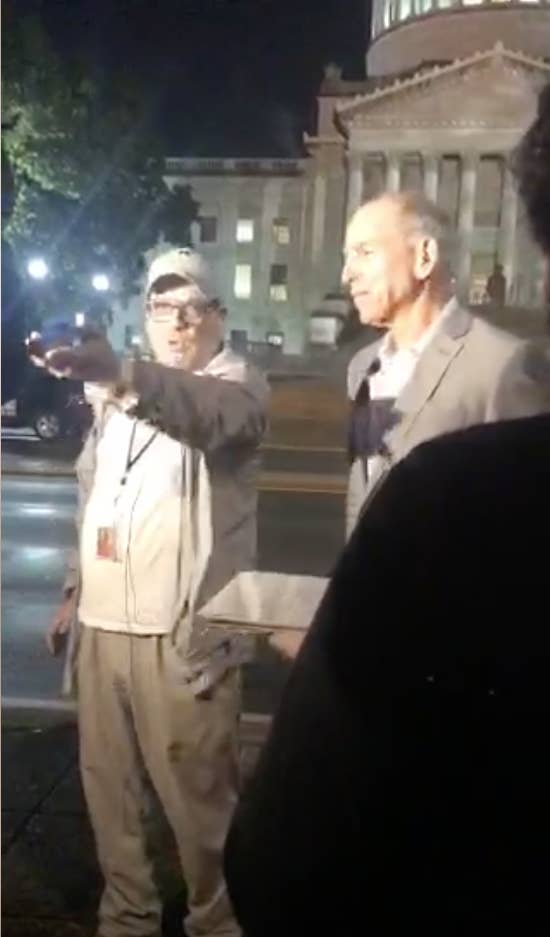 Price did not answer the question, and Heyman, who was wearing a press badge as well as a shirt with the Public News Service logo, said he was physically pulled aside by state police and arrested — without any warning from officers.
"First time I've been arrested for asking a question," said Heyman, who has been in journalism for 30 years. "First time I've heard of anyone being arrested for asking a question."
According to the criminal complaint, Heyman was "aggressively breaching the Secret Service agents to the point where the agents were forced to remove him a couple of times from the area walking up the hallway in the main building of the Capitol," WSAZ reported.
He was taken to jail and released after posting $5,000 bond. The West Virginia chapter of the American Civil Liberties Union became involved in publicizing his arrest.
"Our First Amendment rights are under attack every day, particularly under the Trump administration," West Virginia ACLU Legal Director Jamie Lynn Crofts said.
The misdemeanor Heyman is facing can be punished with a $100 fine and up to six months in jail, she added. Nothing in the statute covers what Heyman actually did, she said, and it's also overly broad.
"It certainly can't be constitutionally applied to a member of the press," she said.
Asked whether he felt it was appropriate to arrest the reporter, Price said, "that's not my decision to make."
The Department of Health and Human Services did not respond to a BuzzFeed News request for comment.
Heyman said what happened to him is nothing compared to what survivors of domestic violence face. But, he said, it sets a terrible precedent of how the government interacts with journalists.
"I think it's a terrible example. I think it's dreadful," he said. "This is my job. This is what I'm supposed to do. I am supposed to go and find out if someone is going to be affected by this health care law."