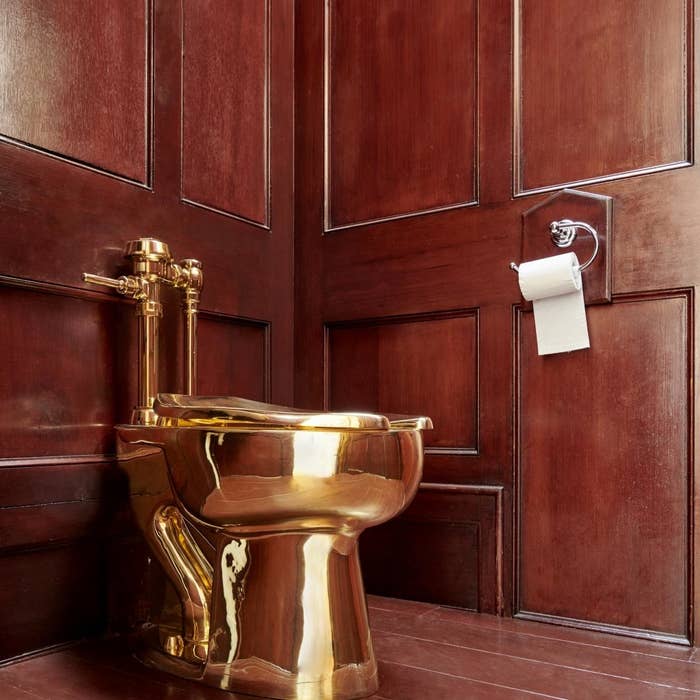 A solid gold toilet, created by an Italian artist and titled "America," was stolen from a UK art exhibit early Saturday.
A 66-year-old man was arrested in connection with the theft, according to the Thames Valley Police, but the investigation was ongoing on Sunday.
"We are making every effort to locate the offenders and the toilet that was stolen," Detective Inspector Jess Milne said in a police statement.

According to police, the toilet was taken from Blenheim Palace around 4:50 a.m. Saturday by suspects who broke into the historic building. Because the toilet was a functional piece of plumbing as well as art, its removal caused flooding and "significant damage," police said.
Authorities believe suspects fled in two vehicles.
The toilet is estimated to be worth $5 million, according to a Blenheim Palace estimate, and was created by Italian conceptual artist Maurizio Cattelan. Cattelan has described his 2016 work as "1% art for the 99%," a commentary on wealth inequality. The 18-karat crapper was previously installed in the bathroom at New York's Guggenheim Museum, and people waited for hours to get a chance to use it — or just take a great selfie.
Cattelan is known as a prankster within the art world, but he told the New York Times that the theft was entirely serious.
"I wish it was a prank," he told the Times in an email.
Blenheim Palace CEO Dominic Hare said he knew showing such a valuable piece carried a risk, but it was worth it to bring great art to visitors.
"It is deeply ironic that a work of art portraying the American Dream and the idea of an elite object made available to all should be almost instantly snatched away and hidden from view," he said in a statement. "We hope that the wonderful work of our dear friend Maurizio Cattelan becomes immortalized by this stupid and pointless act."