Two police officers were killed on Saturday in a helicopter crash not far from white supremacist demonstrations and counterprotests in Charlottesville, Virginia.
The crash took place around 4:50 p.m. in a wooded area near Birdwood Golf Course, about seven miles southwest of Charlottesville, authorities said.
Two state police officers on board the helicopter were killed, Virginia State Police said. No one on the ground was injured in the crash.
The victims were identified as Lt. H. Jay Cullen, 48, and Trooper-Pilot Berke M. M. Bates, 40.
Foul play is not suspected, Virginia State Police said.
Investigators said the helicopter did not make a distress call before crashing.
The chopper had taken off at 3:54 p.m. from Charlottesville and helped provide aerial video of the protests to law enforcement for about 40 minutes. It then was diverted to assist in the motorcade for Virginia Gov. Terry McAuliffe, who was traveling to the area, a spokesman for the National Transportation Safety Board said Monday.
State police and the NTSB are continuing to interview witnesses to the crash. The state police officers on board did not make any kind of distress call, and the cause of the crash remains unknown, the NTSB said. Preliminary findings are expected in 2-3 weeks, and the complete investigation into the crash is expected to take at least a year, officials said.
Radar showed the helicopter was traveling northeast at an altitude of 2,300 feet. At 4:44 p.m., the first 911 call came in reporting the crash. As the chopper crashed into trees, its flight path was at about 45 degrees, the NTSB said. Its tail boom lodged in the trees, and the main wreckage landed about 100 yards away and caught fire, the agency said.
The same helicopter crashed in 2010, sustaining substantial damage, according to the National Transportation Safety Board.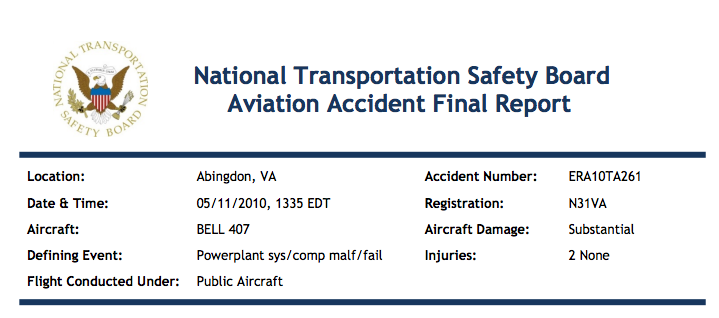 President Donald Trump offered his condolences to the families and colleagues of the officers Saturday, tweeting, "You're all among the best this nation produces."