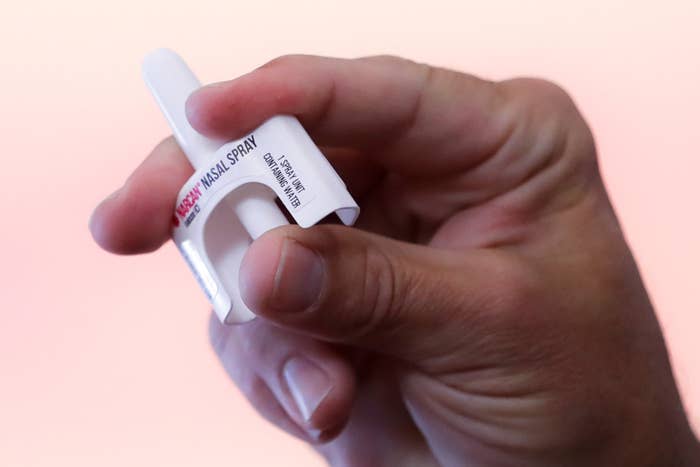 The Food and Drug Administration has approved Narcan, a naloxone nasal spray that can reverse opioid overdoses and save lives, for over-the-counter use.
In an announcement Wednesday, FDA Commissioner Robert M. Califf said the move is meant to address a "dire public health need" and will help increase access and reduce opioid overdose deaths in the country.
Administered via a nasal atomizer, Narcan is a quick-acting opioid antagonist that reverses the effects of opioids like heroin, fentanyl, codeine, and OxyContin. The medication binds to receptors in the nervous system, blocking or reversing the effects of opioids in an individual's system. It is dispensed when someone is showing signs of an overdose — like nodding off, choking, and exhibiting constricted pupils — and is stunningly effective; one study found that 93.5% of people who were given naloxone survived an overdose. Naloxone does not harm someone who has no opioids in their system, but it does not work on non-opioid drugs.
"Naloxone, or Narcan in the nasal spray form, is essentially the only treatment option that we have for opioid overdoses outside of medical settings," Ryan Marino, a medical toxicologist, addiction medicine specialist, and emergency physician with Case Western Reserve University School of Medicine, told BuzzFeed News. The drug naloxone is also available in an injectable form that can be used by healthcare providers. However, the FDA's rule change to allow over-the-counter sales only applies to Narcan and not other formulas or dosages of naloxone.
The medication does not treat addiction, nor can it prevent someone from using drugs or help them get into a recovery program. "But at the end of the day, Narcan is the only thing that can save someone's life," Marino said. "And nobody can get into recovery, no one can continue doing anything, if they die."
Narcan can currently be purchased at pharmacies in most states without a prescription, but the product is typically sold behind the counter and some states have additional restrictions that make it more difficult to obtain.
The rule change would place Narcan directly on shelves. Even under current rules, however, naloxone is relatively accessible; its cost, which varies by store and location, can be prohibitive, but harm reduction organizations and even some city programs make the medicine available for free.
Though this change is "incremental," Marino said it will also help reduce the stigma and misconceptions associated with naloxone.
"People don't want Narcan in schools, people are worried that this encourages drug use — those things are not true," he said. "I think what people should know is that this is a lifesaving antidote. This is like putting EpiPens, defibrillators out in the community. It's not something you ever want to use, but everyone should be glad that it is available because the alternative would be far worse."
Narcan was first approved as a prescription drug by the FDA in 2015. Since 2016, more than 44 million doses have been distributed, according to its manufacturer, Emergent BioSolutions.
The change may take months to implement, the FDA said, and the price of the medication for over-the-counter sales will be set by the manufacturer. Emergent BioSolutions said it expects Narcan to be available over the counter by late summer.
Nearly 1 million people in the US have died of drug overdoses since 1999, mostly from opioids, according to the Centers for Disease Control and Prevention. Opioid overdose–related deaths in the US have also ballooned in recent years, especially during the pandemic. More than 101,750 people died of an overdose from November 2021 to October 2022, primarily because of synthetic opioids like fentanyl, the FDA said.