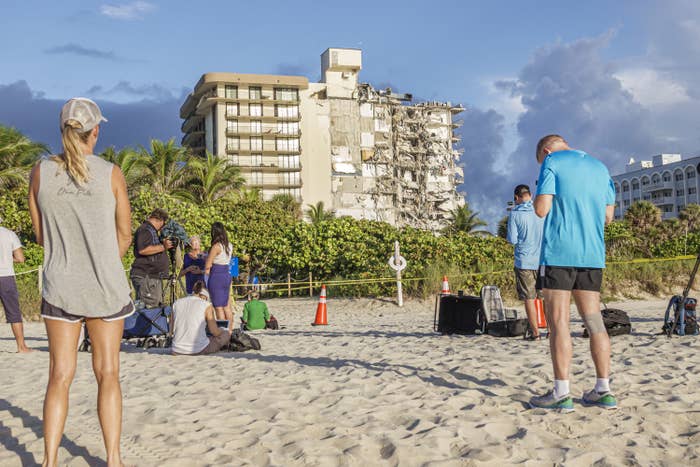 An intense search and rescue effort continued overnight in the rubble of a building collapse in Miami as the death toll reached four and 159 people remain unaccounted for, officials said Friday.
First responders are still racing to locate survivors more than 31 hours after Champlain Towers South, a beachfront condominium building in the town of Surfside, partially collapsed. Videos show part of the building toppling early on Thursday, leaving behind a mass of wreckage.

"This has been a tragic night," Miami-Dade County Mayor Daniella Levine Cava said at a press conference on Friday morning. "We will continue search and rescue because we still have hope that we will find people alive."
Cava said 120 people are now accounted for.
First responders found three bodies in the rubble overnight, increasing the death toll to four, but the number is likely to increase as time passes.
"I want to stress that these numbers are extremely fluid and continue to change," a spokesperson for the mayor's office told BuzzFeed News.
The medical examiner's office identified one of the victims as 54-year-old Stacie Fang, who died at the hospital after sustaining blunt force injuries from the collapse, according to the Miami-Dade Medical Examiner. Fang's 15-year-old son was among the people pulled from the rubble early on Thursday.
A 24-hour family reunification center was established about half a mile north of Champlain Towers South, where frightened family members and friends searched for loved ones who lived there.

Many shared photos of the missing people with the public, desperate for any information about their whereabouts.
Dozens of people who are still missing are from Latin American countries, the Miami Herald reported.

Sergio Barth, a Florida resident, told the Miami Herald that his brother, sister-in-law, and 14-year-old niece were visiting from Colombia. They had been staying in the condo for about a month and were planning to leave on Thursday afternoon.
"I heard on Colombian radio that a building had collapsed in Surfside, and I knew the area," he told the newspaper. "And I started putting the dots together."
The Colombian Foreign Ministry said Thursday that six Colombian nationals who were in the building at the time of the collapse are still missing.
Paraguay's Ministry of Foreign Affairs also announced that six of its citizens were missing: Sophia López Moreira, the sister of Paraguay's first lady; Moreira's husband, Luis Pettengill; their three children; and a domestic worker, Lady Luna Villalba.
Authorities are working to get emergency visas approved for people from more than a dozen countries whose family members are still unaccounted for, Sen. Marco Rubio tweeted.

Led by Miami-Dade Fire Rescue, search and rescue teams have worked around the clock since the collapse early Thursday. Chief Ray Jadallah said 130 firefighters are on the operation.

With President Joe Biden's approval of federal emergency aid overnight, FEMA officials began arriving at Surfside in the early hours of Friday to assist with rescue efforts and help survivors.
The intact part of the building is now cleared of residents, and the search and rescue teams are focused entirely on the rubble, working from above and below the wreckage, Jadallah said.

Officials are using heavy machinery to pull metal from above and locate voids as well as light machinery like jackhammers and saws to tunnel underneath.

Rescue teams heard sounds from inside the rubble throughout the night, he said, and they directed their efforts each time to locate where the sounds were coming from.

"It could be steel twisting, it could be debris raining down, but not specifically sounds of tapping or human voice," Jadallah said.
Cava, the county mayor, said structural engineers were at the scene to help first responders navigate through the rubble.
"They are totally, totally motivated to find people," Cava said. "This work is being done at extreme risk to these individuals. Debris is falling on them as they do their work."