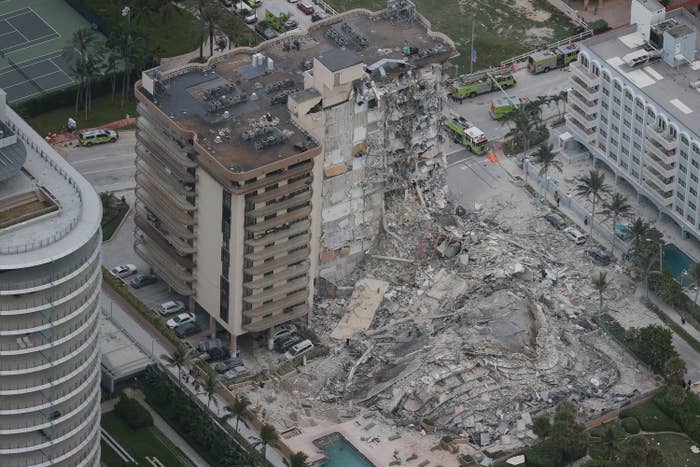 At least one person is dead and dozens more are still missing as search and rescue teams sifted — slowly and carefully — through the rubble of a condominium building that partially collapsed in Surfside, Florida.
As of Thursday night, 37 people had been pulled from the building after it collapsed suddenly around 1:30 a.m. Thursday, including two people who were dug out from the smoking rubble. Videos show a side of the building suddenly falling, leaving behind only a rising plume of smoke in the dark. Another part of the building suddenly gives way seconds later, collapsing with no apparent warning and leaving behind large piles of wreckage.

After first responders rushed to the scene, authorities said 102 residents of the building were confirmed safe. But as time passed Thursday, officials in press conferences made clear the scope of the tragedy, and the number of deaths, is bound to increase.
At least 99 people remain unaccounted for.
"Things are going to get more difficult as we move forward," Alfredo Ramirez, director of the Miami-Dade Police Department told reporters.
Champlain Towers South is a 12-story building with 136 apartment units. Fifty-five of those units collapsed, Miami-Dade Fire Rescue Chief Ray Jadallah said.

"We're going to do everything we can possibly to do identify and rescue those who have been trapped in the rubble," Miami-Dade Mayor Daniella Levine Cava told reporters.
Video from a reporter with News Nation Now shows first responders hauling a person from the rubble before sunrise.

As the sun set, rescue teams were expected to continue working overnight, using strong lighting in their search for survivors. It had been hours since they had found any survivors.

"It's difficult," Alan Cominsky, fire chief for the Miami-Dade Fire Rescue Department, said. "But it's hope."
Authorities have said they do not know what caused the building to collapse. Roof work was taking place, Surfside Mayor Charles Burkett told the Today show, "but you would never expect that to be the issue."

"I think that this is a catastrophic failure of that building, and we need to try to understand what happened," Burkett said. "Obviously, the foundation somehow was undermined and the whole thing came down. It looks like a bomb went off."

Burkett also said he does not know how sound the rest of the building's structure is.
"We don't know if the rest of the building is going to come down," he said.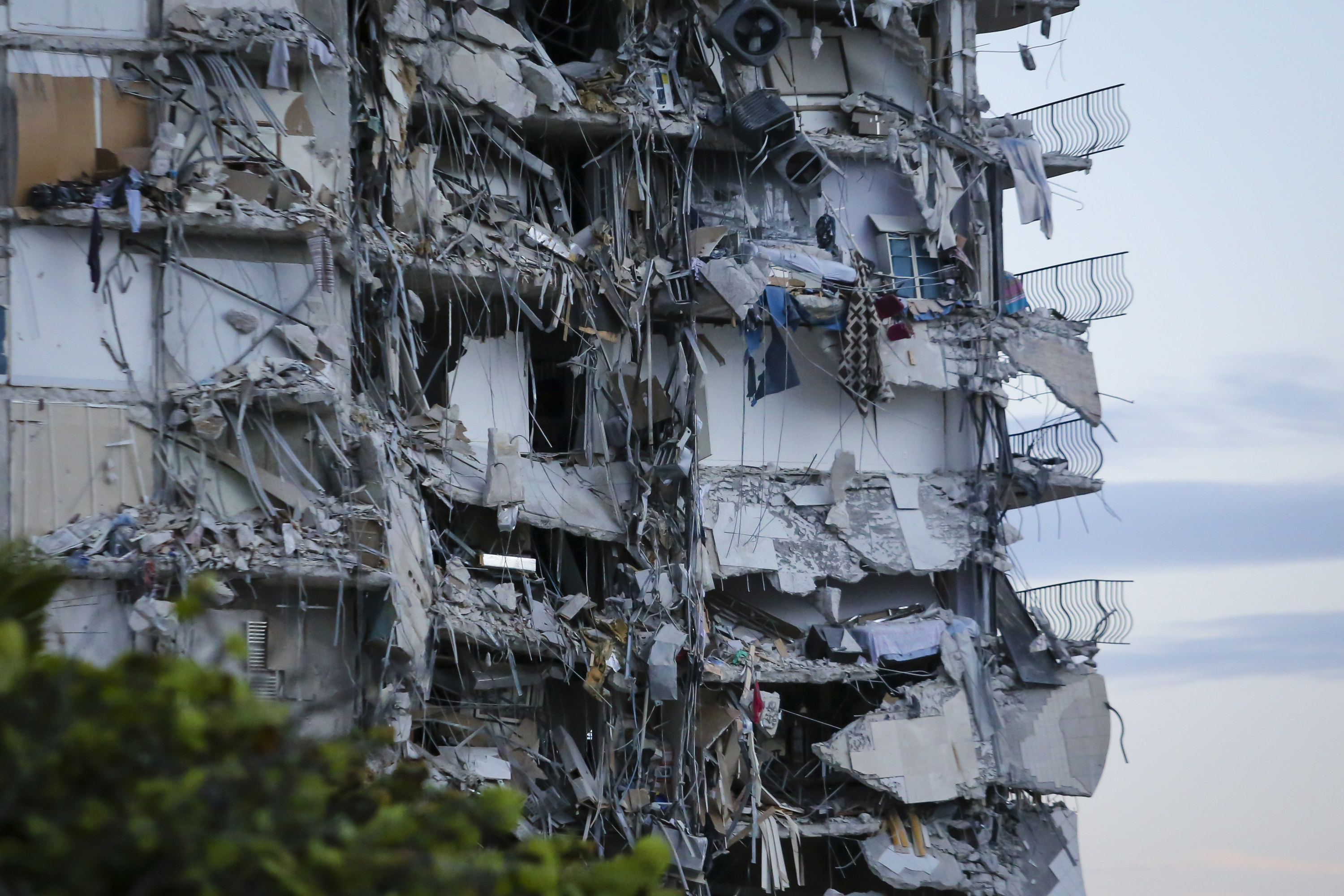 More than 60 firefighters have been struggling with the shifting rubble, which has continued to shift, collapse, and spark small fires while first-responders look for survivors, officials said.
Firefighters had at first focused their efforts from atop the rubble, Jadallah said, but by Thursday afternoon, more than 40 firefighters shifted to underneath the building. Firefighters have been looking for access points to the debris from an underground parking garage, using four search dogs and sonar equipment in their search for people.
"Atop of the rubble, we're unable to find any void, any areas that we can actually operate from to conduct these searches," he said.
Fire officials have instead looked to tunnel their way up from the parking structure, a process he described as "slow and methodical."
"Every time we start breaching on the structure, we do get debris that falls on us," Jadallah said.
Using sonar devices, officials have detected what sounds like "the possibility of a banging" in the rubble, but Jadallah said officials have not detected any voices coming from the site.
Occupants in the rest of the building were being evacuated this morning, Cava, the Miami-Dade mayor, told NPR.
A neighboring hotel building, the Bluegreen Vacations Solara Surfside resort, was also evacuated because of its proximity to Champlain, Local 10 reported.

Thunderstorms on Thursday may also hamper authorities. Town Manager Andy Hyatt told reporters that rescue operations will be "long term, and possibly at least a week."

"This is a predominantly Jewish community," Cava said, adding that people affected by the collapse have been provided with hotel rooms, medications, and clothing.
Speaking in Surfside, Gov. Ron DeSantis said the state is offering assistance to help with search and rescue efforts.

"It is really, really traumatic to see the collapse of a massive structure like that," he said.
Cava said she has signed an emergency order and another was currently headed to the governor's desk. She said she was also told the city would be receiving federal support.
First lady Jill Biden, who traveled to Florida on Thursday for vaccination events, said she and the president are "saddened" to hear about the building collapse.
"Our hearts are with all Floridians today," Biden said.

Champlain Towers South, a beachfront condominium building, was built in the 1980s, the Miami Herald reported. Listings show that a two-bedroom unit in the building currently costs at least $600,000.