There's A Massive Search And Rescue Operation Happening After A Condo Partially Collapsed, Killing At Least One
"The foundation somehow was undermined and the whole thing came down," Surfside, Florida, Mayor Charles Burkett said. "It looks like a bomb went off."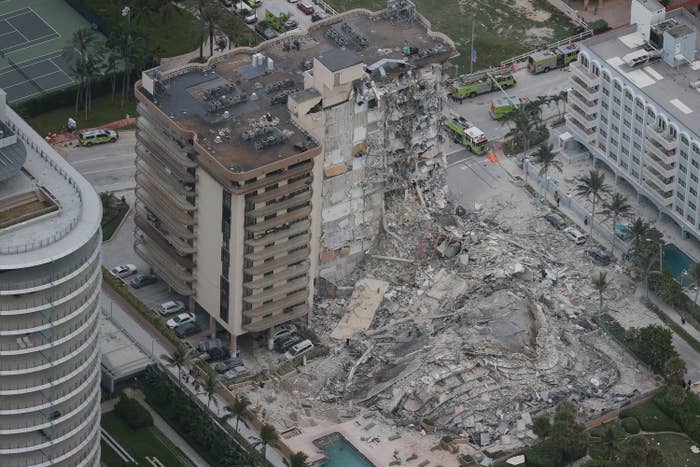 At least one person is dead and dozens more are still missing as search and rescue teams sifted — slowly and carefully — through the rubble of a condominium building that partially collapsed in Surfside, Florida.
As of Thursday night, 37 people had been pulled from the building after it collapsed suddenly around 1:30 a.m. Thursday, including two people who were dug out from the smoking rubble. Videos show a side of the building suddenly falling, leaving behind only a rising plume of smoke in the dark. Another part of the building suddenly gives way seconds later, collapsing with no apparent warning and leaving behind large piles of wreckage.

After first responders rushed to the scene, authorities said 102 residents of the building were confirmed safe. But as time passed Thursday, officials in press conferences made clear the scope of the tragedy, and the number of deaths, is bound to increase.
At least 99 people remain unaccounted for.
"Things are going to get more difficult as we move forward," Alfredo Ramirez, director of the Miami-Dade Police Department told reporters.
Champlain Towers South is a 12-story building with 136 apartment units. Fifty-five of those units collapsed, Miami-Dade Fire Rescue Chief Ray Jadallah said.

"We're going to do everything we can possibly to do identify and rescue those who have been trapped in the rubble," Miami-Dade Mayor Daniella Levine Cava told reporters.
Video from a reporter with News Nation Now shows first responders hauling a person from the rubble before sunrise.