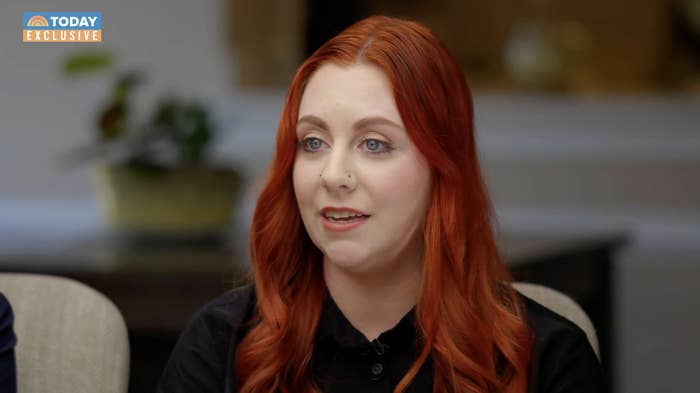 More than three months after Abigail Zwerner was shot by a 6-year-old student in her classroom at an elementary school in Virginia, she still thinks about the shooting every day.
"I just will never forget the look on his face that he gave me while he pointed the gun directly at me," she said in an interview with the Today show that aired Tuesday. "It's changed me; it's changed my life."
In her first public remarks since the shooting on Jan. 6, 2023, at Richneck Elementary School in Newport News, Virginia, Zwerner recalled that the morning started like any regular school day.
"But I started hearing things and things started happening that made my fear grow," she said, adding that she became more scared as the day went on.
Zwerner's lawyer, Diane Toscano, previously said administrators failed to act when teachers and school employees warned them three times that the boy had a gun on him and that he was threatening people.
"It was preventable, and thank god Abby is alive," Toscano said. "Had the school administrator acted in the interest of teachers and their students, Abby would not have sustained a gunshot wound to the chest."
Newport News Public Schools said in a statement to BuzzFeed News that it could not comment on Zwerner's interview but added, "We appreciate her sharing her story."
The district also described new security measures and said it is reviewing student behavior and supports. Three new advisory committees will focus on family engagement, school safety, and student rights and responsibilities.
"We want our community to know that the safety and wellbeing of our students and staff is our most important priority. We will continue to do whatever it takes to ensure a safe and secure teaching and learning environment across all our schools. We appreciate the support of our community as we move forward."
George Parker, the Newport News Public Schools superintendent at the time, told parents the week after the shooting that the boy's backpack was searched that morning after someone reported that he might be armed, but no gun was found. The school board voted to replace Parker after the shooting. Parker did not previously reply to BuzzFeed News' request for comment.
The 25-year-old teacher said she and the children were terrified when the gun was fired.
"They were screaming. I think they knew as well that they had to get out of there but they were extremely frightened and screaming," she said.
"In that moment, my initial reaction was, Your kids need to get out of here. You know this is not a safe classroom anymore. And then you need to go find help for yourself," she added.
Zwerner has been widely praised for escorting her first-graders out of the classroom safely despite being injured. Newport News Mayor Phillip Jones called her a "hero," and the police chief said she likely saved lives.
The bullet went through her left hand, rupturing her middle bone, her index finger, and her thumb. Then it pierced her chest and collapsed her lung.
Zwerner said she didn't realize the extent of her injury right after the shooting, but she began struggling to breathe and her vision started going out. When she reached the school office, she passed out.
Doctors told her that the wound could have been fatal had the bullet not punctured her hand first, she said. To this day, there are bullet fragments in her chest where she was struck, she said.
The boy's parents previously said in a statement to BuzzFeed News that the gun was "secured" in their home. The boy, who they said has an "acute disability," was under a care plan in which one of his parents accompanied him to class every day. The week of the shooting was the first week neither of them was in class with him, they said.
Newport News prosecutors said that they will not file criminal charges against the boy because of his young age, but have not decided if any adults involved will face charges. James Toscano, whose firm represents Zwerner, told BuzzFeed News that they are expecting to file a lawsuit against the school board within the next two weeks.
Zwerner said her recovery has been up and down, but she tries to stay positive. She also said she was grateful that her students are all alive and safe.
But she still can't make sense of the shooting.
"I'm not sure when the shock will ever go away because of just how surreal it was and the vivid memories that I have of that day," she said. "I think about it daily. Sometimes I have nightmares."