KYIV — Vitaliy, a young doctor from western Ukraine on a surgery apprenticeship in Kyiv, has hardly left his emergency ward in the 12 days since Russia launched its full-scale invasion of the country. Vitaliy told BuzzFeed News that he operates nearly around the clock on soldiers and civilians wounded by air strikes, artillery fire, and gunshots in the fight for the Ukrainian capital.
Among the dozens he has helped, he said there was something different about three soldiers who were brought in about a week ago. They were wearing Ukrainian-type uniforms and claimed they were from Kyiv, but they couldn't speak a word of Ukrainian, name a single neighborhood in the capital city, or offer up any documentation to prove their residency. They spoke only Russian — and with an accent more common in Moscow than in Kyiv. And they behaved in a somewhat cold manner toward the medical staff treating them, refusing to answer many questions.
Hospital staff and Ukrainian police were eventually able to confirm the men were Russian soldiers, Vitaliy said in an interview Thursday. "They were very scared."
Deputy Defense Minister Hanna Malyar wrote on Facebook on Feb. 25 that Russian forces had "seized two Ukrainian army vehicles and changed into Ukrainian uniforms" during a failed assault on the northern Obolon district of Kyiv. Similar information has circulated in other military reports.
The soldiers who Vitaliy operated on are believed by Kyiv authorities to have participated in that initial assault on the capital that has continued in the days since.
Vitaliy spoke to BuzzFeed News on the condition that his last name and the hospital he works at are not printed for security reasons, but he sent BuzzFeed News two videos to verify where he worked. He said the three soldiers on whom he operated were conscious when they arrived, adding that they had been shot several times and one of the men's legs was broken.
"One of them was very seriously wounded and he died," he said.
The other two survived and are being kept in a small jail inside the hospital while they recover, Vitaliy said.
Vitaliy felt deeply conflicted about helping save enemy lives.
"I think we should help them but of course sometimes the feeling I have about it is horrible. It feels like I'm doing something wrong," he said. "Like, I can be helping my people but I have to spend time helping that piece of shit."
It's especially hard to show compassion given the brutality that Putin and his military have unleashed on Ukrainians. Bombs and shells have razed entire towns. The Office of the United Nations High Commissioner for Human Rights said Sunday that it had recorded "1,123 civilian casualties in the country: 364 killed and 759 injured" — very likely an undercount.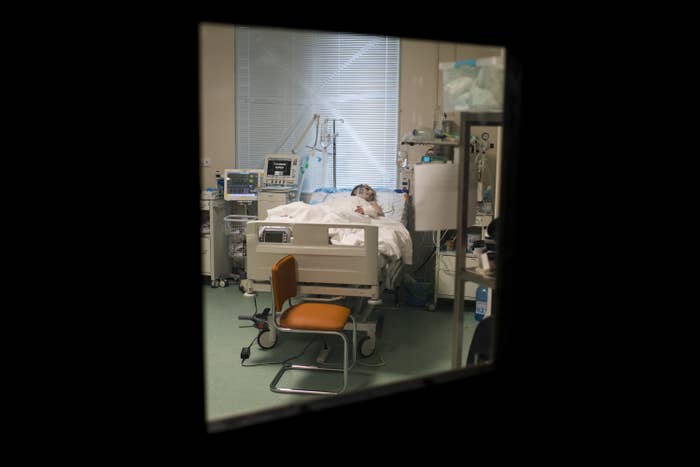 The devastation Russia's war has wrought is not lost on Vitaliy.
"But we do our job because it's our job and our duty," he said, referring to the Hippocratic oath by which medical professionals abide. "And, of course, after they recover we can exchange them. So I tell myself that this can help to get Ukrainian soldiers back."
Both Russia and Ukraine have taken prisoners of war since Putin's invasion began 12 days ago. The Ukrainian side has captured at least 245 Russian troops, according to a website affiliated with the Main Intelligence Directorate of the Ministry of Defence of Ukraine.
Kyiv has also posted an open call to the mothers of captured Russian soldiers to come retrieve them and take them home. According to the Ukraine Ministry of Defence Facebook page, Russian prisoners of war will be released to their mothers if the women personally travel to Kyiv to meet their sons in person.
"We, Ukrainian people, in contrast to Putin's fascists, do not make war with mothers and their captured sons," the ministry said.
But Ukraine has also published several ghastly videos of captured Russian troops that experts in international humanitarian law said might violate the Geneva Conventions.
In one video, a Russian soldier with tape wrapped around his head to cover his eyes is forced to call his parents to tell them he had been captured. "Nobody knew anything. They just ordered us to invade Ukraine," he tells them.
Another video shows two heavily wounded Russian servicemen being interrogated in the bed of a moving pickup truck. Others show Russian troops making calls to family and confessions under duress.
"Prisoners of war and detained civilians must be treated with dignity and are absolutely protected against ill-treatment and exposure to public curiosity including images circulating publicly on social media," the International Committee of the Red Cross said in a March 4 statement.
Anton Gerashchenko, an official with Ukraine's Interior Ministry, told BuzzFeed News that the videos of Russian prisoners were justifiable because of the extraordinary circumstances.
"We have a people's war going on. People are filming invaders who are killing Ukrainians and uploading them to social media. This is their right," he said. "Let the Red Cross mind its own business, helping with humanitarian aid and evacuation corridors in encircled cities."
Ukraine's defense intelligence office said that Russian servicemen are being treated in accordance with the Geneva Conventions. "In particular, they are provided with food, clothing, and medical treatment, and are kept in normal conditions," it said.
Most of the civilian casualties recorded since the start of Russia's invasion, the UN human rights office said, "were caused by the use of explosive weapons with a wide impact area, including shelling from heavy artillery and multi-launch rocket systems, and missile and air strikes."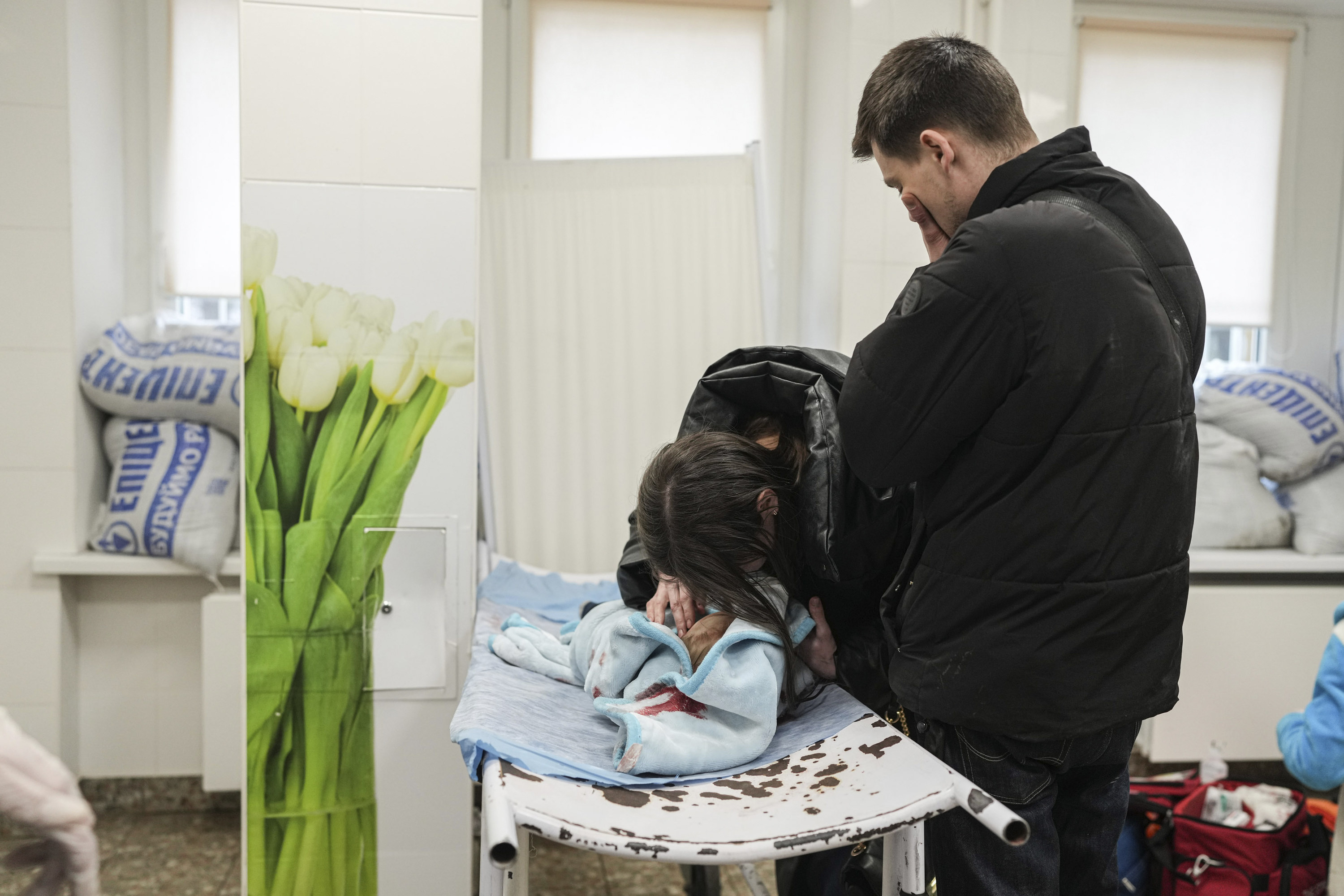 Vitaliy said that he has treated many civilians as well as roughly 20 Ukrainian soldiers with similar wounds. More than 300 Ukrainian troops were being treated at Kyiv's military hospitals, he said. The 20 that came to him were sent because the military hospital had run out of space.
Vitaliy said his team has seen "mostly gunshot wounds" among the wounded soldiers. "Some of them had a combination of explosions and gunshots," he said.
He described horrific wounds caused by shrapnel — red-hot jagged pieces of steel from rockets and other heavy artillery that shred human flesh.
"When [shrapnel] hits your body, it can make a hole in your leg and come out of the stomach," Vitaliy said.
Vitaliy said he worked at the hospital for five straight days almost without a break. He caught only a few brief hours of sleep inside the hospital's on-call area for staff.
In the first two days of Russia's war, the surgeons didn't have a lot of work. But as they saw Russian attacks intensify, they knew they would soon see an influx of patients wheeled through their doors, Vitaliy said. So they tried to prepare, wheeling in extra beds and cleaning the hospital ward.
On the third day, when fighting intensified outside Kyiv, they were suddenly overwhelmed with patients, most of whom were Ukrainian soldiers and volunteer fighters with the capital's Territorial Defense Brigade.
Vitaliy said the hospital management ordered patients who had been admitted with non-serious wounds unrelated to the war to be transferred to another hospital or to recover at home.
He said Ukrainian civilians began arriving in large groups to donate blood.
"In one or two days our blood bank was full," Vitaliy said.
Volunteers also began to arrive with medicine, and restaurateurs brought warm meals. Some of the city's chefs have quickly adjusted from catering to customers to feeding those involved in the war effort.
Inside the kitchen at a hip Kyiv restaurant, BuzzFeed News watched as a team of cooks, bar managers, and servers prepared and packaged food for hospitals like Vitaliy's and soldiers in the city.
Vitaliy confessed that the work was stressful and taking a toll on him and his colleagues. But he said they would not stop.
"We cannot think. We try to focus on our work. When we aren't doing operations we are always scrolling the internet and watching the TV to be informed," he said. "We are working under fire."