BuzzFeed News has journalists around the US bringing you trustworthy stories on the 2020 Elections. To help keep this news free, become a member.
On Nov. 9, 2016, Daria Kaleniuk, executive director of the Kyiv-based Anti-Corruption Action Center, an influential organization that has shaped Ukraine's reform efforts, described news of Donald Trump's shock election victory as waking up in a "terrible nightmare."

For her and many other Ukrainians, the prospect of an American president who glorified Russian President Vladimir Putin and suggested Crimea, the southern Ukrainian peninsula annexed by the Kremlin in 2014, belonged to Moscow was terrifying.
While Trump never recognized Russia's land grab, Kaleniuk and many other Ukrainians existed in that nightmarish state for much of his presidency as their country was dragged into the crossfire of Washington political battles, including the monthslong impeachment saga and the efforts of the president's personal lawyer Rudy Giuliani to dig up dirt about Joe Biden and his son Hunter in Ukraine.
Along the way, they also watched as the highly respected US ambassador to Kyiv, Marie Yovanovitch, was recalled and Washington's point person for the ongoing Ukrainian–Russian war, Kurt Volker, resigned, weakening Washington's influence in Ukraine and the region.
But speaking to BuzzFeed News on Monday, four years later and two days after Trump lost reelection to Biden, a staunch supporter of Ukraine, Kaleniuk said it felt like she was finally "waking up" from the nightmare.
"It's beautiful," she said.
Since it was announced that Biden had defeated Trump to become the 46th president of the United States, Ukrainians hoping to see Washington–Kyiv relations restored to their pre-Trump state have reveled in the news that there will soon be an American president who supports them rather than calling their country "corrupt" and "full of terrible people." Biden has visited the Eastern European country six times, vowed to back its democratic ambitions, and said he views Russia as a major security threat.
"For Ukraine, a new American leader brings great opportunities," Svitlana Zalishchuk, a reform activist and former Ukrainian lawmaker who has worked closely with US officials in the past, wrote on Facebook in a post that included a selfie with President-elect Biden from one of his past visits to Kyiv.
Oleksandr Danylyuk, the former chief of Ukraine's National Security and Defense Council who found himself caught up in efforts last year by Giuliani and Trump-appointed officials to get the country to open political investigations into the Bidens in exchange for the release of critical military aid worth some $400 million, called the victory a "big relief."
"For Ukraine overall, it is a better outcome," he told BuzzFeed News. "Finally we could get a clear strategy for Ukraine and for Russia [and a] more logical and stable model for our cooperation with the US."
Perhaps no one is more relieved than Ukrainian President Volodymyr Zelensky, although you wouldn't know from his public statements.
Since finding himself at the center of Trump's impeachment, which stemmed from a phone call in May 2019, Zelensky has tried desperately to remain out of the US election discourse. He has rarely commented on US–Ukraine relations and has been careful not to say anything publicly that could be interpreted as him taking a side in the presidential race.
But behind the scenes, government officials close to Zelensky told BuzzFeed News he was secretly rooting for Biden and was delighted when he won.
The Ukrainian president could not be reached for comment on Monday after he tested positive for the coronavirus and went into self-isolation. But in a tweet on Saturday that hinted at his preference, Zelensky was one of the first foreign leaders to congratulate Biden and Vice President–elect Kamala Harris; he said he was "optimistic about the future of the strategic partnership with the United States."
The two countries, Zelensky continued, "have always collaborated on security, trade, investment, democracy, fight against corruption. Our friendship becomes only stronger!"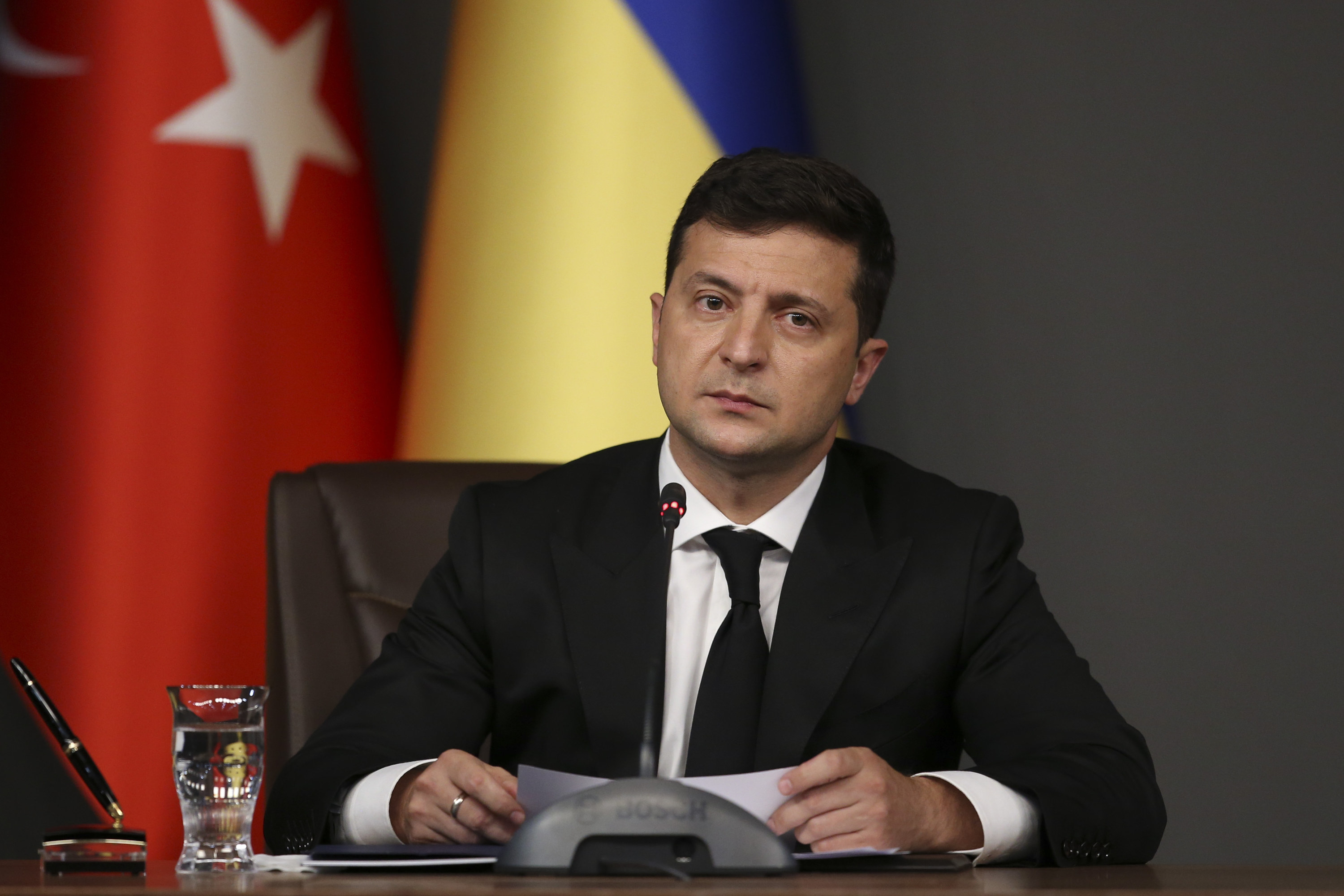 Bill Taylor — a former US ambassador to Ukraine who returned to lead the US Embassy in Kyiv as the chargé d'affaires after Yovanovich was recalled and testified in the Trump impeachment saga — echoed Kaleniuk, telling BuzzFeed News about Trump's election loss, "Finally the nightmare is over."
Once Trump is out of the White House, he said, US support for Kyiv "can resume with full strength."
Under Trump, Taylor said, the Pentagon and State Department took pains to not speak publicly about support for Ukraine "because of what the president of the United States might think or say."
"If that cloud, if that problem goes away in January, then I think all of the elements of the US government that support Ukraine can be more explicit, be more vocal, be more enthusiastic, and be more evident," he said.
If you have a news tip, we'd like to hear from you. Reach out to us via one of our tip line channels.
Biden has extensive experience dealing with Ukraine, acting as the Obama administration's point person for the country during the 2013–2014 Maidan revolution that ousted its Moscow-friendly president. His team is also likely to include several senior figures with extensive experience in Eastern Europe.
Alyona Getmanchuk, director of the Kyiv-based New Europe Center, said Biden will arguably be the most Ukraine-smart US president ever.
"He knows Ukraine. He knows its role for the region and for the US interests in the region," Getmanchuk told BuzzFeed News. "We expect the Biden administration will make Ukraine a foreign policy and security priority."
Not all Ukrainians, however, were pleased with Biden's victory, notably the group of political operatives working with Giuliani to dig up dirt on the Bidens.
Andriy Derkach, whom US officials have identified as an "active Russian agent" and said was attempting to interfere in the US election on behalf of the Kremlin, told BuzzFeed News he was disappointed and claimed a Trump victory might still be possible after legal challenges.
While the Trump campaign has flooded state courts with legal challenges, it has been largely unsuccessful.
Derkach echoed the president's unsubstantiated comments about censorship on the part of the media and social networks as damaging the Republican incumbent's reelection chances. He also claimed "so many falsifications" kept Trump from winning despite the fact that no state has reported any election fraud.
Andriy Telizhenko, the cigar-smoking former Ukrainian diplomat who has been at Giuliani's side throughout his anti-Biden campaign for the past two years, claimed that votes from "dead souls" had been counted for the former vice president, although there has been no proof that dead people were allegedly casting ballots in the US.
"This is by-the-book 2004 [Viktor] Yanukovych election fraud," he told BuzzFeed News, referring to the presidential election in Ukraine that year that was proven to be rigged by the pro-Russian politician who later won a fair election to become president. In 2004, a court overturned the results in Yanukovych's favor and the pro-Western Viktor Yushchenko won a new vote.
But those voices are in the minority.
Volodymyr Fesenko, a political analyst at Kyiv's Penta Center, said US policy toward Ukraine under Biden will likely be more consistent, "without the impulsiveness and unpredictability of Trump, without blackmail."
"And it seems to me that Biden has a certain sympathy for Ukraine, unlike Trump," Fesenko said.
He also expects Biden will pay more attention to this issue of the Ukrainian–Russian war, now in its seventh year, which has killed more than 13,000 people and hindered Ukraine's efforts to carry out meaningful reforms.
One tangible result many Ukrainians hope will come from a Biden presidency is an invitation for their president to finally visit the White House, as Trump has promised but never followed through with.
But with Biden, Fesenko said, Ukraine is now also interested in something else: "a visit by the president of the United States to Ukraine."
"The last time the president of the United States visited Ukraine was 12 years ago, in 2008," when presidents George W. Bush and Yushchenko met in Kyiv, he said. "I think that under Biden's presidency there is a good chance for another such visit."