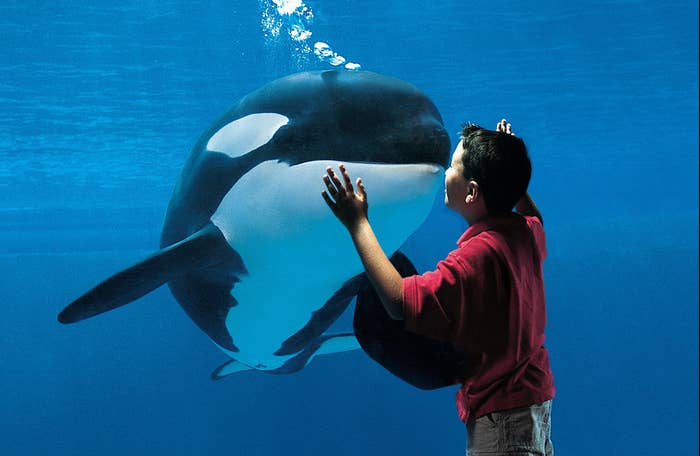 SeaWorld was given the green light Thursday for a $100 million expansion of its tanks used to hold killer whales in San Diego — but was banned from breeding any captive orcas.
The California Coastal Commission approved the growth of the park's Shamu "killer whale" facility. Parts of the old facility, built in 1995, will be demolished to make room for a 5.2-million gallon tank and a 450,000-gallon pool, according to the commission's report.
The expanded "Blue World" exhibit is set to open in 2018.
But the approval came with several conditions. The facility cannot house any orcas, nor can it "utilize any genetic material from" orcas, taken from the wild after Feb. 12, 2014.
"We are disappointed with the conditions that the California Coastal Commission placed on their approval of the Blue World Project, and will carefully review and consider our options," SeaWorld San Diego President John Reilly said in a statement. "Breeding is a natural, fundamental and important part of an animal's life and depriving a social animal of the right to reproduce is inhumane."
SeaWorld said it hasn't captured wild orcas in 30 years, according to The Associated Press.
Park officials did not respond to a BuzzFeed News request for additional comment.
"We care for these animals as if they were family," SeaWorld veterinarian Hendrik Nollens told the panel on Thursday. "We have nothing but the whales' best interest at heart."
People for the Ethical Treatment of Animals, or PETA, hailed the ban on breeding as a "victory" that "did right by orcas."
The commission's decision "will ultimately end captivity for long-suffering orcas in California," and "ensures that no more orcas will be condemned to a non-life of loneliness, deprivation," according to a statement from PETA.
"These 11 orcas would be the last 11 orcas there," PETA lawyer Jared Goodman said after the vote.
PETA said the commission received more than 120,000 emails and letters from the group's supporters, and hundreds of protesters showed up at Thursday's meeting, including actress Pamela Anderson.
The crowd stood with signs that read, "Orcas Swim In Endless Circles" and "Orcas: Driven Insane From Years Of Captivity."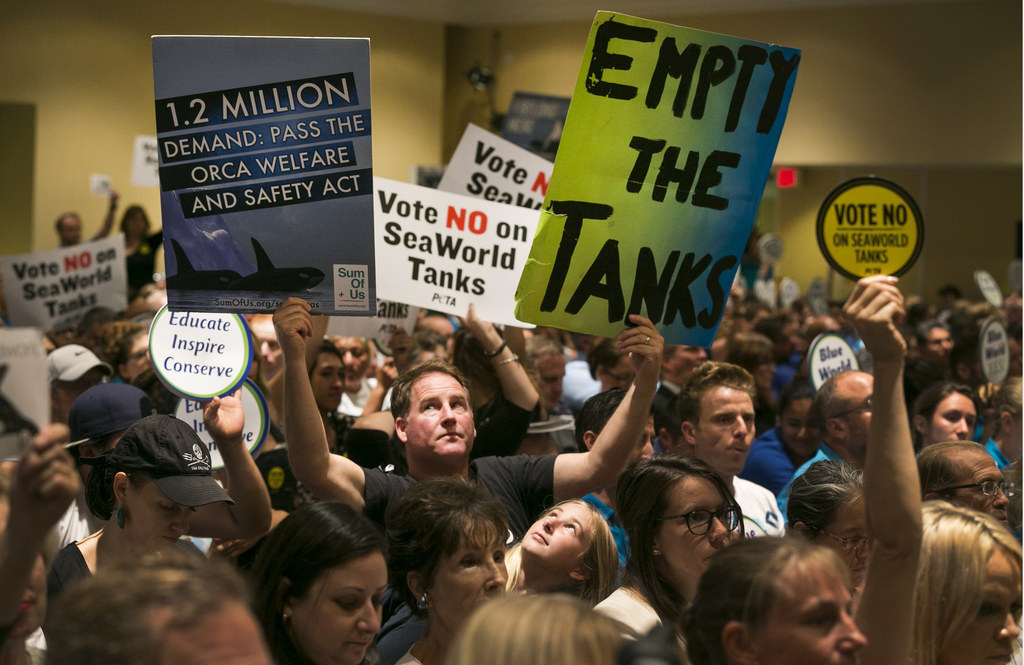 The Los Angeles Times reported SeaWorld officials rushed out after the vote.
The park has been under scrutiny since the release of the 2013 documentary Blackfish, which accused SeaWorld of abuse and highlighted the story of a killer whale that killed several people while in captivity. The park's attendance and profits have dropped since the film's release.