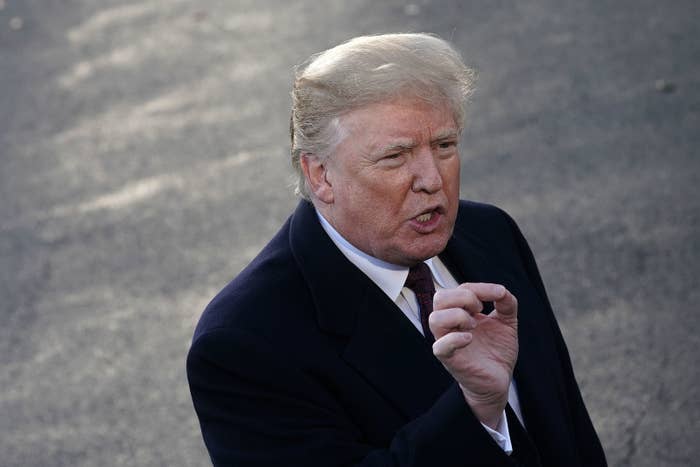 President Donald Trump submitted written answers to questions provided to him by special counsel Robert Mueller's office — a long-awaited moment of unclear import.

The question of whether Trump would sit for an interview with Mueller has been at issue since before Rudy Giuliani came on this spring as one of Trump's lawyers in the special counsel's investigation into whether the Trump campaign and allies were involved in Russia's efforts to influence the 2016 presidential election.
By early September, the scope of what Trump would agree to do — what Mueller could get without subpoenaing the president and facing an extended court fight — had been narrowed significantly. Giuliani told BuzzFeed News that Trump would, at least initially, only agree to answer "written questions on Russia" that related to pre-election activity.
That is, it appears, what happened.
"The President today answered written questions submitted by The Special Counsel's Office. The questions presented dealt with issues regarding the Russia-related topics of the inquiry. The President responded in writing," Jay Sekulow, another of Trump's outside lawyers, said in a statement.
It is not yet clear whether Mueller will seek further questioning of the president, in writing or in person. A special counsel's office spokesperson declined to comment.
For his part, Giuliani stressed in a statement his claim that Trump has provided "unprecedented cooperation" — notwithstanding the fact that former president Bill Clinton did sit for an interview when he was under investigation by independent counsel Ken Starr.
"It has been our position from the outset that much of what has been asked raised serious constitutional issues and was beyond the scope of a legitimate inquiry. This remains our position today," Giuliani said. "The President has nonetheless provided unprecedented cooperation. The Special Counsel has been provided with more than 30 witnesses, 1.4 million pages of material, and now the President's written responses to questions. It is time to bring this inquiry to a conclusion."