Trump Says His "Preference Would Be To Keep" Rod Rosenstein At The Justice Department
Trump was asked if he plans to fire the number two at DOJ. He said he'd prefer not to — but didn't rule it out, saying, "[W]e'll see."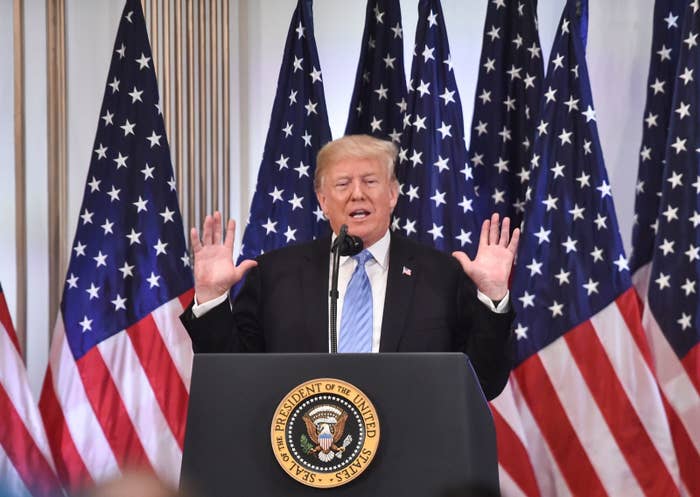 President Donald Trump said Wednesday that he'd prefer to keep Deputy Attorney General Rod Rosenstein in his job at the Justice Department and that he might delay his meeting with Rosenstein, scheduled for Thursday.
"My preference would be to keep him," Trump said at a wide-ranging news conference in New York surrounding the United Nations General Assembly. He did not, however, rule it out, saying at one point, "[W]e'll see."
Trump was asked specifically if he planned to fire Rosenstein, the number two at the Justice Department and the person who oversees the Russia investigation due to Attorney General Jeff Sessions' recusal.
Trump said his preference would be to keep Rosenstein in his post "[a]nd to let him finish up" — a reference to special counsel Robert Mueller's investigation.
"There was no collusion, there was no obstruction, unless you call obstruction the fact that I fight back. I do fight back. I really fight back," Trump said. "I mean if you call that obstruction, that's fine. But there's no obstruction."
The week began with an erroneous Axios report Monday morning that Rosenstein had resigned, which was then followed by hours of intrigue and conflicting reports over whether he would remain in his job. Nonetheless, the day ended with Rosenstein still in his job and a meeting between the two set for Thursday.
Now, though, Trump said that meeting might not even happen Thursday. He said he might call Rosenstein and ask for a "little delay" in their meeting because, Trump said, "I don't want to do anything that gets in the way of this very important Supreme Court pick."

Although Trump has repeatedly questioned Rosenstein's future at the DOJ, the latest flare-up appeared to have come from a Sept. 21 New York Times report that Rosenstein had discussed wearing a wire to record the president and suggested pushing Cabinet members to invoke the 25th Amendment — the amendment with a provision that empowers the vice president and the Cabinet to remove an incapacitated president. Rosenstein denied the accuracy of the report.
Trump made clear on Wednesday that the 25th Amendment story was front and center in his mind.
When asked about Rosenstein's future, Trump initially said, "I'm talking to him. We've had a good talk. He said he never said it. He said he doesn't believe it. He said he has a lot of respect for me, and he was very nice and we'll see."
After a long aside about the Russia investigation and some of the other people who he has criticized previously, he returned and made explicit his focus on the 25th Amendment story.
"He said he did not say it. He said he does not believe that — and nobody in this room believes it, by the way. I deal with the people in this room," Trump said. "I was with [Secretary of State] Mike Pompeo before. We were dealing at a very high level with Japan. And I was saying things that nobody in the room even understood. And I said them a long time ago and I was right. He said, 'That's not the 25th Amendment that I''m looking at.' I think I can say that from Mike."
But, it wasn't all the 25th Amendment. Trump, unprompted, also referenced the Russia investigation, of which he said, "You know I call it a witch hunting, and it is a witch hunting."