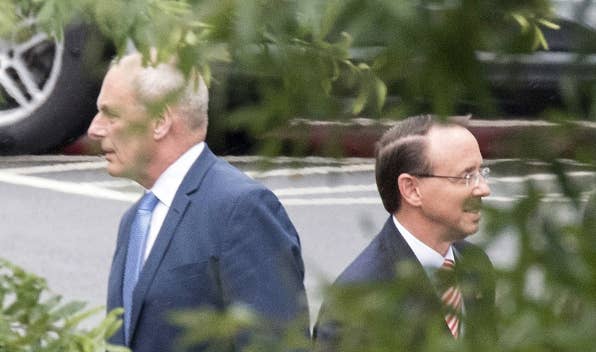 President Donald Trump and Deputy Attorney General Rod Rosenstein will meet later this week, the White House announced Monday, after a chaotic three hours when several news outlets incorrectly reported Rosenstein was imminently leaving his job or was about to be fired.
The meeting is significant because Rosenstein is the top Justice Department official with authority over special counsel Robert Mueller's investigation into Russian interference in the 2016 election.
White House press secretary Sarah Huckabee Sanders said the two will "discuss the recent news stories." She is likely referring to the New York Times reporting last week that Rosenstein had discussed potentially wearing a wire around Trump to secretly record the president and had talked about bringing together cabinet members to discuss invoking the 25th Amendment to remove Trump from office.

Rosenstein said the story was "inaccurate and factually incorrect." The Justice Department said the comments about recording were sarcastic.
Speculation began to circulate Friday evening — after the New York Times report — that President Trump was considering firing Rosenstein.

Speaking at a rally in Springfield, Missouri, on Friday, Trump said, "We have great people in the Department of Justice ... but you've had some real bad ones. You see what's happening at the FBI — they're all gone. They're all gone. ... But there's a lingering stench and we're going to get rid of that, too."
Monday's developments came after an absolutely dizzying series of reports that Rosenstein:
offered to resign over the weekend, but did not

"verbally" resigned
resigned and it was accepted by the White House
was traveling to the White House to resign
was traveling to the White House to be fired
was "expected to leave his job"
Rosenstein did travel to the White House and met with Chief of Staff John Kelly, a person familiar with the matter told BuzzFeed News.
But by early afternoon, Rosenstein remained in his job.
Let's walk through it all. Here's the tweet that set it all off Monday morning:

Axios reported that over the weekend Rosenstein "verbally resigned to White House Chief of Staff John Kelly in anticipation of being fired by President Trump."
The 80-word story cited a "source with direct knowledge" and a "second source with direct knowledge."

Eleven minutes later, Pete Williams of NBC reported that Rosenstein was being "summoned" to the White House.

We then learned Rosenstein had turned off his cellphone.

CBS News also reported, like NBC, that Rosenstein was on the way to the White House but added that he did not, in fact, resign.

A minute later, CNN reported Rosenstein had "resigned to John Kelly."

Bloomberg reported that "Rosenstein's offer to resign as deputy attorney general has been accepted by the White House, according to a person familiar with the matter."
Then, three minutes later, NBC News reported that Rosenstein "won't resign" and he demanded that "if the [White House] wants him gone, they'll have to fire him."

Then the New York Times reported that Rosenstein was "expected to leave his job."

Preet Bharara, the former US attorney for the Southern District of New York who was asked to resign by the Trump administration, refused, and was subsequently fired, tweeted that the Rosenstein storyline "sounds familiar."
A fuller narrative began to emerge: CNN reported that Rosenstein did discuss resigning with Kelly on Saturday, but did not resign. Now he was summoned to the White House, expecting to be fired.

Meanwhile, the network had a live shot outside the White House, a partial and rainy scene of a black SUV's tire. Confusion was rife.

Some alternate theories remained.

Some journalists took the broadest route possible.

While others wanted a drink.

And devised drinking games.

But wait! Then it was reported that Rosenstein was in previously scheduled meetings. That's not what happens when you get fired.

And then, just over two hours after it all began, Sanders delivered the statement about Thursday's meeting with Trump and Rosenstein.

In brief remarks to the press in New York on Monday afternoon, President Trump said he will meet Rosenstein to determine "what's going on."

"We want to have transparency. We want to have openness. I look forward to meeting with Rod at that time," the president said.
Anything can still happen at any time! But this sums up early Monday very nicely.