NBC Backs Equal Rights In Russia Controversy
"NBCUniversal strongly supports equal rights and the fair treatment for all people," the company told BuzzFeed in a statement. "Platitudes," says LGBT rights group.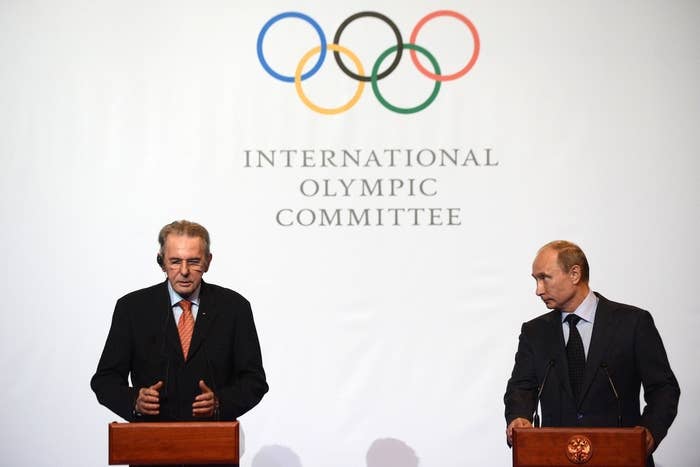 WASHINGTON — NBCUniversal, which has the exclusive U.S. rights to air the 2014 Winter Olympics in Sochi, responded to questions about their coverage plans in light of Russia's anti-LGBT laws with a broad statement that the company "strongly supports equal rights."
The statement from NBCUniversal came hours after the International Olympic Committee announced that they had received assurances from Russian officials that the anti-LGBT laws there would not be enforced against athletes and attendees of the Sochi Olympics.
"NBCUniversal strongly supports equal rights and the fair treatment for all people. The spirit of the Olympic Games is about unifying people and countries through the celebration of sport and it is our hope that spirit will prevail," NBCUniversal senior vice president of corporate communications Cameron Blanchard told BuzzFeed Friday evening.
Human Rights Campaign had raised questions about the coverage plans in a letter to NBC officials earlier this week, with HRC president Chad Griffin writing, "NBCUniversal … has a unique opportunity — and a responsibility — to expose this inhumane and unjust law to the millions of American viewers who will tune in to watch the Games."
Fred Sainz, HRC vice president for communications, said, "We're in agreement. Unfortunately platitudes won't do away with these heinous laws that are an abomination to LGBT people. NBC has an obligation to provide fair and balanced coverage of Russia. It would not be an accurate depiction of the environment for the Olympics to merely be a commercial for the Russian Federation. History demands that NBC depict the truth."
NBC officials also noted that the Olympics are seven months away and specific coverage plans are yet to be finalized.
Sainz, however, said that HRC officials "certainly hope that [NBC] will begin factoring [the Russian laws] into their coverage now and engaging the U.S. Olympic Committee and the IOC in addressing these incredibly serious questions."