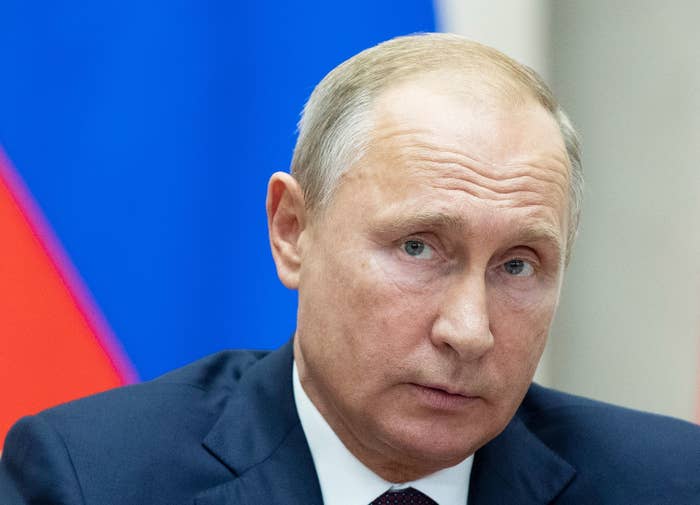 Federal prosecutors have charged a Russian woman with conspiracy to defraud the United States in connection with alleged efforts to interfere in the 2018 election, laying out a yearslong and wide-ranging social media interference campaign that the FBI says "continues to this day."
The charges, filed against Elena Alekseevna Khusyaynova on Sept. 28 but unsealed Friday in the Eastern District of Virginia, are the first such charges relating to the current election cycle — detailing specific, extensive, and ongoing efforts "to sow discord in the US political system" on Twitter and Facebook.
The FBI affidavit attached to the complaint alleged that Khusyaynova has served as the chief accountant for "Project Lakhta" — which is described as a project begun in 2014 to conduct "political and electoral interference operations."
According to the affidavit, the conspiracy with which Khusyaynova is charged "has a strategic goal, which continues to this day, to sow division and discord in the US political system, including by creating social and political polarization, undermining faith in democratic institutions, and influencing US election, including the upcoming 2018 midterm election."
In another filing from Sept. 28, federal prosecutors asked for the complaint and affidavit to be sealed because "premature disclosure" could jeopardize government efforts "to disrupt" the foreign influence effort. That request was granted, but prosecutors on Friday asked that everything be unsealed in the case.
Project Lakhta, per the affidavit, involves groups like the Internet Research Agency and Concord Management and Consulting. Yevgeniy Viktorovich Prigozhin, known as "Putin's Chef," controls Concord, the affidavit details, and "spent significant funds to further" Project Lakhta.
Special counsel Robert Mueller's office charged Prigozhin and those entities in February in DC in connection with 2016 election interference efforts. Only Concord has responded to the charges, which identified Project Lakhta for the first time.
Friday's complaint came not from Mueller's office, but from the US Attorney's Office in the Eastern District of Virginia.
The affidavit laid out a broad, well-funded campaign — and provided specific details of Khusyaynova's "meticulous record-keeping and management of Project Lakhta funds," including budgets and expenditures. Project Lakhta's "proposed operating budget" from January to June of this year amounted to 650 million Russian rubles (which would be more than $10 million US dollars), the affidavit alleged.
Using "social media and other internet platforms," the affidavit detailed, the conspiracy of which Khusyaynova is alleged to be a part attempted to "inflame passions" on topics like immigration; the Second Amendment; women's, race, and LGBT issues; and the debate over players' kneeling protests during the national anthem at NFL games.
Among the politicians targeted, per the complaint affidavit, were former president Barack Obama, former senator John McCain, House Speaker Paul Ryan, Senate Majority Leader Mitch McConnell, and Sen. Marco Rubio. Others targeted, per the complaint, included Mueller, CNN, and sanctuary cities.
"This case demonstrates that federal law enforcement authorities will work aggressively to investigate and prosecute the perpetrators of unlawful foreign influence activities whenever feasible, and that we will not stand by idly while foreign actors obstruct the lawful functions of our government," G. Zachary Terwilliger, the US attorney for the Eastern District of Virginia, said in a statement.

Earlier Friday, the Office of the Director of National Intelligence, the Justice Department, the FBI, and the Department of Homeland Security released a joint statement expressing concern about foreign interference in US elections.
"We are concerned about ongoing campaigns by Russia, China and other foreign actors, including Iran, to undermine confidence in democratic institutions and influence public sentiment and government policies," the statement said in part. "These activities also may seek to influence voter perceptions and decision making in the 2018 and 2020 U.S. elections."

For months, administration officials — especially from the Department of Homeland Security, which is tasked with protecting US voting infrastructure and is more open about election security than other federal agencies that play a big role — have downplayed the idea that foreign hackers were preparing a major cyberattack on the midterm elections.
All the while, DHS officials, as well as other major figures in election security like FBI director Christopher Wray, have said that they have consistently seen foreign influence operations. But that's a phrase that the government has kept vague, with officials nodding to interrupted Facebook campaigns like Iran's, and President Trump claiming that China taking a four-page ad out in an Iowa newspaper was evidence that country is "attempting to interfere" in the election.
Several government agencies have recently made countering foreign influence operations a priority, though it's not always been clear who's doing what. The lead agency is the FBI's Foreign Influence Task Force, first announced in November 2017. However, DHS also has a similar task force and the Department of Justice's Cyber-Digital Task Force, which launched in July, is designed to alert "private sector entities to foreign influence operations."
Kevin Collier contributed reporting.