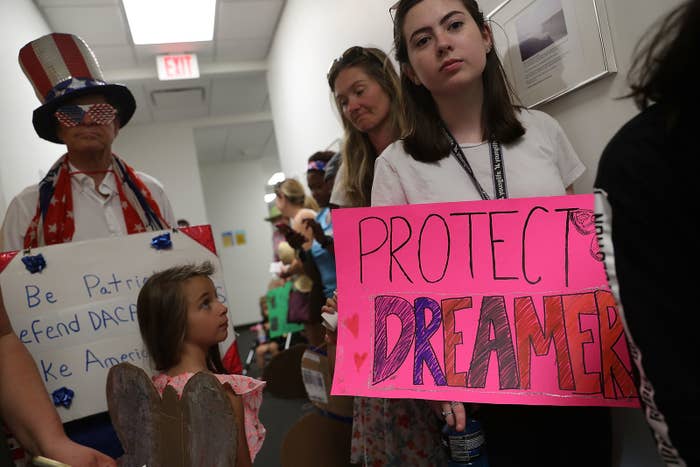 A long-awaited ruling from a conservative judge over the future of the Deferred Action for Childhood Arrivals program did not go as Texas had hoped: The judge refused to halt DACA on Friday. The ruling, however, also allows the case to proceed quickly toward the Supreme Court.
US District Judge Andrew Hanen on Friday denied the request from Texas and a handful of other states to immediately enjoin enforcement of DACA — but is giving the parties 21 days to appeal his ruling.

DACA — a program started under the Obama administration — provides work permits and protection from deportation for two years for immigrants who came to the US without documentation as children. Its future has been an ongoing dispute in the Trump administration, which eventually announced it was ending the program. Since then, however, several federal courts have ordered the administration to allow it to continue. The Texas-led lawsuit was an attempt to get a court ruling that the program itself is illegal.

In the order allowing an immediate appeal of his ruling, Hanen appeared to reflect the significance of and conflicting rulings on the matter.

"[T]he issues covered herein are of major import to a large segment of this country, and all parties are in need of and desire a definitive answer as soon as they can get one," he wrote.
Hanen previously ruled against the legality of the Deferred Action for Parents of Americans and Lawful Permanent Residents (DAPA) program — a ruling upheld by a federal appeals court that was left in place when the Supreme Court split 4–4 on the issue.
As to DACA, Hanen concluded Friday that the program is likely illegal, but he rejected the states' request for a preliminary injunction because they waited so long to bring the challenge to the program.
"Unlike in [the DAPA case], the plaintiff states ask this court to enjoin a program that has been ongoing for more than six years," Hanen wrote. "Instead of maintaining the status quo, they want this court to halt operation of DACA."
Lawyers for Texas and the other states challenging DACA were hopeful that Hanen would issue a ruling similar to his DAPA ruling — ordering a halt to DACA's enforcement. Advocates of the program were concerned that the hope of the states' lawyers was justified, and they braced for a ruling against DACA.

Such a ruling, however, would have set up a conflict with other court orders halting the Trump administration's move to end DACA. As such, the Justice Department argued that if Hanen wanted to strike down DACA, he should issue a stay of his ruling along with any injunction, so as to avoid any "inconsistent obligations."
On Friday, Hanen avoided such inconsistent obligations altogether by denying the injunction.
Nonetheless, due to his stated concerns about the need to get a "definitive answer" about DACA's status, he authorized an immediate appeal.