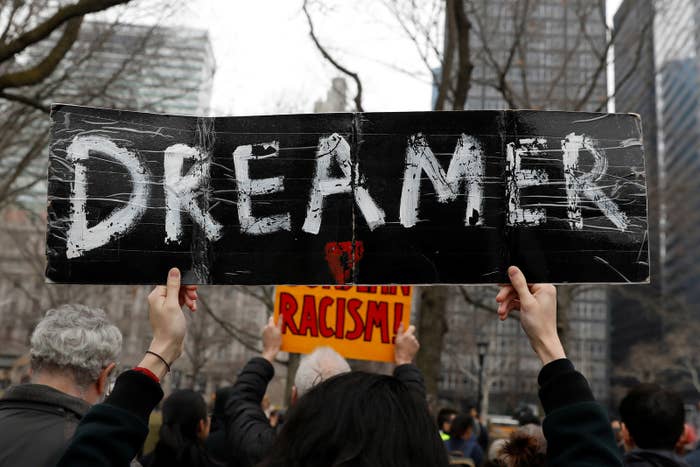 In recent weeks, Juan Plascencia has noticed the posts on his Facebook feed from his fellow DACA recipients sound more and more distressed.
"There's a lot of confusion," said Plascencia, a 27-year-old musician and master's student in education whose protections under the Obama administration's Deferred Action for Childhood Arrivals run out in February. "People are saying it's over."
Plascencia tries to remind his friends that the Trump administration had already begun last year to wind down the program. DACA provides work permits and protection from deportation for two years; when the administration rescinded it, it allowed for a short window to renew for those whose protections were expiring.
The program has protected hundreds of thousands of immigrants who came to the country as young people since it was announced in 2012.
But Plascencia himself has grown more anxious as the days grew closer to Wednesday, when US District Judge Andrew Hanen will take up arguments from Texas and a handful of other states, calling for the program to be shut down. Hanen is the same judge who stopped the Obama administration from expanding DACA and providing protections to migrants' parents as well.
"I'm not losing hope," Plascencia, who came to the country with his parents as a 4-year-old, said. "I'm just tired."
The hearing on Wednesday is the latest turn in 18 months of twists over the future of DACA and the fate of its recipients. Since Attorney General Jeff Sessions announced in September that the Trump administration was ending the program, a federal court in California has issued an injunction forcing the administration to reopen renewal applications for those who already have it. Since then, more than 70,000 recipients have renewed successfully.
Then, last week, a federal court gave the administration until later this month to appeal an order that would reopen the entire program, including protections for first-time applicants.
Sessions said he strongly disagreed with the ruling. "The executive branch's authority to simply rescind a policy, established only by a letter from the Secretary of the Department of Homeland Security, is clearly established," he said in a statement. "The last administration violated its duty to enforce our immigration laws by directing and implementing a categorical, multipronged non-enforcement immigration policy for a massive group of illegal aliens."
Whether Hanen decides to order the program be closed on Wednesday or not, advocates and experts predict he will eventually support the challenge from Texas. The resulting conflicting injunctions could end up in the Supreme Court.
"There are a lot of unknowns," said Josh Breisblatt, a policy analyst at the American Immigration Council. "Up to 700,000 [people] have DACA, and the potential fate of that status could be up in the air tomorrow."
In briefing the court earlier this year on what it's looking for Hanen to do in the case, the Justice Department noted "that courts have typically held" in "similar situations" that "the appropriate course is for a district court to refrain from issuing a conflicting injunction."
Nonetheless, the Justice Department went on to lay out a road map for how they would like Hanen to proceed "if this Court decides that preliminary injunctive relief is appropriate." If so, the lawyers wrote, they would ask that Hanen put his ruling on hold for 14 days "so the United States can seek stays of all the DACA injunctions in the respective courts of appeals and the Supreme Court."
Such a ruling — even if put on hold — would lead to a significant amount of quick-moving legal action in the coming weeks, as supporters of DACA fight to keep injunctions against the Trump administration policy in place and opponents fight to enforce a potential injunction of DACA itself from Hanen.
An added wrinkle could come as requests approach the Supreme Court. With only eight justices currently on the court due to Justice Anthony Kennedy's retirement, at least one of the four more liberal justices would have to join the more conservative justices or vice versa in order to reach a definitive ruling on what the government would be responsible for doing while the litigation plays out.
Ana DeLeon, a 21-year-old senior at St. Edwards University in Texas, who is studying political economy, is one of the people who fears what's next. Her protections run until October 2019 but she's planning on applying for a renewal on Wednesday for fear of what could happen to the program.
When the Trump administration announced it was closing down DACA, DeLeon feared leaving the house. "I thought, 'If I get pulled over, I'm getting deported.' I don't know why, but my mind just rewired itself to believe that that was my destiny."
In the meantime, DeLeon has tracked the legal rulings closely, even starting up a litigation tracker she shares with other recipients across the country. She's been waiting for the hearing in Texas.
"I'm worried about what tomorrow will bring and I just hope and pray that it won't be as bad as people are predicting it to be," she said. "I hope that one day in the future I can finally breathe and feel like I belong here."
Regardless of what happens, the waiting for DREAMers will likely continue.
"The confusion and its cruel impact on DACA recipients and hopeful recipients will persist tomorrow and for a long time thereafter," predicted León Rodriguez, who headed the US Citizenship and Immigration Services agency from 2014 to 2017.