Twitter launched an events page for the upcoming US midterm elections on Tuesday. And already it is surfacing tweets from popular online figures who have promoted conspiracy theories and disinformation campaigns in the past.
The page, which was shared by Twitter CEO Jack Dorsey, features tweets broken down into "Top Commentary" and "Latest." A separate tab on mobile devices features news stories and a further state-by-state breakdown of election-related content from users.

In the first major election cycle since the 2016 presidential campaign, which was marred by foreign actors and disinformation campaigns on social platforms, companies like Facebook and Twitter are under more pressure than ever to clean up their networks and surface more truthful, newsworthy content. And while many tweets featured on Twitter's new midterms page come from the verified accounts of political candidates and journalists, there are also quite a few from known conspiracy theorists; users promoting disinformation about candidates; and accounts with few followers, no profile photos, and low tweet counts — all signs of bot or spam accounts.

Among the first tweets featured in the "latest" tab were ones from undercover partisan journalist James O'Keefe and the pro-Trump media outlet Gateway Pundit, a site that has promoted conspiratorial stories in the past.
The tab also promoted tweets from pardoned felon and pro-Trump media pundit Dinesh D'Souza, and a tweet from pro-Trump pundit Bill Mitchell that falsely claims Democrats paid for the Honduran caravan to "spawn a marauding band of fighting age men."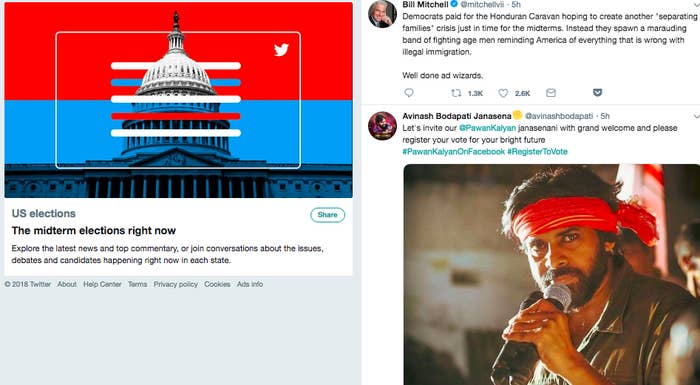 A spokesperson for Twitter told BuzzFeed News that the midterms elections portal was like many of the pages the company creates for events like basketball games and natural disasters. An algorithm curates tweets based on certain keywords, and any content associated with those keywords is populated on the page. The Twitter spokesperson did not specify what keywords were being used for its midterms elections page. In a follow-up call, a Twitter spokesperson clarified that the 'latest' tab's algorithm takes into consideration the accounts that a user follows as one of a number of signals in order to surface tweets. It is possible then, if a user follows a conspiratorial or automated feed, the algorithm could recommend similar conspiratorial or automated accounts. The page, the company noted, was designed less for Twitter power-users and more for newer users searching for useful news ahead of the election.

However, it appears the keywords are dredging up low-quality information — like this tweet spreading a fake claim that the GOP candidate for governor of New York had dropped out of the race.
The tab surfaced tweets from accounts that appeared automated — some with no followers or profile pictures. Most of the accounts were hyperpartisan accounts on the left and the right promoting hashtags like #BlueWave2018.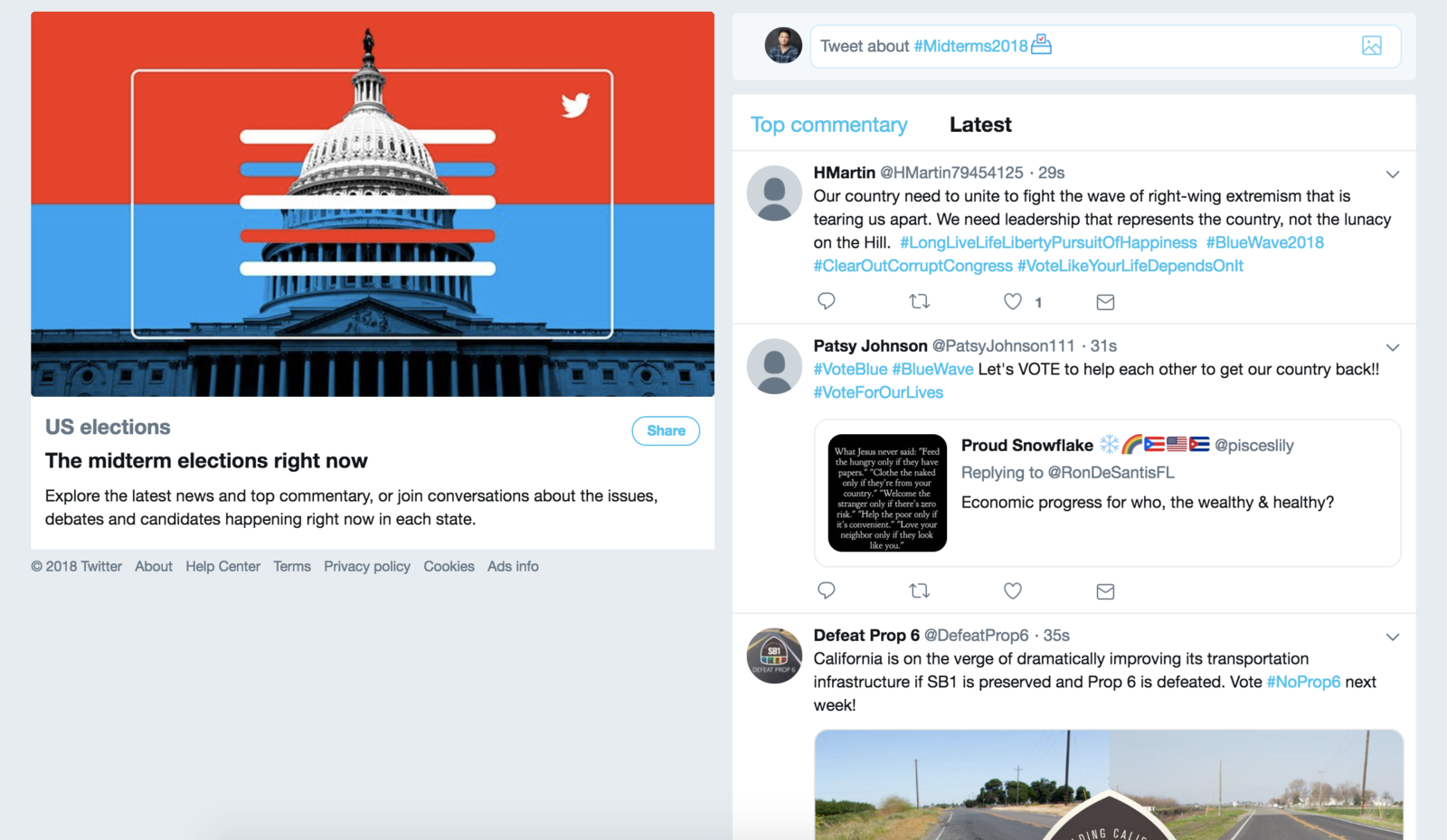 One account suggested that Kid Rock was about to become one of Michigan's senators.

This tweet promoted unproven claims of illegal voting in states like Texas.

Other tweets just seemed to stoke partisan fear about illegal voting.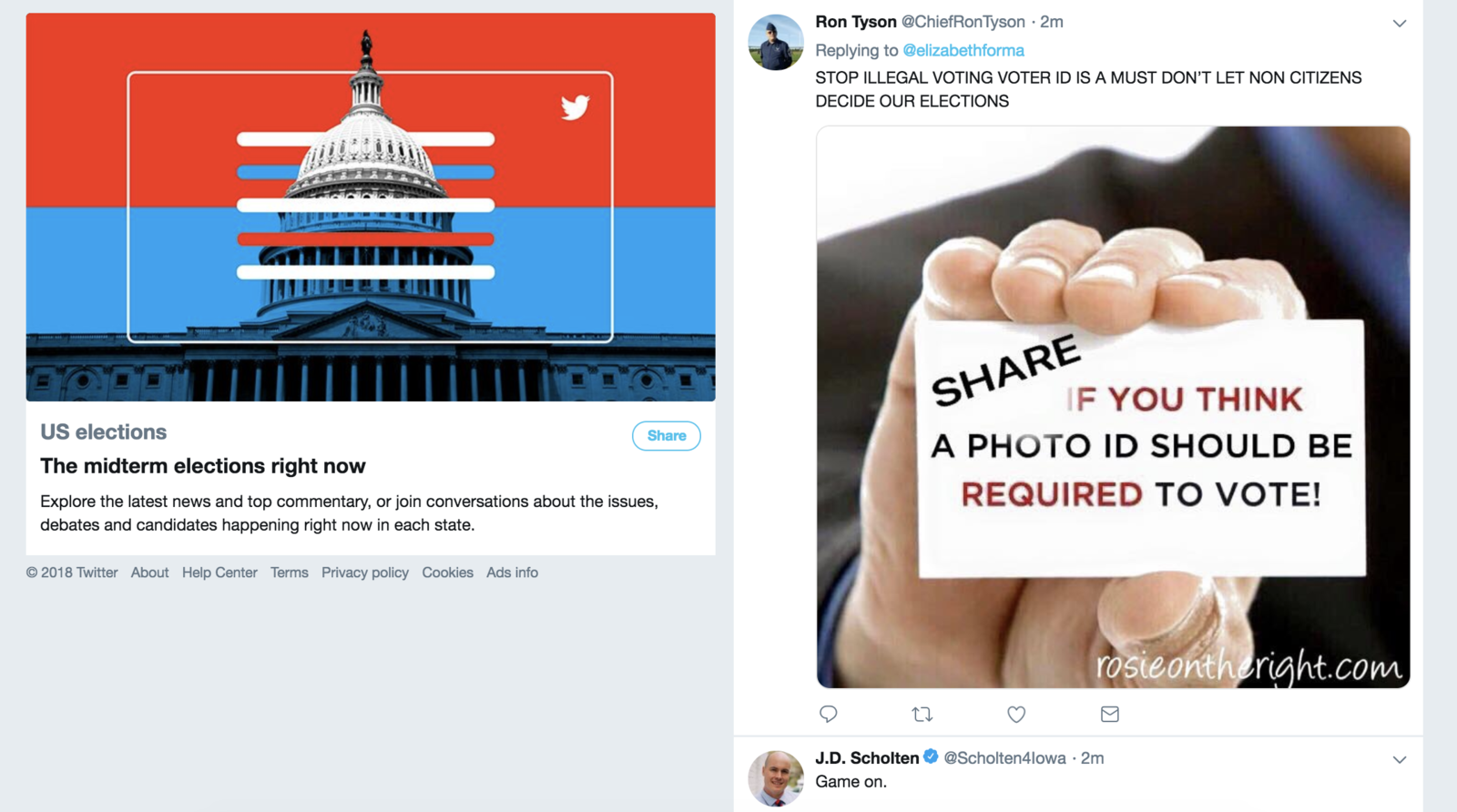 And some tweets surfaced on the page appeared not to have any political focus at all.

Even the event page's state-by-state breakdown surfaced tweets from cable news pundits that would appear to undermine Twitter's focus on "conversational health."
UPDATE
This post was updated to include follow-up clarification from Twitter.