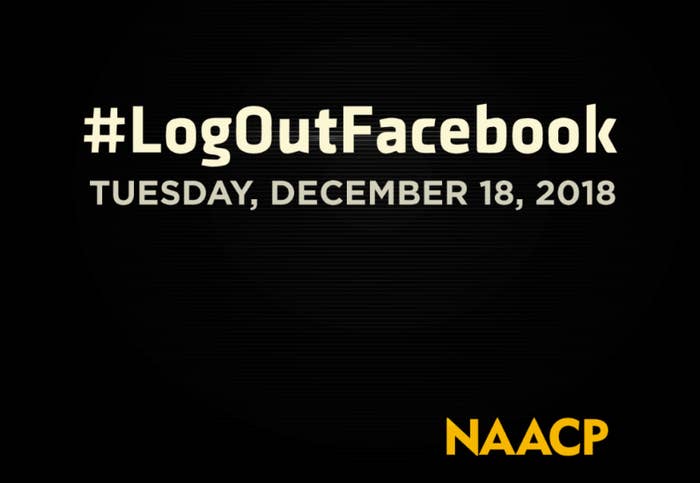 The National Association for the Advancement of Colored People (NAACP) is organizing a weeklong boycott of Facebook beginning Dec. 18. The protest — #LogOutFacebook — follows recent reports that found that foreign misinformation campaigns of 2016 were disproportionately directed at black users of Facebook's platforms. The NAACP also returned a donation from Facebook.
According to a pair of new reports prepared for the Senate Intelligence Committee, "most prolific IRA efforts on Facebook and Instagram specifically targeted Black American communities and appear to have been focused on developing Black audiences and recruiting Black Americans as assets."
The protest will take part largely online; the NAACP is urging Facebook users to sign out of the platform beginning Tuesday to send a message "to signify to Facebook that the data and privacy of its users of color matter more than its corporate interests." A statement by the organization notes that the protest calls on Facebook to "recognize that users of color have a right to be protected from propaganda and misinformation."
The NAACP campaign is the second public protest against Facebook's treatment of employees and users of color in recent months. In November, former Facebook employee Mark S. Luckie published a memo on the company's diversity and inclusion efforts. "Facebook has a black people problem," he wrote. Luckie argued that Facebook's platform "disenfranchises" its black users and specifically cited efforts by trolls to undermine Black Lives Matter pages and other activist accounts posting about racism as hate speech. "Their content is removed without notice. Accounts are suspended indefinitely," he said, "despite them often not violating Facebook's terms of service."
For Facebook, the NAACP protest is just the latest in a parade of ongoing scandals. Last week, the company disclosed a security flaw that potentially exposed the public and private photos of as many as 6.8 million users to developers. It is the second widespread vulnerability to be reported this fall.
Throughout 2018, users have attempted boycotts of Facebook in response to its myriad scandals. After reports in March that troves of Facebook data were improperly shared by researchers with the election targeting firm Cambridge Analytica, activists and concerned users started a #DeleteFacebook campaign that has ebbed and flowed in popularity throughout the year. Some prominent folks in the technology industry have spoken out as well. On Monday, longtime technology columnist Walt Mossberg announced he was quitting the service after 12 years. His reason? "Because my own values and the policies and actions of Facebook have diverged to the point where I'm no longer comfortable there."