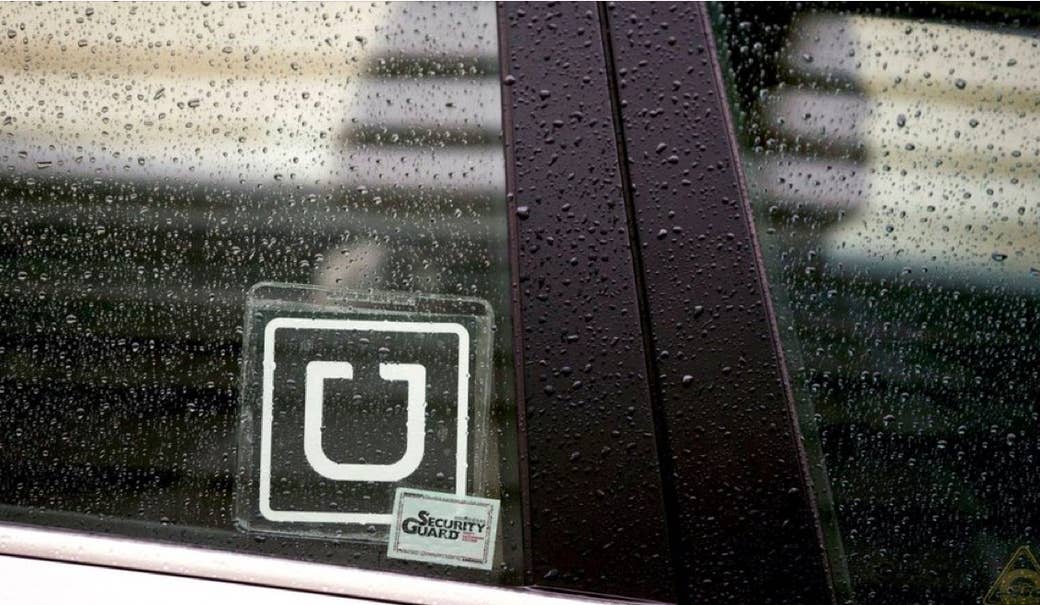 According to data provided by Uber to BuzzFeed News, the company received five claims of rape and "fewer than" 170 claims of sexual assault directly related to an Uber ride as inbound tickets to its customer service database between December 2012 and August 2015.

Uber provided these numbers as a rebuttal to screenshots obtained by BuzzFeed News. The images that were provided by a former Uber customer service representative (CSR) to BuzzFeed News, and subsequently confirmed by multiple other parties, show search queries conducted on Uber's Zendesk customer support platform from December 2012 through August 2015. Several individual tickets shown in the screenshots have also been confirmed.
After Uber learned of BuzzFeed's investigation, the company began contacting customer service representatives in its system who had searched the Zendesk database for the terms rape and sexual assault, apparently in a hunt for the leaker.

In one screenshot, a search query for "sexual assault" returns 6,160 Uber customer support tickets. A search for "rape" returns 5,827 individual tickets. Other variations of the terms yield similarly high returns: A search for "assaulted" shows 3,524 tickets, while "sexually assaulted" returns 382 results.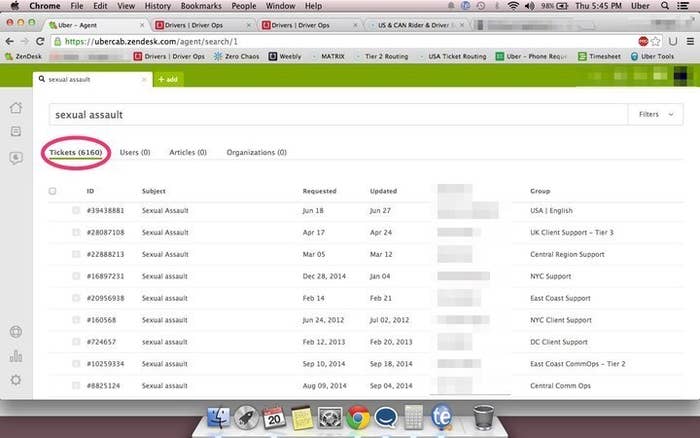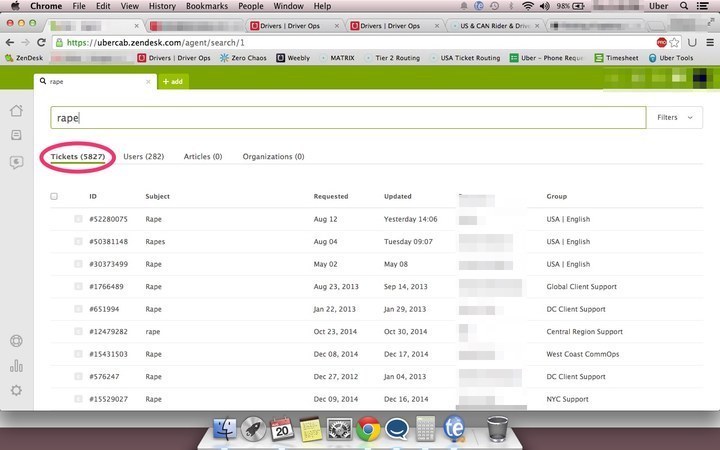 Uber insists the data shown in these images is not an accurate representation of assault complaints made through its platform. Though the company said it could not immediately provide internal statistics for the numbers of rape and sexual assault complaints on its platform, a 24-hour review by Uber's legal, safety, and data teams concluded that the rape ticket counts obtained by BuzzFeed News are "significantly overstated."

Uber officials told BuzzFeed News that of these thousands of tickets returned for the keyword "rape," five meet Uber's standard of an actual incident related to a trip; Uber declined to further define this standard or expose its methodology. (It's worth noting these are incidents in its customer service system, not an accounting of all incidents. The number is neither comprehensive nor inclusive). The company suggested a number of reasons a search query for the term would return 5,827 support tickets.
Uber officials suggested that if an email address or rider/driver last name contains the word "rape" like "Jason Rape" or "Don Draper" it will be included when queried. The official noted that 68 riders and 12 drivers have the first or last name "Rape" and claimed that many of them generated multiple tickets during the time period in question. The source also suggested that misspellings of the word "rate" and expressions like "you raped my wallet" accounted for false positives in the search results seen in the obtained screenshots.

However the screenshots obtained by BuzzFeed News show nine complaint tickets with the subject line of "rape." The nine results in the screenshot do not appear to be the result of misspellings or driver or rider names or emails with a letter sequence of "rape."
The ride-hail giant repeatedly asserted that the high number of queries from the screenshots is overstated, however Uber declined BuzzFeed News' request to grant direct access to the data, or view its data analysis procedures. When asked for any additional anonymous data on the five rape complaint tickets it claims to have received between December 2012 and August 2015, Uber declined to provide any information.
Uber also rebutted screenshots that show a search query for "sexual assault" returning 6,160 customer support tickets. Uber officials told BuzzFeed News there were fewer than 170 tickets with a claim of sexual assault. These officials suggested that the thousands of tickets matching that search query may have been caused by "reports from riders who were making claims about sexual assault on other transport services, discussions about sexual assaults in the news, and reports about passengers who got into cars that were not Uber vehicles and were then sexually assaulted."
The screenshots obtained by BuzzFeed News show at least nine complaint tickets with the subject line of "sexual assault" and at least nine results out of 382 with subjects for "sexually assaulted," including "uber driver sexually assaulted me," "sexually assaulted by Uber driver in SF," "Uber driver sexually assaulted my girlfriend," and "my daughter sexually assaulted by drive."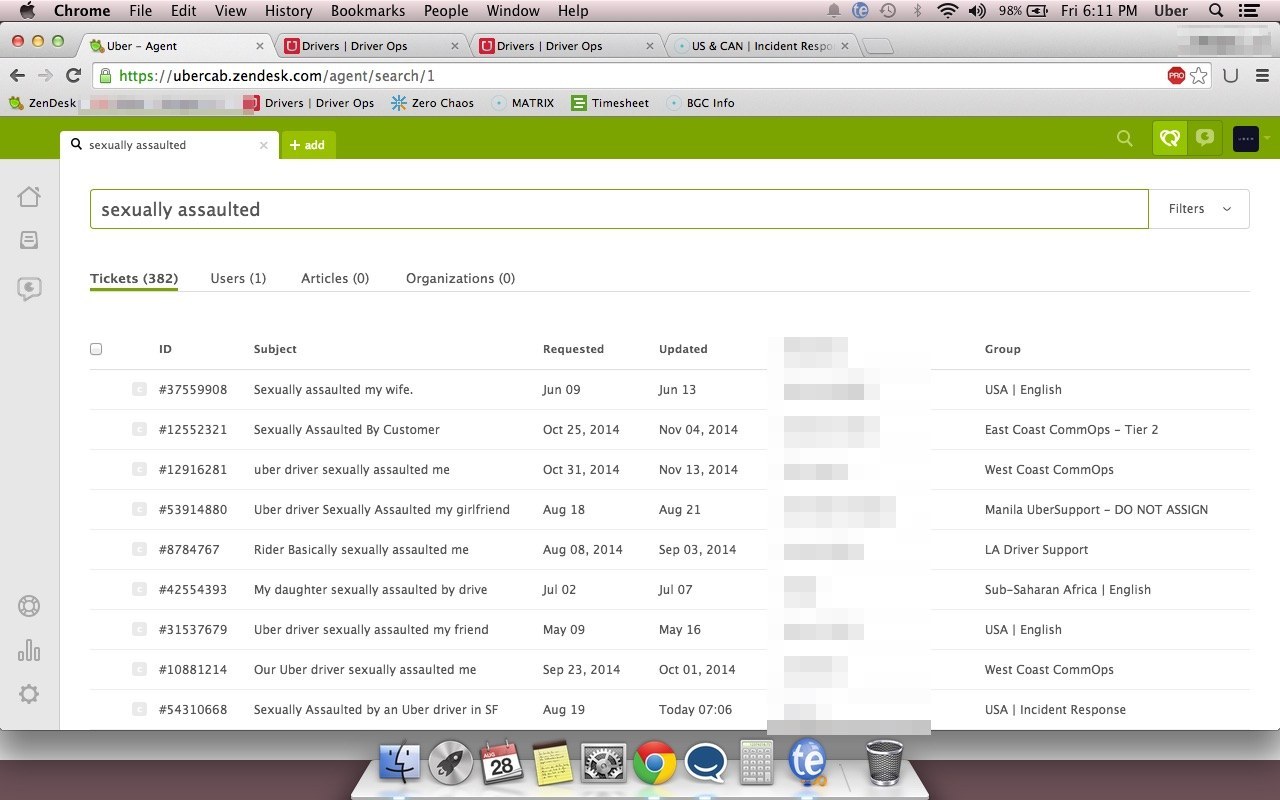 Uber officials told BuzzFeed News that, in the instance of reported rape or assault, CSRs are told to reach out to the person who reported the claim and to escalate to law enforcement as appropriate. Company officials also noted that Uber temporarily deactivates the driver partner or rider during the investigation and that Uber's technology sends riders the license plate, make, and color of the car, and the driver's photo and name.
Additional screenshots provided to BuzzFeed News detail the way Uber's Incident Response Teams are instructed to deal with customer support tickets, which range in severity from Level 1 to Level 4. Nonconsensual sexual contact (or attempts to commit same) fall under Level 3, and are supposed to prompt an investigation. According to Uber's internal documentation, if an investigation into nonconsensual sexual contact proves inconclusive, a driver receives a "Final Warning"; only if the investigation is conclusive or if the driver receives a second inconclusive strike is he or she deactivated.
Screenshots from Uber's "Support Logic and Escalations" section inside Zendesk also show that customer service reps handling nonconsensual sexual contact cases should take media and law enforcement interest into account when deciding to escalate cases to higher-ranking employees. "Determine LE/media interest and have Comms/LERT monitor if risk confirmed," one screenshot reads.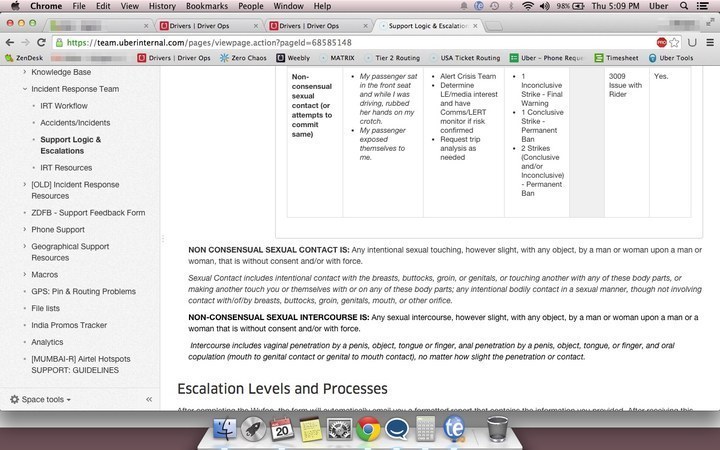 In another customer service screenshot pertaining to confirmed driver alcohol/drug use, support logic instructions suggest that "if rider does not want to escalate with LE (law enforcement) or media, follow strike system, issue warning, and resolve without escalating."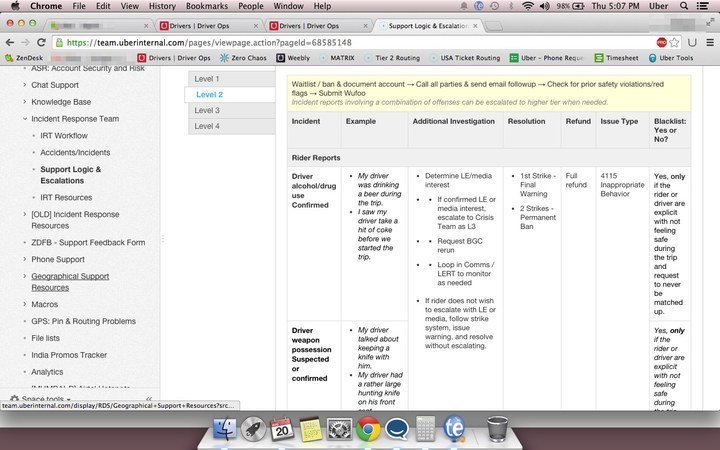 While the volume of search returns for tickets concerning rape and sexual assault in the screenshots above differ greatly from the numbers Uber provided to BuzzFeed News to rebut them, the high volume of queries under these two keywords provides a window into a particularly vexing problem for customer support representatives already struggling to handle a myriad of rider and driver issues. Simply put: The sheer quantity of these tickets makes it difficult to tell which ones are exaggerations or attempts at false escalations and which are legitimate and urgent requests.
An Uber spokesperson told BuzzFeed News, "we are deeply committed to providing a ride people can trust, and our technology allows us to focus on safety before, during, and after every trip. Even one incident of this nature is one too many."
UPDATE 2:
On Monday, Uber walked back a core explanation for the thousands of tickets in its customer support ticket system with the subject "rape." This change in position comes less than a day after a BuzzFeed News published screenshots from Uber's Zendesk-based customer support system showing thousands of tickets containing the words rape. Read the rest here.