After also expressing her gratitude for people making donations to the St Jude foundation in memory of her father, she later made "her only statement" on her father's passing on Tumblr.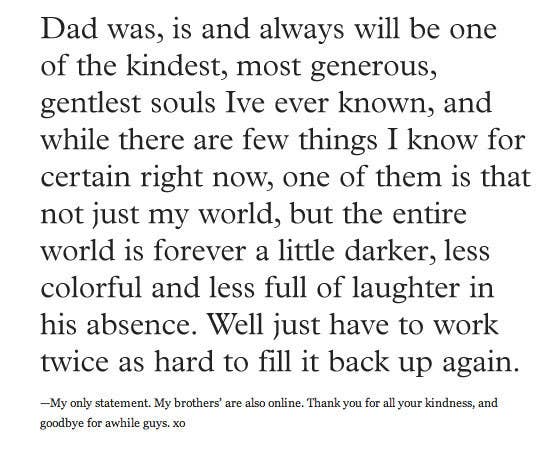 Despite the outpouring of grief and adoration for Williams, Zelda acknowledged there were those "sending negativity" towards her and her family.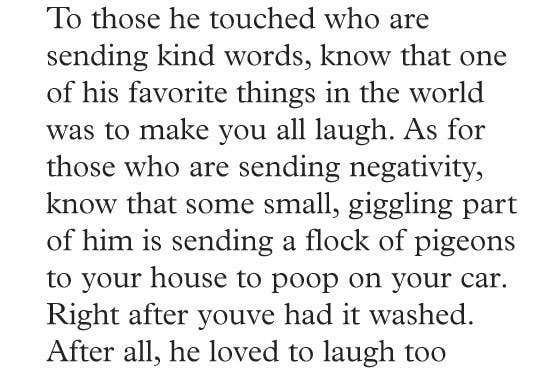 That negativity then horribly escalated later in the day, with at least two users on Twitter sending her graphic, photoshopped images of her father's dead body.
Williams tweeted: "Please report @PimpStory @MrGoosebuster. I'm shaking. I can't. Please. Twitter requires a link and I won't open it. Don't either. Please," Her tweet was later deleted.
Zelda then announced that she would be "deleting" Twitter from "her devices" for a "good long time, maybe forever" following the horrific abuse.
She also made another statement about the abuse on Instagram, stating that people were "judging" her on the number of photos she had posted of her and her father.
Zelda has not deleted or deactivated any of these accounts at any point over the last few days, but rather "deleted" the various applications from her devices.
Del Harvey, Twitter's Vice President of Trust and Safety, issued the following statement:
We will not tolerate abuse of this nature on Twitter. We have suspended a number of accounts related to this issue for violating our rules and we are in the process of evaluating how we can further improve our policies to better handle tragic situations like this one. This includes expanding our policies regarding self-harm and private information, and improving support for family members of deceased users.