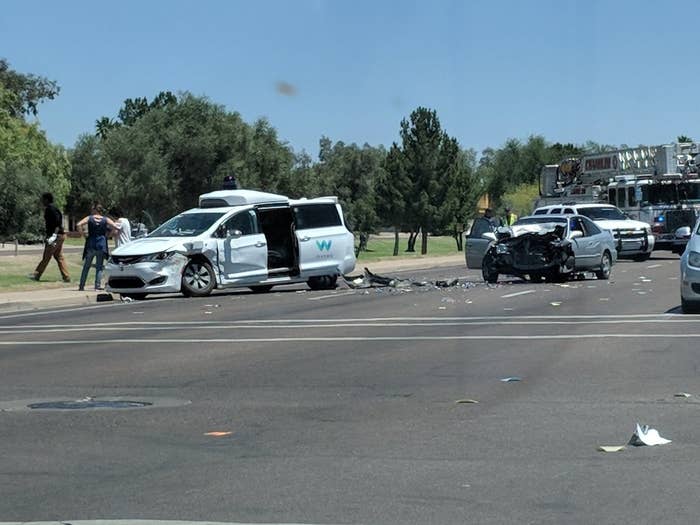 A self-driving vehicle by Waymo, which is owned by the same company that owns Google, collided with another vehicle in Chandler, Arizona, on Friday. Minor injuries were reported.
Chandler Police said the Waymo car was not the "violator vehicle."
"The Waymo was in the wrong place at the wrong time," a Chandler Police Department spokesperson told BuzzFeed News. A car swerved to avoid striking another vehicle and ended up hitting the Waymo.
Including the Waymo vehicle, three cars were involved in the incident, but only two collided.
Police are investigating whether either of the two non-Waymo vehicles committed a "red light violation."
The Waymo vehicle was in autonomous mode at the time of the crash, with an operator inside who sustained minor injuries. Waymo did not immediately respond to a request for comment.
This comes only a few weeks after an Uber self-driving vehicle struck and killed a pedestrian in Tempe, Arizona. That accident, in which a vehicle operator was present but the car was in self-driving mode, is still being investigated by the National Transportation Safety Board. In response, Uber temporarily suspended all testing of its self-driving vehicles; Arizona Gov. Doug Ducey also suspended Uber's ability to test its cars in the state.
Here's the full statement on the incident provided by Chandler Police, which provides some details about the crash:
We are currently investigating a minor injury collision involving two vehicles, one of which is a Waymo autonomous vehicle. This afternoon around noon a vehicle (Honda sedan) traveling eastbound on Chandler Blvd. had to swerve to avoid striking a vehicle traveling northbound on Los Feliz Dr. As the Honda swerved, the vehicle continued eastbound into the westbound lanes of Chandler Blvd. & struck the Waymo vehicle, which was traveling at a slow speed and in autonomous mode. There was an occupant in the Waymo vehicle sitting in the driver's seat, who sustained minor injuries. Both the Waymo vehicle & the Honda were towed from the scene. This incident is still under investigation.