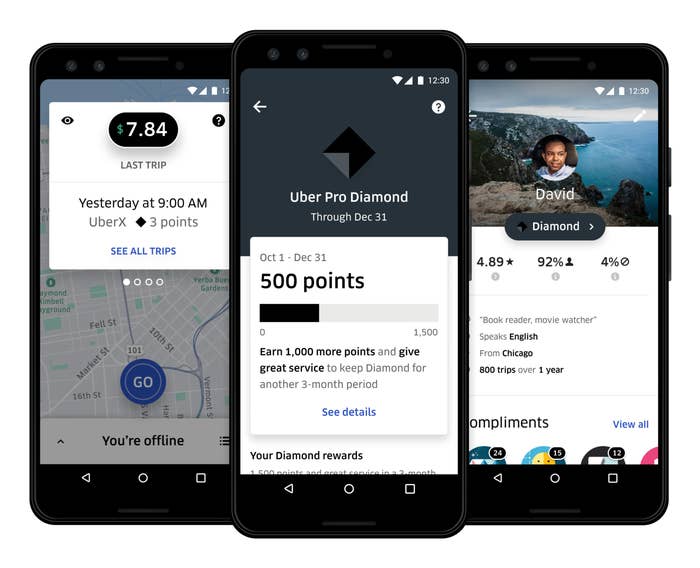 Uber will cover online college tuition costs and offer other perks like discounted fuel to its top drivers as part of a new program called Uber Pro that launches Thursday in eight markets.
"Drivers earn status by getting points and by giving great service — those unlock status," Daniel Danker, head of driver product at Uber, told BuzzFeed News. "We want to recognize commitment from drivers."
Under the Pro program, drivers will be ranked in three tiers — gold, platinum, and diamond. For platinum and diamond drivers who've driven more than 3,000 rides with Uber, the ride-hail company will cover the cost of tuition for Arizona State University's (ASU) online program — for children, spouses, and parents as well. Those drivers, along with others ranked in the gold tier, will also be eligible for other perks — discounted fuel and car maintenance, and shorter wait times to pick up passengers at lucrative locations like airports.
Uber Pro drivers will receive 5% fuel discounts at any gas station, and 6.5% at ExxonMobil stores. Twenty-five percent discounts on car maintenance will be provided through CarAdvise, an online auto repair shop network.

In a coauthored Arizona Republic op-ed, Uber CEO Dara Khosrowshahi and Arizona State University President Michael Crow said they hope Uber Pro will provide "a model of how business and academia can leverage knowledge, technology and scale to help more people gain the skills they need to advance in their lives, serve their families and communities, and contribute to the betterment of society."
The program will be tested first in Seattle, Chicago, New Orleans, New Jersey, Orlando, Tampa, Phoenix, and Denver. Drivers in these markets who would have qualified for Uber Pro in the last three months will automatically be added to it.
Qualification for different Uber Pro tiers is based on the number of points drivers amass by completing trips. That doesn't necessarily mean, however, that Uber is encouraging drivers to treat the platform as a full-time job; half the drivers who currently qualify for Pro drive fewer than 30 hours per week, the company said.
In order to be eligible for Uber Pro, drivers must maintain a customer rating of 4.85 and above. Should they drop below that threshold, they'll be given a chance to raise their score. But if a driver falls below a 4.75 rating for any reason, they'll be disqualified from the program. Uber declined to say what the current average customer rating is for all drivers, but noted that a 4.85 score is "really achievable for these drivers."
The program is being rolled out at a time in which driver retention is a growing challenge for ride-hail companies like Uber and Lyft. Uber has long used behavioral economic strategies like bonuses and surge notifications to encourage drivers to spend more time on the platform; Uber Pro is in some ways an extension of this gamification, aimed at making drivers more loyal.
Uber's new program is similar to those of Starbucks, Walmart, and Amazon, which cover some education costs for employees; Starbucks also partners with ASU, which offers some freshman-level online classes free of charge to the public. It is unique, however, in that Uber drivers are independent contractors, and not employees.
Uber said it hopes Uber Pro will roll out nationally in 2019, and globally sometime after that.