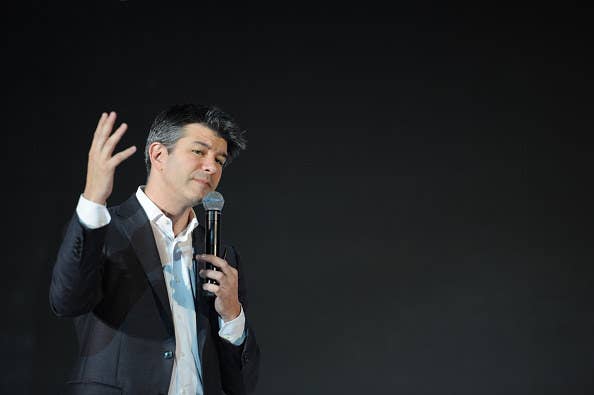 Uber is making moves in its effort to to bring autonomous vehicles to the ride-hail industry. Later this month, the $66 billion startup will start dispatching a fleet of self-driving "custom Volvo XC90s" on the road in Pittsburgh, Bloomberg reports.
Humans will monitor the autonomous Uber vehicles from the drivers' seat, and rides will be free, to start out. Volvo will roll out 100 of the cars in Pittsburgh by the end of the year.

Uber started testing self-driving Ford Fusion cars in Pittsburgh in May of this year, out of its Pittsburgh Advanced Technologies Center, and has long held ambitions for building an autonomous fleet — a source of anxiety for the hundreds of thousands of drivers who rely on the company for income.

Uber also announced that it just bought Otto, a San Francisco-based company that launched in May 2016 with the goal of automating commercial trucking.

CEO Travis Kalanick introduced the news in a blog post Thursday morning, but declined to share how much the ex-Googler founded company cost him, though sources told Bloomberg it amounts to 1% of Uber's latest valuation.
Otto founder Anthony Levandowski first met Kalanick while he was at Google, where he was a key part of the company's autonomous car team before decamping in January 2016. "Together," Kalanick wrote, "we now have one of the strongest autonomous engineering groups in the world."
The founders of Otto said when the company launched that their goal was to make commercial trucking safer. Recently, an autonomous Tesla vehicle was involved with a fatal car crash, a high-profile accident that's been seen as a setback for the self-driving vehicle industry.

In his blog post, Kalanick also announced that Uber will be partnering in a non-exclusive, $300 million deal with Volvo develop to an autonomous car together, citing Volvo's safety record and the fact that "Uber has no experience making cars."
Kalanick argues that, because Uber controls "the data and intelligence that comes from doing 1.2 billion miles on the road every month," it has an advantage over competitors, which include Google and Tesla.
Many auto and ride-hail companies have partnered in their efforts to get self-driving cars on the road — for example, General Motors and Lyft. Earlier this week, Ford announced plans for an autonomous ride-hail fleet that it plans to put on the road by 2021. And Uber also announced a different strategic partnership with Toyota in May to advance autonomous car research.