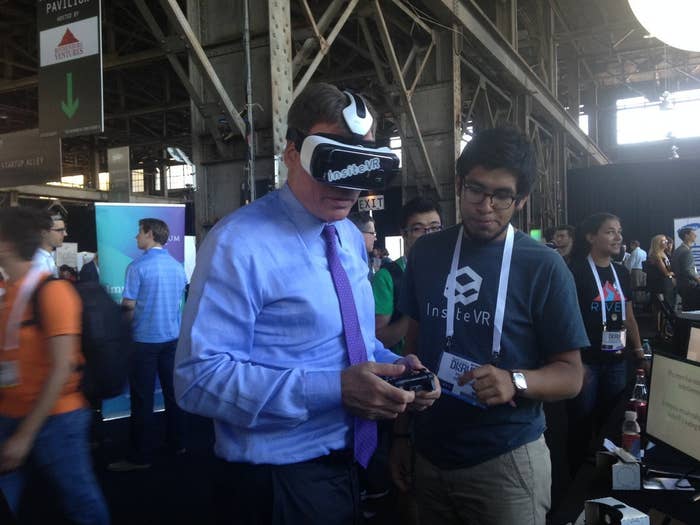 Sen. Mark Warner of Virginia is looking somewhat longingly at a hoverboard. Here, in TechCrunch Disrupt's "Startup Alley," he's just tried on a VR headset for the first time, and it's clear he's looking for more tech toys to have fun with. His press team said Warner is more liable to wander off on his own than other politicians, and that danger seems especially likely in a busy exhibition hall full of tech temptation.
Warner, who once founded a venture firm and happily identifies as a "hardcore capitalist," spent much of the last week in San Francisco meeting with tech executives. Some of them, like the folks at Zynga, were old friends of Warner's from his pre-government days as a venture capitalist in the telecom industry. Some of them, like the folks at LendUp — a fintech startup hoping to offer "an alternative to the payday loan" — spoke to Warner's interest in alternative lending. But most of them, like the folks at Airbnb, were players in the gig economy, an industry that Warner has been trying to lead the regulatory conversation on for some months now. (Some of them, interestingly, were labor folks, though Warner wouldn't say exactly who.)
Warner believes that with the restructuring of the American workforce, there's "a chance to do a redesign" of the country's social safety net. "Capitalism is working great for the makers and entrepreneurs," he told BuzzFeed News. "I'm not sure capitalism is working as well for lower-income people."
Warner, a Democrat who currently holds the distinction of being the wealthiest of all the U.S. senators, is a businessman turned bureaucrat, and by and large, a fan of these companies and innovations — if Warner's clear glee in Startup Alley wasn't enough of an indication of that, the fact that his team used Uber and Lyft to shuttle around San Francisco throughout their visit is. And he sees increasingly flexible work as an opportunity to fix capitalism.
To that end, he has spent much of the last few months taking meetings with workers, constituents, tech executives, policymakers, and labor leaders trying to figure out what kind of change needs to happen, and who's going to have to give and take where. Warner has been doing a lot of talking about the issue, convening a number of round tables and panels on the topic. He's also called out the current presidential candidates for glossing over the issues he's most concerned about when it comes to gig workers, such as unemployment insurance, workers' compensation, and disability insurance, as well as things like overtime and other protections.
By and large, the people who do work for money on platforms like Uber, Lyft, Instacart, TaskRabbit, Etsy, and Amazon's Mechanical Turk (to name a few) don't receive the same benefits and protections that the majority of American workers do. That's because they're classified as contractors — as self-employed workers who are, supposedly, beholden to themselves. But many, including some courts, don't think this arrangement is fair — or legal. In June, BuzzFeed News spoke with Warner about the potential creation of a new class of worker, one that fell somewhere between employee and contractor on the regulatory spectrum. But in his interview with BuzzFeed News three months later, Warner said neither Washington, D.C,. nor Silicon Valley have the necessary information or understanding to have a serious debate about regulations.
Recently, he met with a group of Etsy sellers who have found success on the site. Warner is especially interested in digital labor platforms like Etsy that, unlike a Lyft or an Instacart, don't require workers to necessarily be living in a urban environment. Warner described the Etsy sellers he met with as "enthusiastic" about working on the platform. But when he brought up the issue of access to disability insurance — something most people don't think about until they need it — it became clear that getting access to benefits and protections is a problem for even the most satisfied crafters who make a living on the site. "One of the jewelry makers said, 'Yeah, that is a concern,'" Warner said. "You could sort of see the Etsy person squirm in the chair."
On Capitol Hill, while recognition of what the gig economy is has grown, legislators are a long way off from understanding the nuanced differences between, say, how Uber operates versus how TaskRabbit operates. "If you say, 'How many of you have heard of the on-demand, gig, or sharing economy?' it went from, six or seven months ago, it might be 5% of an audience, to where it's now two-thirds of the audience, but it's not 100%," Warner said of his peers in Washington.
Meanwhile, the last three months in San Francisco have been anxiety-inducing ones for on-demand tech executives. Uber has repeatedly been found to have misclassified workers as contractors, cases which don't bode well for the upcoming class-action suit against that company and Lyft. A handful of companies — Shyp and Instacart are two of the big ones — have thrown in the towel on the particular fight and made moves to convert their workforces to W-2 status. Other on-demand companies, like Zirtual and Homejoy, lacking funding and facing lawsuits, respectively, have thrown in the towel altogether. Warner said it's becoming clear to the founders of these companies that the on-demand economy, whatever that is, will not continue unchecked.
"When you've got the market valuations that you've got in this sector, you've got to assume, with that attention and the take-up rates you've got — which is all great! — you're also going to get attention that's going to say, 'You're not going to escape public scrutiny, policy scrutiny,'" Warner said.
The problem with all of that scrutiny, said Warner, is that these companies have been unable to experiment as they would have wanted to with managing the workforce. Under the current law, there's very little wiggle room in terms of providing protections or benefits to contractors. It's a sort of catch-22 — the more support an employer provides, the more likely it is those workers should legally be classified as employees. Warner said that in an ideal world, he'd like to provide these companies "safe harbor" or a "time out" from the law so they can experiment with different models for providing benefits.
Specifically, Warner is interested (as he was in June) by the idea of an exchange model — where independent workers can buy things like disability insurance the same way they buy health insurance — and an hour bank model — where both workers and platforms contribute to benefits fund based on the number of hours worked. But before he feels comfortable making a legislative recommendation, he'd want to see these experimental programs in action within some of these companies. The question is, with lawsuits looming and the gig economy already a presidential campaign issue, will there be enough time?
"I do think we're going to need some runway," he said. "I'm also trying to say beware, the politicians are coming."
The first thing Warner needs to move forward is better data. Estimations of how many people are currently participating in the gig economy vary wildly. Some figures say the on-demand economy is growing at a breakneck pace, and that the number of contingent workers by 2020 could be over 7 million. Other reports say that the on-demand economy is dying; others say it's dead; some say it never existed at all. On the number of gig workers, Warner said, "I've seen it range from 3 million to 53 million."
Given those contradictions, one of the things Warner talked with industry leaders about during his trip was the potential for forming a data coalition, where individual platforms would share their user number data with a third party, like a "trusted academic or someone else who protects proprietary data," in hopes of producing a more accurate estimate of how many lives are actually being touched by the so-called on-demand economy. If that figure is as significant as Warner expects, it could help these companies make their case to regulators in Washington. "It would be helpful for folks to make their case to policymakers," he said, "and I think that would be helpful for policymakers as well."
Warner is, overall, an optimist about the what flexible work and the gig economy can do, and about tech writ large. He was, for example, excited about an idea he'd heard whereby gig economy workers with favorable ratings could potentially get more affordable loans from banks. (When I pointed out the potential drawbacks of such a plan — giving customers such as drunk Uber passengers power over an individual's financial independence — he seemed unperturbed.) While it might be true that most gig workers aren't choosing on-demand work as a long-term option but using it to smooth the transition between full-time jobs, Warner said most who try it aren't looking to return to full-time work.
"I say, 'Would you make what you're making now and go back to 9-to-5?' They say no, they wouldn't," he said. "'If it was 10% more, would you go back?' No. 'Twenty percent?' No. It takes between 30 and 40% before people say, 'Yeah, I'd think about going back.'"
Repeatedly, Warner has said that he doesn't want to see the issue of regulating the gig economy played out in the courts. But the big Uber/Lyft class action case looms large, and, if the decision of that court follows the current trend, it could spell doom for Uber. If Warner wants to make a move on redefining economic security and stability in 21st-century capitalism, he may be running short on time. And as he himself pointed out, government is not known for moving fast.
"The 20th century was very formalized and run by state programs. If X happened, you got Y," he said. "But the whole notion here is flexibility and better data. If we have better data and more flexibility, can we tailor benefits and other things? Government's normally not very good at that."