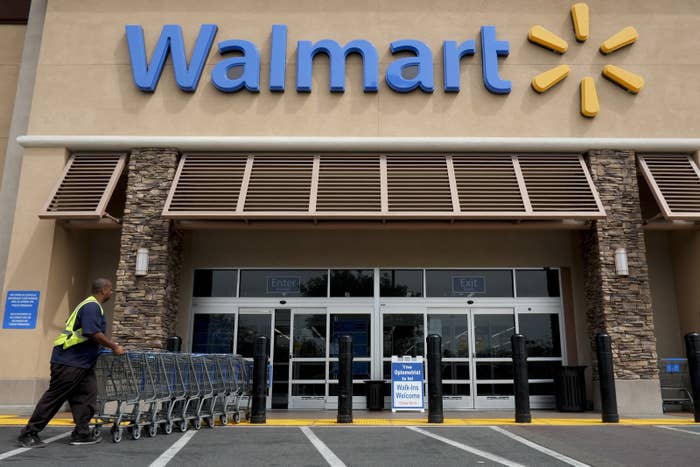 OUR Walmart, a digital labor network of more than 100,000 Walmart employees, is using an artificially intelligent chatbot called WorkIt to spread information among workers ahead of the holiday shopping season.
According to Walmart workers asked to speak on an OUR Walmart press call, employees are only able to access information on company policies at work if they use a manager's computer using a system called "the wire." As a result, they said it was sometimes difficult to research company policy on issues like sexual harassment and sick time. The WorkIt app, which includes discussion forums as well as a Watson-powered AI chatbot, is intended to address this problem by allowing employees to seek out answers to HR questions via their smartphones. Currently, the app is available only on Android devices, but OUR Walmart plans to bring it to iOS later this year.
"Being unable to access policy online when you are at work makes difficult to know when you are breaking policy — or understand how managers are using policies against you," said Mississippi Walmart worker Joanna Chambers. "Through the WorkIt app, we're amplifying the strength of OUR Walmart networks."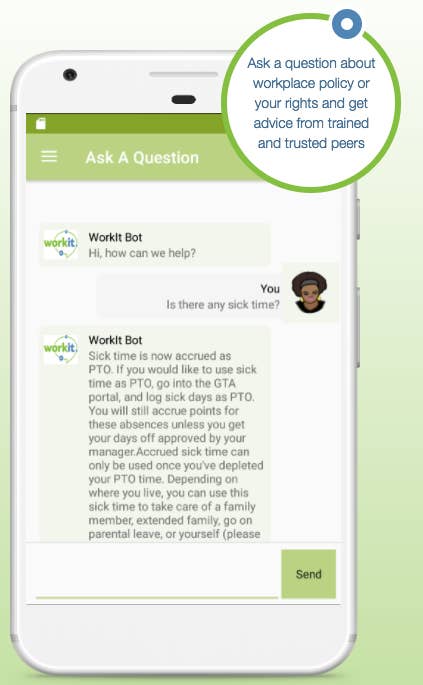 Initially funded by the United Food and Commercial Workers union and managed by labor organizers Andrea Dehlendorf and Dan Schlademan, OUR Walmart subsequently broke off on its own. It now manages a 44,000 plus member Facebook page that isn't controlled by a traditional labor organization. But if Walmart employees embrace WorkIt, the app could supplant Facebook as a nexus of worker communication, putting control more squarely in the hands of those running the OUR Walmart organization.
"What we've seen with discussion happening online — on Facebook and on Reddit — are conversations that are jumbled and disorganized," Dehlendorf said on the press call today. "They don't allow people to get the answer quickly and efficiently, and from someone they trust."
In contrast, WorkIt's algorithm is designed to draw from hundreds of pages of company policies and employee guidelines to deliver accurate and reliable answers to worker questions. The tool is being trained by "experts," employees who volunteered to teach WorkIt how to provide the most accurate and useful questions to employee queries.
Walmart disputed the notion that its workers do not have unfettered access to the employment documentation they need. "Our associates already have anytime-access online to the company's most current and accurate Paid Time Off policies and there is no way to know if the details this group is pushing are correct," Walmart spokesperson Kory Lundberg wrote in a statement provided to BuzzFeed News. "Our people are smart and see this for what it is, an attempt by an outside group to collect as much personal and private information as possible." OUR Walmart told Bloomberg that it doesn't collect location-based data and won't sell user information to third parties.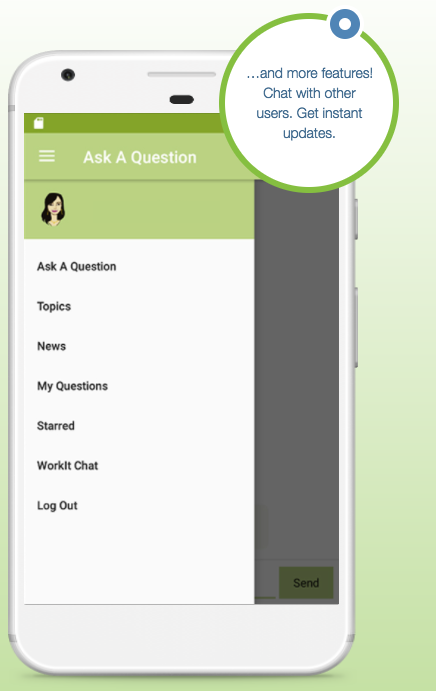 Catherine Huang, OUR Walmart's chief technology officer, said the group is currently using Watson's natural language processing abilities to match employee queries with material in an existing training database. Going forward, she said she'd like to expand those capabilities and is considering a Spanish language version for early 2017.
OUR Walmart will be taking WorkIt on the road over the next two weeks, visiting stores in over a dozen cities in an effort to get workers to sign up. Traditional unions require things like membership and fees, but OUR Walmart is defined by a looser structure. That makes WorkIt — an app that's a central hub for communication and independent silo of user data, including contact info and most frequent questions and complaints — especially valuable if it works.
Though OUR Walmart created the app, Walmart workers are only a test case for the technology (albeit a major one — Walmart is the second largest employer in the United States). For a price, WorkIt can be repurposed by any organization looking to connect workers to each other and information. Troy Burton, a labor organizer in Australia who said unions there are looking forward to using WorkIt, suggested that some data gathered in the app could even be used at the bargaining table when it comes time for workers to negotiate new contracts.
For Burton, the project is a blend of the mechanics of collective bargaining that undergird the "philosophy of unions" and "the long held promise of the internet to democratize information and overcome the barriers of geography and cultural separation that people face."