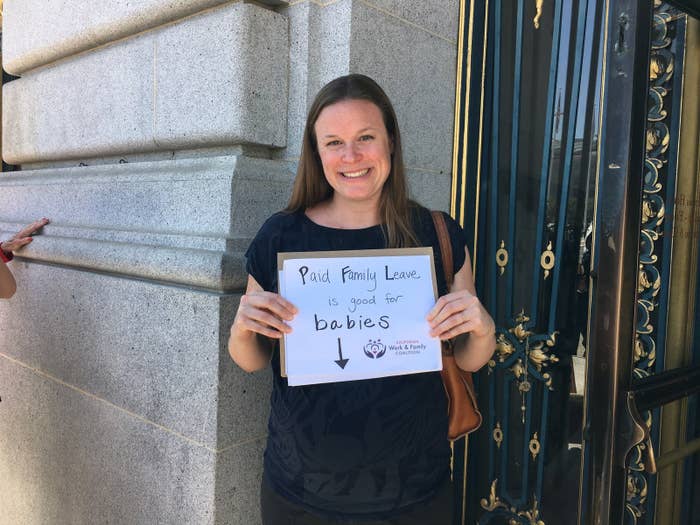 Life is about to get a little easier for new parents in San Francisco.
The city Board of Supervisors voted unanimously today to pass a law that will require San Francisco companies to shoulder part of the cost of parental leave for employees. The law applies both to new moms and dads, including adoptive parents, equally.
San Francisco's new law — which will be phased in starting next year — will require employers of twenty or more to cover 45% of the cost of up to six weeks' parental leave for people who work in within city limits. It's designed to operate in tandem with an already existing California law, which mandates that the state cover up to 55% of wages for six weeks of parental leave via a worker-supported state disability program.
This makes San Francisco the first city in the country to offer workers fully paid parental leave. Only three states — California, Rhode Island, and New Jersey — offer parental leave programs, and all of them are partial. (New York, however, will soon join the list.)
At a press conference at City Hall on Tuesday afternoon, supporters of the new legislation argued that, for low-income workers, the state-mandated 55% doesn't amount to enough to live on. The goal of the San Francisco bill, sponsored by Supervisor Scott Wiener, is to close that gap.
"I think a key goal of this legislation is to make sure that all workers, including low-wage workers, have access to paid parental leave," Wiener told BuzzFeed News. "It's a broader issue than the low-paid workers of tech companies. There are low paid workers throughout this city who struggle to survive in San Francisco, with the cost of housing, the cost of transportation, the cost of healthcare. The last thing they need is to have to take a big pay cut just to spend a few weeks at home bonding with a new child."
Companies of fifty or more will be required to pay up starting in 2017, with the rest to follow in 2018.
According to advocates, paid parental leave can lead to higher income for moms over the course of a career, increased gender equality in the workplace and more engagement from dads in child-rearing throughout the child's life. It can even mean healthier kids, according to Julia Parish of the Employment Law Center.
"Women who are able to take leave initiate breastfeeding more frequently, and breastfeed for longer periods of time. Children are more likely to get immunizations, and get doctors appointments," she said. "So it has a lot of long term benefits for this very short period of time."
Big Silicon Valley companies have been recognized of late for their generous parental leave packages. For example, Netflix — which is headquartered outside of San Jose and thus won't be included by the new legislation anyway — offers new parents unlimited paid time off during the first year of the child's life. But those benefits don't always extend to the subcontracted, low-wage workers who also work at these companies, a concern that the new bill hopes to address. "There's a stereotype that everyone in San Francisco is a high earner," said Supervisor Wiener. "We know that's not true." (Netflix ultimately expanded its parental leave program to hourly workers.)
Many of the largest tech companies in San Francisco already have parental leave policies in place that exceed what the new law would require. As such, Supervisor Wiener says they will be exempted from the regulation. Twitter, for example, announced a new policy Tuesday morning that will give 20 paid weeks off to "any full-time employee with a new child."
Yelp, Airbnb, and Salesforce all offer 12 weeks, though Airbnb and Yelp do it only for birth mothers and Salesforce offers only at 80% of earnings. (Yelp offers six weeks to non-birth mothers, and Airbnb offers 10.) Google expanded its program from 12 to 18 weeks in 2014, which reduced the rate at which new moms quit by 50%.
None of those companies, all of which are among the top tech employers in San Francisco, were interested in commenting on the new municipal legislation. Uber, which is also headquartered in San Francisco, declined request for comment, or to share its parental leave policy.
This new San Francisco law comes at a time when both the White House and the Department of Labor are aggressively pushing more progressive parental leave policy via the "Lead on Leave' campaign. Outside of the United States, only three other countries don't have a mandatory parental leave policy — Swaziland, Lesotho and Papua New Guinea.
"Frankly," Supervisor Wiener told the small crowd gathered on the steps of City Hall, "it's embarrassing how far behind we are in the U.S. on parental leave."