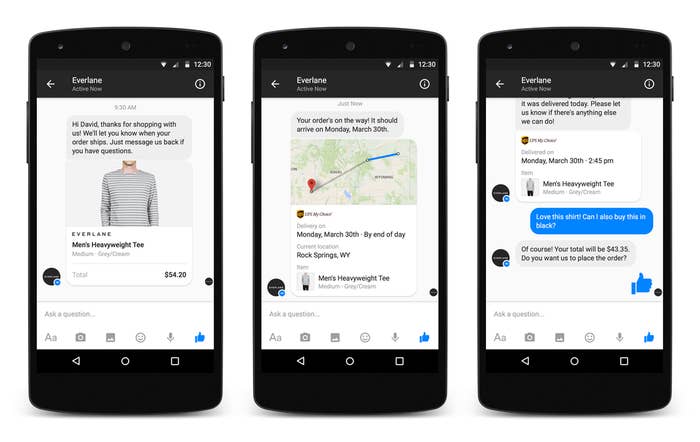 SAN FRANCISCO — Facebook announced a bevy of enhancements to its stand-alone Messenger app at its annual F8 developers conference in San Francisco today, all intended to better enable Facebook users to share dynamic if familiar kinds of content and — in the words of CEO Mark Zuckerberg — "connect the world." Years ago, that world was a world of people. But now that Facebook has matured, it's a world of people and businesses. And while Facebook wants to connect it just the same, increasingly it's looking to monetize it as well. And with its newly announced Messenger for Business, the company is making a play to do just that, bringing its social networking heft to bear on the customer service experience.
Originally envisioned as an information-sharing and discovery site, Facebook quickly expanded to embrace online gaming and e-commerce. More recently, it's become a place for publishers to share content, with native videos doing especially well (some 3 billion videos are viewed on Facebook News Feeds every day, as was repeatedly pointed out by Facebook execs). Facebook's done well for itself with this entertain-and-inform value proposition, and the company plans to push it further: Down the line, said Zuckerberg, Facebook will become home to even more engaging multimedia, including augmented and virtual reality, and, in the nearer term, immersive "spherical video" shot on 24 cameras at once.
But the introduction of Facebook Messenger for Business signals a further shift away from being a place for the stuff people like to do toward being a place for the stuff people have to do. (Notably, earlier this year it also introduced Facebook at Work, you know, for work.) Whether there's a problem with your shipment or you want to make a dinner reservation, Messenger for Business will put you in touch with the business in question, on a platform users are already comfortable with.
On its face, Messenger for Business is about humanizing e-commerce and bringing the activities surrounding online shopping inside Facebook. But it also has the potential to change the way we think about what Facebook is for. The company stands to gain a lot of ground by convincing users to think of Messenger not just as a chat app, but as a personal planner. What if you could use Messenger to schedule doctors appointments, or book a haircut? Consider also that Facebook recently introduced payments to Messenger, and it's even easier to reimagine Facebook as a centralized dashboard for dealing with life's little chores.
"Most of us probably still call if you want to get in touch with a business," said Zuckerberg to the audience at F8. "I don't know anyone who likes calling businesses. It's just not fast and convenient."
Not sure if that one restaurant is open for brunch on Saturdays? Someone has to call. Package tracker says status delivered, but you never received the package? You're going to have to pick up the phone. Facebook's pitch is that Messenger for Business bypasses this unpleasantry by putting the user directly in touch with the brand they need to communicate with.
In his talk, Facebook's vice president of messaging product, David Marcus, asked the audience to imagine ordering a product from a company online — in this case, a striped Everlane T-shirt for a whopping $43. Imagine ordering this shirt, only to realize you asked for the wrong size or put in the wrong delivery address. Instead of logging back into that company's website to correct the error or alter the order, the user could use Facebook Messenger to be seamlessly connected with the retailer.
One of Facebook's biggest advantages here is control over static identity across the web; according to Zuckerberg, over 80% of the top 100 apps have users log in via Facebook. Messenger for Business wants to leverage this advantage by making it such that, no matter where you're shopping, the app knows who you are. In Marcus' words, "We can match the identity of the shopper to the order." Once the consumer links the purchase to Messenger, they'll receive an "enhanced receipt," real-time shipping information, and a delivery tracking map, all on Messenger.
It's doesn't pack the punch of a funny Vine video or a cute baby picture, but Messenger for Business eradicates a problem. The feature takes a customer service interaction — often an unpleasant experience — and streamlines it. Facebook wants to solve a problem for the customer who, after being on hold for an hour, shouts at the prerecorded message, "I just want to talk to a person!" Messenger for Business is meant to help the user complete a task more easily, to check something off their to-do lists. It's not sexy, but it's useful and positions Facebook as a venue for productivity. It's not just Messenger as a platform, it's Messenger as a utility.
Of course, there are already plenty of platforms where consumers can communicate with businesses (including, of course, Facebook pages). Yelp has long been the go-to destination for people who want their complaints published. Lately, Twitter has become the go-to network for those who want to broadcast their frustration to the masses. You can even file a complaint with the Better Business Bureau online!
Messenger for Business won't provide the satisfaction of registering complaints in public, but it could potentially offer something even more satisfying — a quick and easy way to resolve a customer service issue. By putting users in direct contact with businesses, Messenger hopes to avoid the difficulty Twitter faces from annoyingly chatty brands.
"We want businesses to be first-class citizens, like people," said Marcus. "They're not random businesses contacting you, they're brands you just shopped with."
What he means is, Messenger for Business won't feel annoying, like ads or those overly chatty Twitter brands. Instead, it might actually be essential — if not exactly fun.