For the past week and a half or so, the neighborhood networking app Nextdoor has been quietly testing an on-demand function not unlike TaskRabbit or Google Home Services, BuzzFeed news has learned.
Nextdoor is, fundamentally, a place for neighbors to talk to each other. And what do neighbors talk about? Among other things, they ask each other for recommendations — does anyone know a good piano teacher? a reliable landscaper? a flexible babysitter?
Realizing this behavior was already happening on the platform, Nextdoor co-founder Sarah Leary said in a prior conversation that it only made sense to help users execute what she called a "casual labor" exchange.
"We did not invent this," Leary told BuzzFeed News. "This is how people are using Nextdoor."
Nextdoor is currently testing Nextdoor Now, as the new product is called, in San Francisco and Austin, and has plans to roll the feature out gradually in new cities in 2016. Residents in those areas can choose from a list of different types of services their neighbors have already signed up to provide, including yard work, pet sitting, baby sitting, tech help, tutoring and other odd jobs.
Users can describe the kind of help they need — "rake leaves" or "walk the dog" — and when they need it done.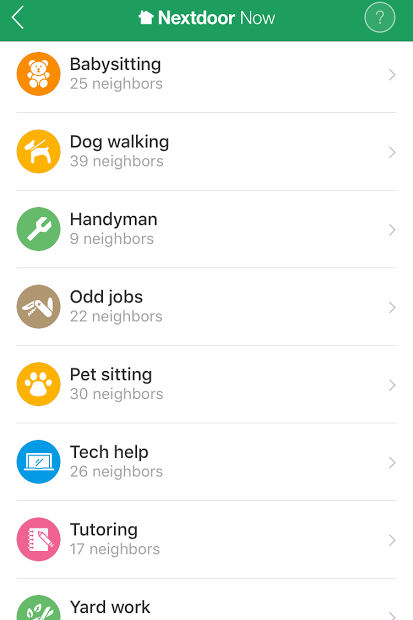 You can choose to select a service provider from a list of neighbors, or post the job for anyone to pick up.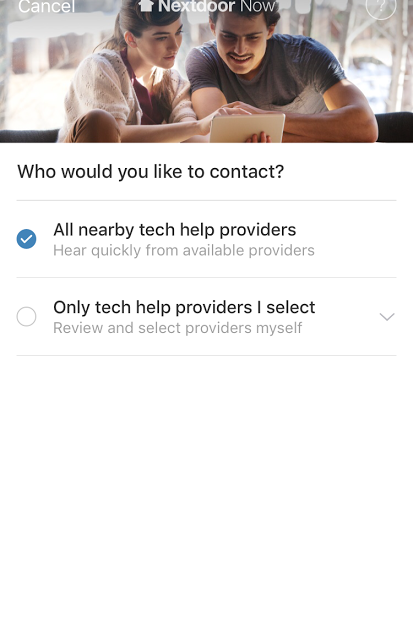 No money is exchanged between neighbors on Nextdoor; payment is still handled the old-school way. The company takes no cut, either, meaning service providers get to keep 100% of whatever they charge — this is not a revenue play for the company, and the service providers don't work for Nextdoor.
Nextdoor reached out to current users in test neighborhoods encouraging them to sign up for the product. When BuzzFeed News posted a request for tech help, we got a response right away, but it seems likely that as Nextdoor Now rolls out in new neighborhoods, its usefulness will depend on how active your neighbors are on the site, and how densely populated your neighborhood is.
Nextdoor users can also sign up to be service providers based on what kind of work they'd like to do.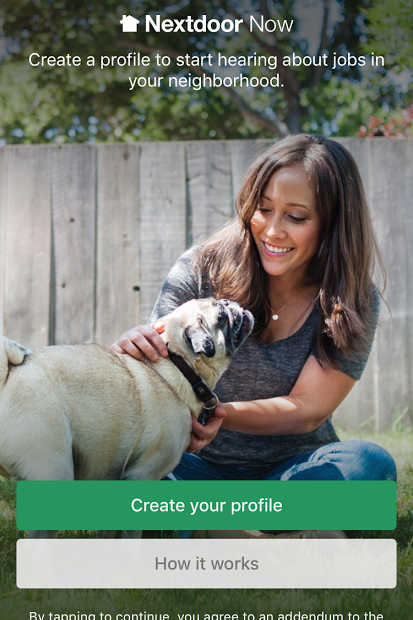 The on-demand home services space is a crowded one that even big companies like Google and Amazon have started playing in. But Leary said what Nextdoor offers is different — it's not about matching professionals with customers, but about connecting people who "would not normally be service providers" with a little extra cash from their neighbors who need a hand.
Tech companies whose core focus is local, like Nextdoor and Yelp, missed an early opportunity with on-demand, which was dominated early on by up-and-comers like TaskRabbit, which made a name for itself selling relatively unskilled labor. Now, it would seem, the older companies that still dominate when it comes to connecting storefronts and front steps to the Internet are catching up. Yelp is working on an on-demand product that would help connect people browsing reviews directly with those service providers. While Nextdoor Now will probably be more about finding someone to water your plants or help with math homework, the company is clearly interested in capturing labor exchange on the micro level.