Lyft, your "woke" ride-hailing option, has started testing a shuttle service in San Francisco and Chicago.
Available only during commute hours (6:30 a.m. to 10 a.m. and 4 p.m. to 8 p.m. on weekdays), Lyft says its Shuttle cars will cost a fixed price that won't be subject to surge pricing during high-demand commuting hours. Lyft says the cost of a Shuttle ride will vary depending on the length of the trip; a screenshot the company shared with BuzzFeed News suggests a benchmark price for a Shuttle ride is $3.50.
Lyft says Shuttle is an extension of its Line service, a cheap and popular carpool feature that is competitive with UberPool. "Lyft Line is the future of rideshare, and we often test new features that we believe will have positive impact on our passengers' transportation options," the company statement reads.
A Lyft spokesperson said drivers will earn the same amount driving Shuttle as they do driving Lyft Line.
To book a shuttle ride, passengers type in their destination, get matched with a Lyft shuttle route, and walk to the pickup spot. Commuters trying to make the morning meeting can expect Shuttle to estimate how long it will take to walk to the pickup spot, how long the drive will be, and how long it will take to walk from the drop-off point to the final destination.
Here's how the system will work, based on an email Lyft sent to customers.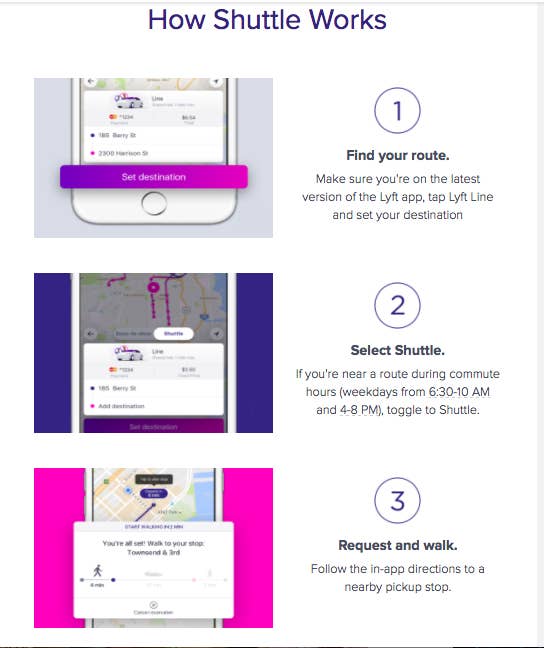 Lyft Line is a door-to-door ride-hail service with extra stops to pick up and drop off fellow carpoolers along the way, but Shuttle has fixed routes, and passengers will need to walk to central points on both ends of the trip.
Based on the email, it looks like the Shuttle routes in San Francisco will primarily serve passengers who live and work in the city's more posh neighborhoods (like the Marina and Russian Hill) and the South of Market neighborhood, where lots of tech companies have their offices. Lyft says Shuttle will appear as an option when you launch the app only if you're near one of these routes.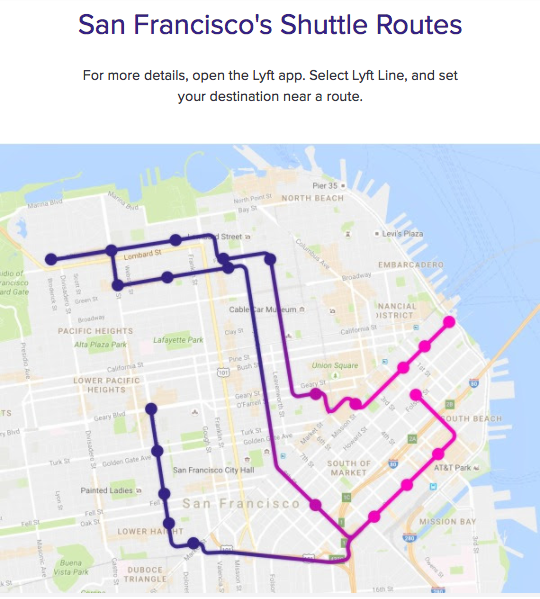 If the idea of multiple people sharing a ride from a mutually convenient origin point to mutually convenient destinations along a fixed route sounds a lot like a bus to you, you're right. Ride-hailing services have been working with public transit authorities in various cities, and they've had aspirations to replace or at least augment mass transit for a while now.
The use of private shuttle buses instead of public transit options is a historically contentious issue in San Francisco, where busloads of tech employees use private, company-funded shuttles to get to and from work in Silicon Valley every day. But there's also opportunity, and therefore competition, in the commuter transit space; last fall, Ford acquired Chariot, a San Francisco-based shuttle company that is also meant to supplement public transportation.