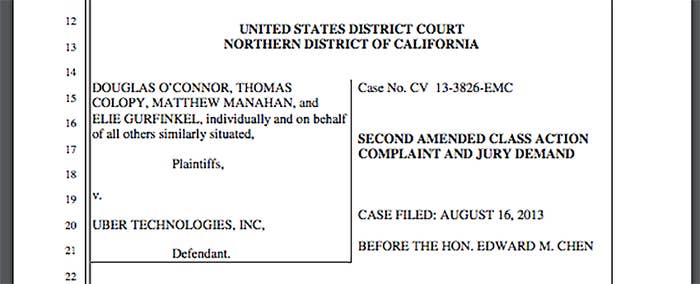 "It is what it is."

That's how Douglas O'Connor, a key plaintiff in O'Connor v. Uber, responded to news that the ride-hail company had settled the massive class-action lawsuit against it for $100 million — a sum far smaller than the $850 million Boston attorney Shannon Liss-Riordan calculated drivers would have been owed in back wages had they been classified as employees.
Now, less than one month later, O'Connor is reconsidering that stance. Monday morning, he filed a formal objection with the Northern District Court of California in which he claims he was kept in the dark during the mediation process and effectively bullied into accepting a settlement that would have netted him over $7,500.
With today's declaration, O'Connor is removing his name from the landmark class-action suit for which he was a key plaintiff. He is also replacing Shannon Liss-Riordan, his legal counsel and architect of what he describes as a "disastrous" settlement, with L.A. lawyers Mark Geragos and Brian Kabateck.
In his declaration, O'Connor says he only received a copy of the settlement after it was publicly announced, and was encouraged to "immediately" sign the 100-page document electronically. He told BuzzFeed News that, throughout the three-year litigation process, he met with Liss-Riordan in person only once and rarely spoke to her on the phone. He said he agreed to be the lead plaintiff in the case because, unlike many other drivers, he didn't have children, and English was his first language.
"Had I been informed and consulted contemporaneously on the details of the settlement agreement, I would have strongly objected to the terms and methodology used for computing damages," O'Connor wrote in his declaration. "This proposed settlement agreement is not in my interest or in the interest of any Uber driver."
Full employment status, with access to worker's comp and other benefits, is what O'Connor most hopes to win for drivers by objecting to this particular class-action settlement with Uber. "Uber should realize, without the blue-collar workers of the company, there is no Uber," he told BuzzFeed News. "They pretend that just because they have a piece of software, an app, they're somehow above everybody else."
O'Connor says he sought out Geragos after reading about the attorney's history of involvement with the descendants of survivors of Armenian genocide. Geragos is a renowned criminal defense lawyer who has had such celebrity clients as Michael Jackson, Kesha, Chris Brown, and Winona Ryder. O'Connor says Geragos's interest in the case made him hopeful for a different outcome. "I had a lot of questions that couldn't get answered by my former legal counsel," O'Connor says. "I was like, Mark [Geragos] wouldn't get involved unless this was serious."
O'Connor himself has not driven for Uber since 2014; he told BuzzFeed News his account was deactivated by the company for declining to undergo a Hirease background check.
Dozens of other drivers have also filed formal objections to the Uber employee misclassification settlement with the court; the judge will hold a hearing on June 2. Liss-Riordan called an objection filed by Kabateck and Geragos last week "histrionic" and said it contained "personal attacks on me [that] are really over the top." She said other attorneys lining up to get involved in the case now is tantamount to fighting for scraps. "They are hoping to get in on a piece of the action themselves," she told BuzzFeed News via email. "Their motives are obvious."
In her email, Liss-Riordan argued that litigators unfamiliar with the Uber case and the murky labor issues surrounding it could threaten the work she's accomplished so far, especially when it comes to an arbitration clause that has, in three federal courts, eliminated the possibility of drivers filing class-action lawsuits altogether. Since the announcement of the settlement, Liss-Riordan said 2,000 drivers had reached out about collecting their payout. She claimed only 50 expressed disappointment in the failure of the settlement to reclassify them as employees.
Liss-Riordan is also the lead attorney on a similar class-action lawsuit brought against Lyft, which was recently settled for $12.5 million, only to be rejected by a judge and then resettled for $27 million. Her firm's response to the Uber objections is due in court on Friday. Liss-Riordan said that "if the judge [...] thinks we should have taken the gamble at the Ninth Circuit and before a jury, then I am more than willing to take that chance and plow forward and do what I have to do."