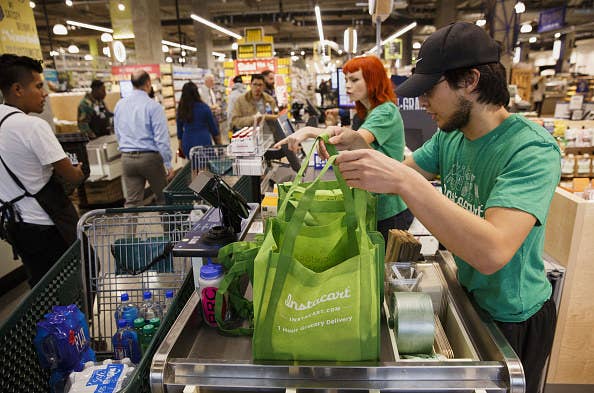 Instacart is being sued by a group of workers — again.

Brought by Arns Law Firm — the same firm whose class action suit against the grocery delivery company was thrown out last month over an arbitration agreement — the new suit was filed on behalf of six named plaintiffs. It alleges that people who worked for Instacart as independent contractors should have been classified as employees and are owed repayment for minimum wage, overtime, expenses and more. The class could include as many as 14,000 workers from all over the country, the suit alleges, and the amount owed "far exceeds $5,000,000 in the aggregate."
"The shoppers' and drivers' services are fully integrated into Instacart's business, and without them, Instacart's business would not exist," the suit reads. "Instacart voluntarily and knowingly misclassified Plaintiffs and other Instacart shoppers as independent contractors for the purpose of avoiding the significant responsibilities associated with the employer/employee relationship."
A spokesperson for Instacart said the company does not comment on pending litigation.
The suit notes that Instacart did reclassify a portion of its workforce as employees in response to regulatory pressure. Since June 2015, Instacart workers who work exclusively inside grocery stores have been employees of the company; only workers who also deliver groceries in their own cars are considered independent contractors. The suit argues that Instacart, because it did previously agree to reclassify some workers, "knew and/or recklessly disregarded that it was misclassifying its Shoppers from the outset." It also claims that the IRS and labor commissions in New York and Colorado back up this finding.

In addition to the larger worker misclassification issue, the suit also touches on earnings. It alleges that online advertisements posted by Instacart promised workers could earn "up to $25 an hour," though the company had enough data to know "it was impossible to earn that hourly rate consistently." The suit also claims that Instacart knowingly duped prospective workers. To support this argument, it points to a livestreamed August 2015 all-hands meeting in which "managers Susie Sun, Michelle Suwuannukul, and Heather Wake instructed Operations Associates to continue running the advertisements that represented that Instacart Shoppers could make a certain amount of money per hour even though they were aware that Shoppers were making an average hourly rate that was well below the advertised rate."
In recent months, Instacart workers have clashed with management over changes to their pay structure. In September, the company replaced in-app tips (paid directly to individual shoppers who delivered an order) with a service fee that is pooled and distributed among workers at Instacart's discretion. As BuzzFeed News has previously reported, CEO Apoorva Mehta said the change is necessary to the companies continued growth. But high-earning shoppers who shared their pay stubs with BuzzFeed News estimated the changes reduced their pay by between 30 and 40 percent. Frustrated workers have repeatedly threatened to strike and picket the company, and have been waging an informational campaign to explain the change to customers.
The lawsuit brought against Instacart today cites the tip issue as proof that the company has a level of control over independent contractor earnings commensurate with that of an employer. It also argues that, per the Fair Labor Standards Act, any optional amount paid by a customer in addition to charges for a service should be considered a tip.
For the plaintiffs in this newest suit, Instacart's arbitration agreement remains a thorny issue. The lawyers argue, as they did before the last suit was thrown out, that the arbitration clause workers agreed to when they signed up with Instacart should be considered irrelevant because of an August ruling by a judge in a separate case that set a new precedent on the issue of class action waivers.
Companies like Uber and Lyft have both successfully used the threat of arbitration to push settlements of respective high-profile class action lawsuits brought against them by drivers, suggesting the issue could still be an impediment to the workers' case against Instacart.