Here's Everything We Learned At Google I/O
Google I/O, the biggest Google conference of the year, kicked off Thursday morning with a keynote address from Senior Vice President of Products Sundar Pichai. Here's a running list of what we learned.
A Very Big Day
Google I/O, the search behemoth's annual developer conference, kicked off Thursday morning with an announcement-filled keynote address that spanned everything from photos and maps to payments and virtual reality. Below, a breakdown of the most noteworthy news.
Updates
Project Loon and Self-Driving Cars
Google made some announcements about their ambitious infrastructure projects in autonomous driving and bringing internet to the developing world. First, they disclosed that their autonomous cars have driven 1 million miles without incident caused by the cars themselves. And floating "at the edge of space" for up to 100 days at a time, Google's Project Loon internet balloons will help bring the next 1 billion people online. The newest balloons can cover areas four times the size of those covered by earlier Project Loon efforts.
Jump Virtual Reality Videos
Google announced Jump, a technology for creating virtual reality footage that works with Cardboard, the company's low-cost VR viewer. Jump includes a camera rig, an assembler, and a player and can be used with off-the-shelf cameras. Google's proprietary assembler tech use these in-between viewpoints to get stereoscopic VR video. And then Cardboard viewers can see VR footage. GoPro has already signed on to build a Jump-ready camera. Said Google exec Clay Bavor, "If you want to capture something that's really immersive there are only a handful of custom camera rigs that do the job and they're very expensive. We want to change that."
Beginning this summer, YouTube and GoPro will both support Jump.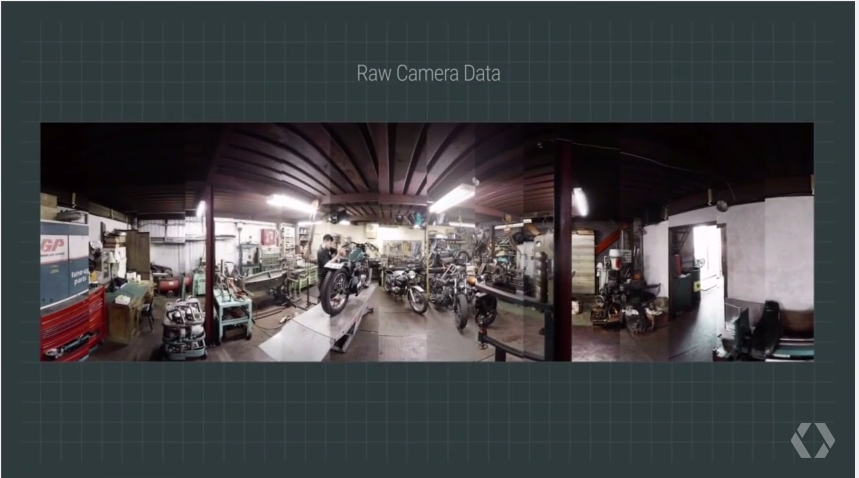 Virtual Reality Expeditions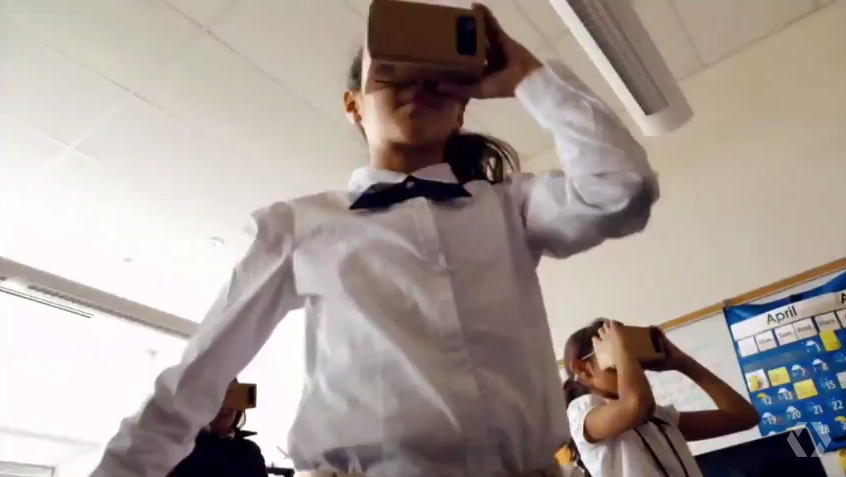 As part of a big push into virtual reality, Google uncrated a new program called Expeditions. Essentially, it's a VR kit for schools that provides classes with everything needed to send kids on a synchronized VR trip. Expeditions will ship this fall in time for back-to-school season, and will include Cardboard VR headsets, phones for students, and an associated device for teachers.
Android Nanodegree
Google is now offering a crash course in Android development. It's a six-month program that covers the entire "lifecycle" of the OS. Price: $200 per month. Google claims to have invested over $4 million to develop curriculum for the course.
Some Updates on Cardboard, Google's VR device
Google announced that there are now over 1 million Cardboard users in the world. And there will be more, as the Cardboard software development kit will soon support both Android and iOS. Those new apps will join the more than 100 for Cardboard on the Google Play store. And the new Cardboard design is more versatile and easier to use than ever: It fits phones with screens as large as 6 inches and requires only three steps to assemble.
Google Brings Personalization to Google Play Search, Introduces Google Play for Families
Google announced upgrades to Google Play. Personalized Google Play search results double the likelihood of a user downloading an app. And search results in the store will be organized thematically. Plus, now it will be easier to find family-friendly content, as Google introduced "Family Star," which helps parents figure out which apps are appropriate for kids.
Google Translate For iOS Gets An Update
A forthcoming update to Google Translate for iOS that will bring instant camera-based translation to Apple's mobile devices. Users need only point their iPhones at a sign or menu, and the app will overlay the image with translated phrases.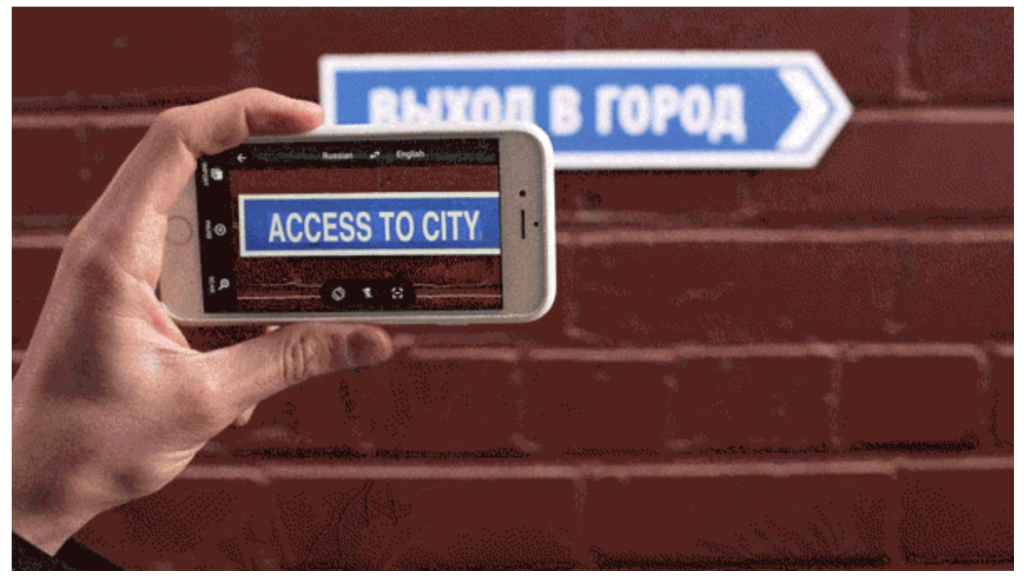 Google Maps Now Works Online And Off
Google Maps received a big update today as well, one that adds offline support for not just map searches, but turn-by-turn driving directions as well. Said Jen Fitzpatrick, head of the company's maps and local business, "you won't need expensive data or super reliable connectivity every time you want to navigate somewhere."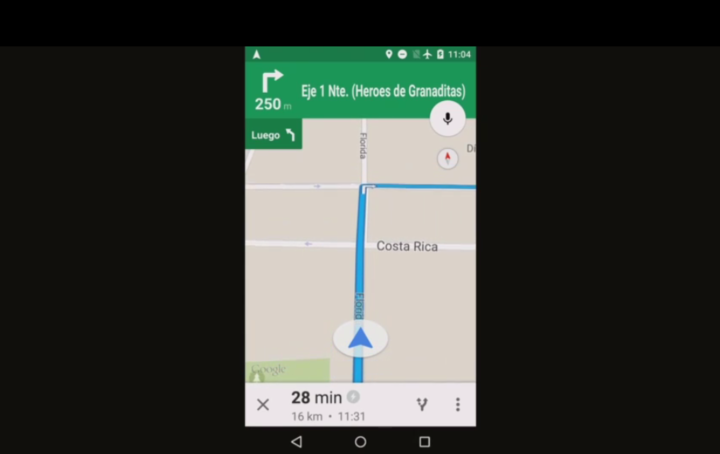 Better Support For Users With Slow Connections
In an effort to address markets with connectivity challenges, Google announced some broad updates to its core products. Among them: offline support for and saved pages; new "light" search results pages for users in countries with slow connections; and a network quality estimator to check connections and improve load times. Also announced: YouTube offline is now available in Indonesia, the Philippines, and Vietnam; users can watch a video offline for 48 hours after accessing it, with or without a video connection.
Expansion of Android One
Android One devices are now available in India, Nepal, Bangladesh, Sri Lanka, Indonesia, the Philippines, and Turkey
improved features include dual sim cards, a replaceable battery, and built in FM radio
in the next two years, we can expect to see 1.2 billion smartphones across six countries
"Our hope is that Android One will continue to spur innovation across the ecoysstem so that all phones get better and more useable for the next billion users," says Google Vice President of Engineering Jen Fitzpatrick.
Google Photos is a new application that aims to drastically improve photo storage and organization by bringing its search functionality to a stand-alone photo app. "It's 2015, we've got cars that drive themselves and drones that deliver packages, but the ability to save, organize, and share 20 photos with a group of friends is the unsolved problem of our time," says Anil Sabharwal, who runs Photos at Google, told BuzzFeed News.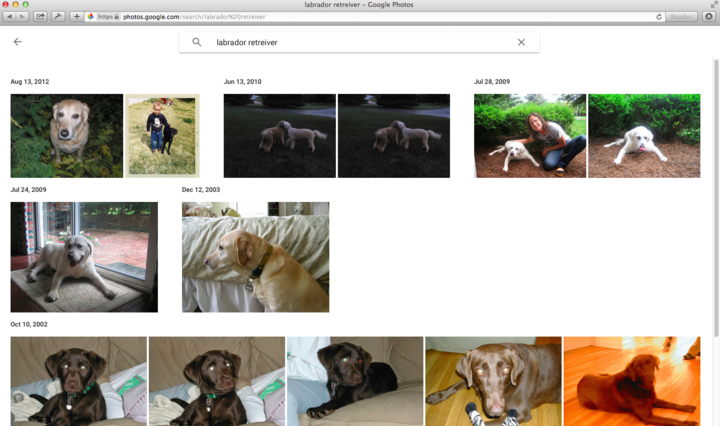 Google Now on Tap
Google announced Now on Tap, a new feature on Android M, their new mobile operating system. Now on Tap knows and understands what app the user is in and can give context-sensitive alerts. So a text message that refers to dry cleaning gives Google Now the context to push a card allowing users to schedule a reminder to pick up dry cleaning. And users can tap on a word or name in-app and Now on Tap will serve Google search results.
Updates to Google Now
Google announced updates to Google Now, based on the idea that, as Aparna Chennapragada, director of Google Now, put it, "Your smartphone ought to be smarter." It should, according to Chennapragada, be able to tell you the time of the last train home, an open house in your neighborhood, and where you parked your car. Google Now understands 100 million places, and Google is now working on a pilot program with over 100 partners to feed information into Google Now. And there are other little updates, letting you do things like instantly reorder groceries from Instacart or play Pandora on your commute.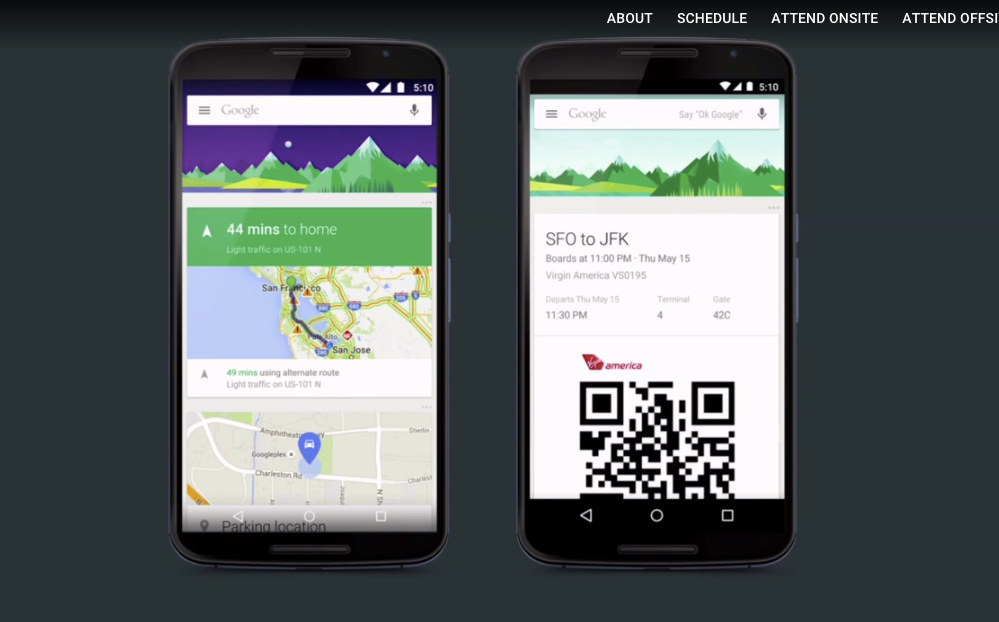 Project Brillo, Weave, and the Internet of Things
Project Brillo is Google's new underlying OS for the internet of things. It's based on Android, and supports Wi-Fi and low energy Bluetooth. It runs with a minimal footprint and has minimal system requirements. Launched alongside it, Weave, a communications software that allows different devices on the internet of things to talk to each other.
Android Wear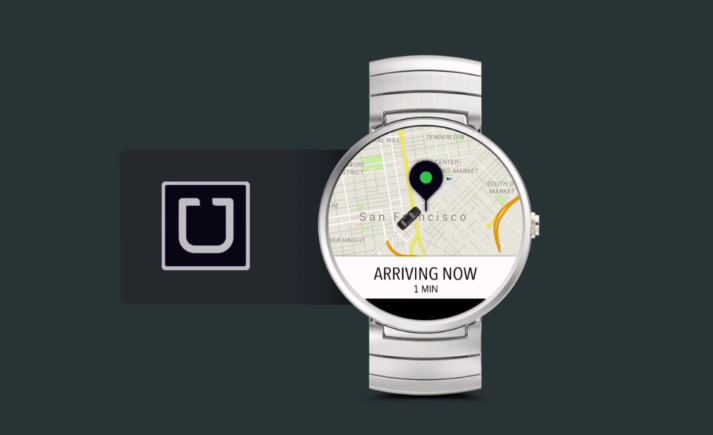 Google announced some upgrades and changes to Android Wear, its wearable tech platform. To begin with, Android Wear watches will have "always on" apps, so you can "wear your grocery list on your wrist or always have directions from Google Maps open, according to David Singleton, director of Android Wear. It will now support voice input, allowing users to request a ride from Uber by saying, "OK Google, call me a car." It will also allow them to track the car's arrival on their wrists. There are some other cool features too, like letting users scroll through notifications using wrist gestures. The goal is to be "glanceable, actionable, and effortless," Singleton said.
Doze For Android M
Also new in Android M, a power-saving deep background mode that promises to double standby time. It's called Doze. Says Burke: "M Android uses significant motion detection to learn if a device is being left unattended for a significant length of time." If it is, the device goes into deep background mode, but can still see important notifications.
Fingerprint Authentication Comes To Android
Last week BuzzFeed News told you that fingerprint authentication was coming to Android. Today, Google confirmed it will be included in Android M and used to authorize Android Pay transactions.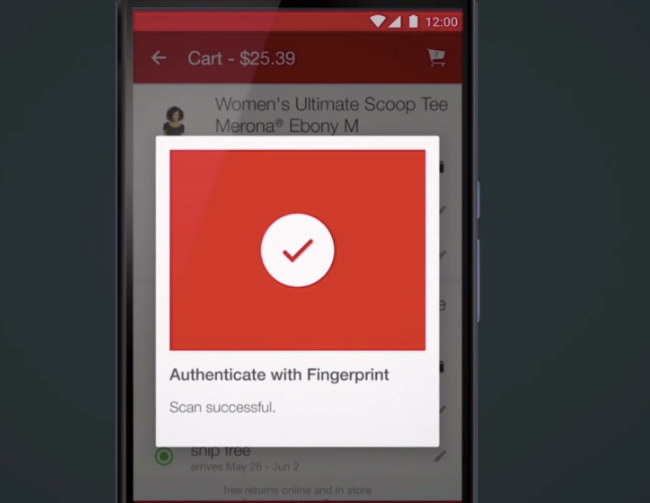 Google Unveils Android Pay, A Revamped Google Wallet
Android Pay will allow Android users to pay at stores with their phones, Google announced. It's an open platform, which means users will be able to open it through a Google app or a third-party banking app. It will will work in more than 700,000 stores in the U.S., and will also be available in app in places like Lyft and Grubhub.
buzzfeed.com
The app is going to be available to everyone. Until today, it's been invite-only, and it's coming with some updates. Inbox is going to have a bundling feature to organize emails around trips, and will include a new "Undo Send" option.
HBO Comes To Google Play
HBO Now, the stand-alone streaming service from the pay cable giant, is coming to Google Play, Google announced today at its I/O developer's conference. For $14.99, Android TV users will be able to stream HBO shows and movies without paying for an entire cable package.