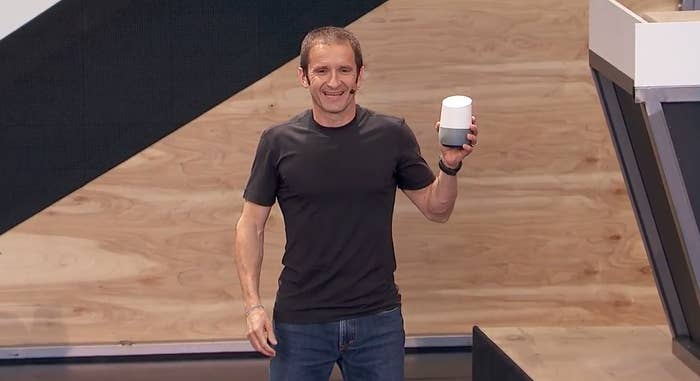 At Google's annual conference in Mountain View, California today, the company announced the launch of Google Home, a voice-controlled, button-free device that can help play music, manage tasks, and answer questions. It's the search giant's answer to the hit Amazon product, Echo.
When it comes to entertainment, Google says the new device offers high-quality streaming over wifi and interfaces seamlessly with multiple music services and speaker systems. "When you want to listen to Coldplay on the living room speakers," said vice president of product management Mario Queiroz, "you can simply say, Play Living La Vida in the living room." You can also use the device to control TV screens in your house.
Google Home, which has interchangeable bases in different colors, is also supposed to help with daily tasks and the other things that need to get done around the house. In addition to alarms, timers, and to-do lists, Google Home can do things like interface with Google Maps to warn you about traffic, change your dinner reservations, and remind you of events on your calendar. The device can also interface with smart thermostats and light switches, including those built by Google's Nest.
Google calls it a "voice-activated remote control to the real world whenever you need it."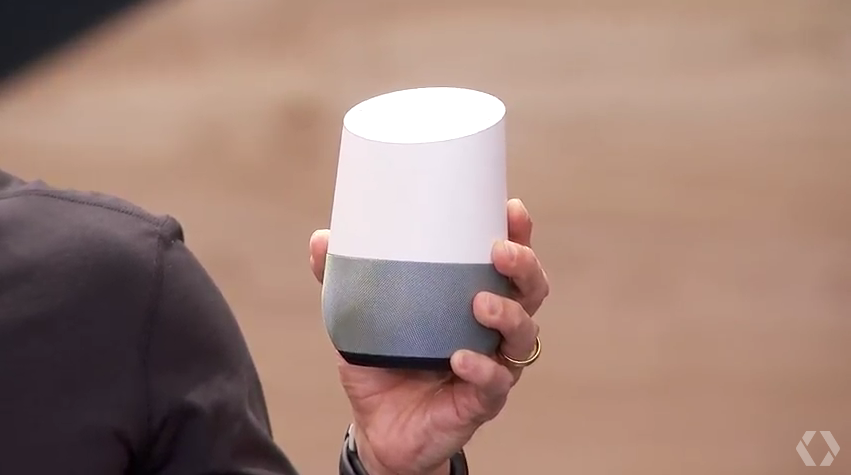 The third thing Google Home can do is answer questions — even questions on your Spanish homework, according to the demo video Google released today.
"Google Home allows you to ask Google about anything you want to know," Queiroz said on stage. According to Queiroz, Google Home's underlying technology has a unique ability to understand and answer questions that are "difficult for other assistants to handle."
"You might ask how much fat is in an avocado, or what is Draymond Green's jersey number, and follow up the last question with, where did he go to college? Or try something more complex, like, What was the US population when NASDAQ was established? You will get immediate answers from Google each time."
Google Home will be available later this year for a yet-to-be-announced price.