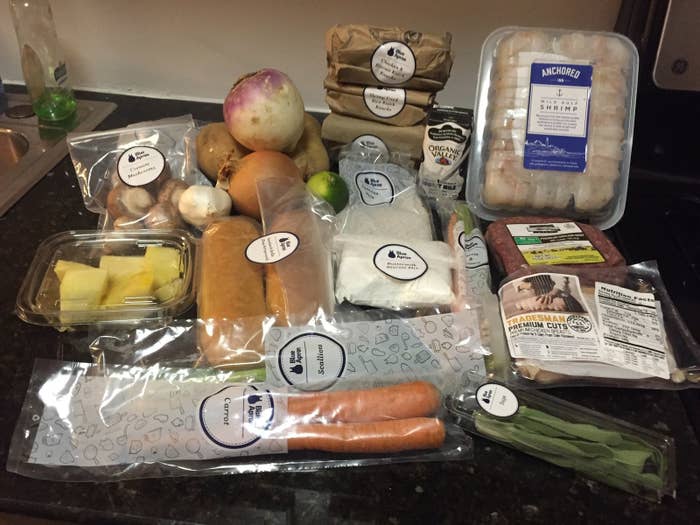 A little over a year after being cited for a "serious" worker safety violation, the $3 billion meal-kit delivery startup Blue Apron again failed to comply with regulations.

The first "serious" violation for Blue Apron's Richmond, California, facility came after an August 2015 inspection; per California Division of Occupational Safety and Health (Cal/OSHA) standards, a "serious" violation means the inspector thought "death or serious physical harm" was a "realistic possibility." For that violation alone, Blue Apron was levied a proposed penalty of $9,000, which it contested.
That citation was surfaced in an October 2016 BuzzFeed News investigation into the history of health and safety violations at the Richmond facility. At the time, the company said it was committed to "creating the best possible workplace experience for all of our employees" and had "learned from the operational challenges during its early days in Richmond."
But BuzzFeed News has learned that in September 2016, a little more than a year after the 2015 inspection, following an anonymous complaint, Cal/OSHA inspected Blue Apron's facility again, and the company was once again cited for a "serious" violation. Inspectors found that Blue Apron had violated the same exact statute for which it was previously cited — a failure to install emergency shower stations near forklift battery charging stations — and proposed a penalty of $3,825. (The findings of the inspection were not made public until February 2017.)
In addition to the "serious" violation, Blue Apron's California facility was also cited for an additional four safety violations; the total proposed penalty is $6,580.
In a statement emailed to BuzzFeed News on Wednesday, Blue Apron said it had "promptly addressed" the initial 2015 citation, and that the new citation is in regards to a new forklift battery charging station that was constructed during an expansion of the facility. When Cal/OSHA inspected the Blue Apron facility post-expansion in September 2016, inspectors found that while Blue Apron had installed an eyewash station near the new charging station, they had not installed an emergency shower.
"We promptly installed a shower at this location as well to address their concern," said a Blue Apron spokesperson via email. "However, we believe both citations were issued in error, and Cal/OSHA is currently reviewing them." Specifically, Blue Apron is arguing that, because the company doesn't change out forklift batteries at the charging stations in question, per Cal/OSHA's standards, the emergency showers were not necessary.
The appeal for the 2016 citation is set for July 2017; the appeal for the 2015 citation is currently scheduled for May.
Blue Apron has also recently run into trouble with health and safety regulators outside California. According to a public OSHA database, Blue Apron's Jersey City, New Jersey, facility — which has been plagued by some of the same internal violence among employees as its California counterpart — was most recently inspected in December 2016, following an anonymous complaint. According to its website, OSHA found one violation at that time and issued a proposed penalty of $2,000. Blue Apron says it's not contesting the citation in New Jersey, and added that the penalty, which was ultimately reduced to $1,000, was regarding a paperwork issue.
Blue Apron is reportedly hiring bankers in preparation to go public, despite reports in December that its IPO would be delayed. The company also recently acquired an organic cattle ranch in California, in hopes of owning and controlling more aspects of its meal-kit production system.
UPDATE
This post has been updated to reflect the fact that the violations in question pertain to workplace health and safety regulations.
UPDATE
This post has been updated to reflect the fact that Blue Apron paid a $1,000 fine in New Jersey related to an error in its paperwork.