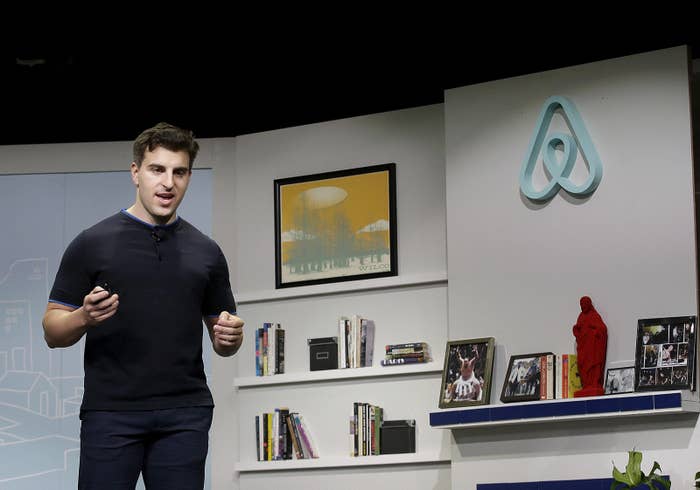 Airbnb agreed to settle its lawsuit against the City of San Francisco today.
As part of the settlement, Airbnb agreed to remove hosts from its platform if they fail to register with the city, and to require new hosts to have a city-issued registration number if they want to sign up to rent out their home.
Airbnb sued the city of San Francisco last June after the city council passed a law that would fine Airbnb $1,000 for each unregistered host, which essentially made hosts' failure to register the company's problem. Now, as part of the settlement, Airbnb will also begin redesigning the host on-boarding process in San Francisco so that new hosts will automatically be registered with the city when they sign up on the app.
"We believe a streamlined registration process should be available for all hosts," said Airbnb global head of policy Chris Lehane during a Monday press conference. "Under the agreement, hosts can register their short-term rental with the city, get a business license and pay the [registration] fee all through Airbnb." Previously, Airbnb hosts had to go to city hall in person to register and pay the city's $250 fee.
The new system, known as pass-through registration, will launch in early 2018, Lehane said. Airbnb has a four month deadline to ensure all new hosts are registered with the city, and eight months to boot existing hosts who don't comply.
"Enforcement with real teeth will begin in short order," said San Francisco City Attorney Dennis Herrera during a separate press conference Monday.
The city wants hosts to register in order to ensure that housing stock reserved for low-income residents isn't being rented out short term on Airbnb.
At the city's press conference, former Supervisor David Campos — a longtime affordable housing advocate and Airbnb antagonist — said that the settlement, which comes three years after he first authored legislation to regulate Airbnb, came with "a sense of vindication."
Both San Francisco Mayor Ed Lee and the San Francisco Board of Supervisors have to give the agreement their seal of approval before it's official. In an emailed statement, Mayor Lee said he's "pleased" with the terms of the settlement. "Requiring the registration of short-term rentals will allow us to effectively identify the bad actors who manipulate the process and deprive the City of much-needed rental units," the statement reads.

San Francisco city attorney Dennis Herrera said that, out of the 8,000 properties currently listed on Airbnb in San Francisco, only 2,100 hosts have registered with the city. That means there are thousands of hosts who have eight months to register with San Francisco, or quit the platform.
Lehane said Monday that, based on Airbnb's efforts to register its hosts in Chicago and New Orleans, he's confident the company will continue "sustainable growth" under the agreement. But when pressed for details, Lehane couldn't say how many hosts Airbnb has lost in those markets since mandatory registration began.
San Francisco is not the only city Airbnb has sued; the list includes Miami, Anaheim, Santa Monica, and New York City, where a new bill aimed at creating more lenient Airbnb regulations was recently introduced.