A black man is suing Airbnb for racial discrimination, saying the $25 billion hospitality company took no action when he was rejected by a would-be host because of his race.

Gregory Selden is suing Airbnb on behalf of a class of guests whose rights, he argues, are violated by the platform under the Civil Rights and Fair Housing Act. His Washington, D.C.-based attorneys, Emejuru & Nyombi L.L.C, who are asking for a trial by jury, told BuzzFeed News that the case is in preliminary stages and that the firm would not be commenting further.
Airbnb doesn't discuss litigation. But it did send BuzzFeed News the same statement it shared with other news outlets: "We prohibit content that promotes discrimination, bigotry, racism, hatred, harassment or harm against any individual or group and we are taking aggressive action to fight discrimination and eliminate unconscious bias in our community."
Selden became Twitter famous-ish earlier this month after his story about discriminatory treatment on the platform became a hashtag — #AirbnbWhileBlack. The original story went like this: Selden tried to book a room in Philadelphia on Airbnb using a profile that featured information about him including his name, educational history, state of residence, and a photograph.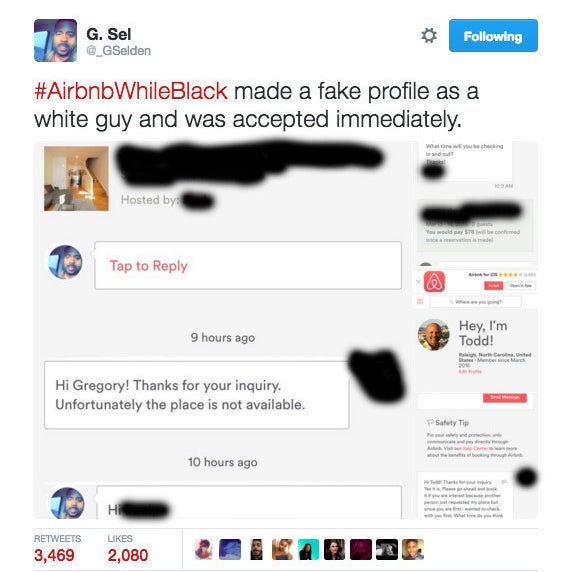 But Selden couldn't seem to book a room. So he decided to try an informal experiment. He made two more (fake) profiles, both for white men. Both "Jessie" and "Todd" managed to book a room — with the same host — in Philadelphia without a problem. (When Selden later contacted the man in question, he was told that "people like [him] were simply victimizing [himself].")
Selden took to Twitter, where others shared similar stories.

Academic research unrelated to Selden's experiment has suggested conclusively that racial discrimination is a problem on Airbnb. After Selden's story made a splash, Rep. Eric Swalwell of California, a member of the congressional Sharing Economy Caucus, came out publicly against Airbnb's failure to take action, saying that "the company's platform gives users a way to flag inappropriate conduct by hosts, and I hope the company will act against any host demonstrating a pattern of discrimination."
A blog post written by Airbnb Diversity Director David King, who was hired in February, says Airbnb has offered training to 5,000 of its hosts — there are over 2 million listings on the site — aimed at helping them realize when they're being prejudiced. This method is called unconscious bias training, and is increasingly popular in professional environments in Silicon Valley.
The post also includes a section about "fighting bias with technology," in which Airbnb says its data science team will "closely examine machine learning models and other tech tools we can use to help enforce our anti-discrimination policy." Airbnb declined to explain exactly what that will mean.
"I think there is a tech solution to this, to the extent that there is a solution," Rafat Ali, founder of the travel website Skift, told BuzzFeed News in an email. But, he said, "because as a platform with a two-way marketplace, it is impossible to take all bias out of the system. I do like what Uber does, which is it won't show the driver who is requesting the ride until after the driver accepts it." He added that machine learning could be useful if it was based off the "confirmation and cancellation habits" of high-volume hosts.
Airbnb isn't the only wildly popular platform to be accused of passively allowing racism to play out among its users. Uber, for example, is not "completely foolproof," as Jenna Wortham wrote on Medium in 2014. And Nextdoor, the social network for neighbors, has also wrestled with the problem of racial profiling.
Like Airbnb, Nextdoor is a digital company that nonetheless has implications for real people living side by side with one another. Earlier this year, Nextdoor made an unusual move in accepting some responsibility for the fact that neighbors were using Nextdoor to report the activities of people of color in the community as suspicious or criminal in a way that they probably wouldn't have if the individuals in question were white.
To help discourage this behavior, Nextdoor, which has been in ongoing meetings with community organizations, designed a more detailed form for reporting crime and safety. The form, which it's testing in the Bay Area and Baltimore, includes tips like: "Describe clothing from head to toe. Police say this is most helpful to neighbors (and helps avoid suspecting innocent people)." So far, instances of racial profiling have decreased by 38%, the company says.
Airbnb still seems to be in the exploratory phase of finding solutions to its discrimination problem. Some independent researchers built a tool called Debias Yourself, a browser extension that could have potential. Perhaps Selden's lawsuit will expedite the process. For now, Airbnb says Instant Booking — in which only algorithms, and no humans, play a role in matching host and guest — is the best solution it can offer.