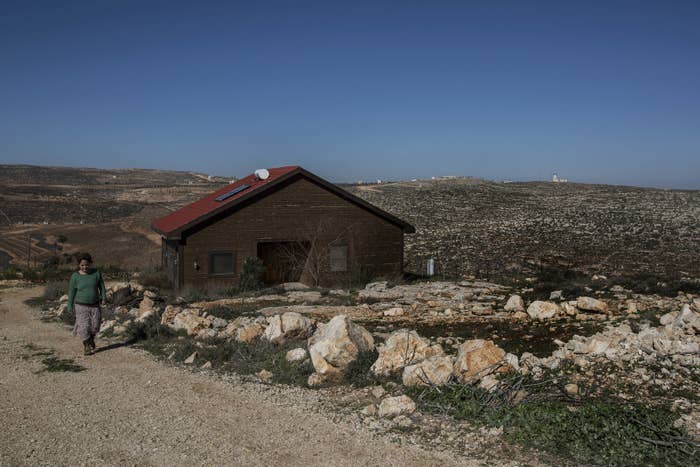 After years of protest, Airbnb deactivated listings in disputed territories in the West Bank on Monday, one day before Human Rights Watch said it planned to publish a report on the short-term rental company's business there.
"US law permits companies like Airbnb to engage in business in these territories," an Airbnb blog post about the decision reads. "At the same time, many in the global community have stated that companies should not do business here because they believe companies should not profit on lands where people have been displaced."
Airbnb hosts approximately 200 listings in Israeli settlements the West Bank, but after evaluating whether "the existence of listings is contributing to existing human suffering" and "potential safety risks for our hosts and guests," among other criteria, Airbnb decided it will remove them.
Whether Israeli settlers living in Palestinian territory should be allowed to rent out property on Airbnb, given that the Palestinian government denies the Israelis' right to occupy property there, has been a subject of contention for years, with pro-Palestinian activists disrupting Airbnb events and protesting outside Airbnb headquarters.
Airbnb said decision reflects a new "decision-making framework" the company says it will use in the future "for evaluating how we should treat listings in occupied territories."
"When we applied our decision-making framework," the blog post reads, "we concluded that we should remove listings in Israeli settlements in the occupied West Bank that are at the core of the dispute between Israelis and Palestinians."
Israeli government officials responded swiftly to the decision, moving to "restrict the company's operations across the country," according to Haaretz.
Israel's Strategic Affairs Minister Gilad Erdan also told Haaretz that the government is exploring whether Airbnb is violating any laws prohibiting US companies from boycotting Israel, and called on Airbnb hosts in the settlements to sue the company. In June, the Israel Anti-Boycott Act, a law that would increase penalties for companies that boycott Israel, passed the US House Committee on Foreign Affairs. More recently, Israeli authorities detained an American student trying to enter the country to attend graduate school for over two weeks because of her previous participation in Boycott, Divestment, and Sanctions (BDS), a pro-Palestinian movement that calls for a boycott of Israel to combat what it says are apartheidlike conditions. The Israeli settlements have been deemed illegal in the eyes of the international community.
Former Israeli ambassador to the United States Michael Oren tweeted Monday, "Airbnb blacklists Jewish apartments in Judea and Samaria — not Palestinian apartments, not apartments in Turkish occupied Cyprus, in Moroccan occupied Sahara, not in Tibet or the Crimea. Airbnb's policy is the very definition of anti-Semitism. No one should use its services."
On Twitter, Human Rights Watch executive director Sarah Whitson tweeted that Airbnb's decision came "on eve of @HRW report of human rights harms of #Airbnb business in settlements." That report is scheduled to be published Tuesday.
"Airbnb's decision to end its listings in Israeli settlements is an important recognition that such listings can't square with its human rights responsibilities," a spokesperson for Human Rights Watch wrote in an email statement. "For two years, Human Rights Watch has spoken with Airbnb about their brokering of rentals in West Bank settlements that are illegal under international humanitarian law and for which Palestinian ID holders are effectively barred from entering, and are issuing a report about this tomorrow. We urge other companies to follow suit."
Airbnb declined to comment on the forthcoming Human Rights Watch report, directing BuzzFeed News to its blog post instead.