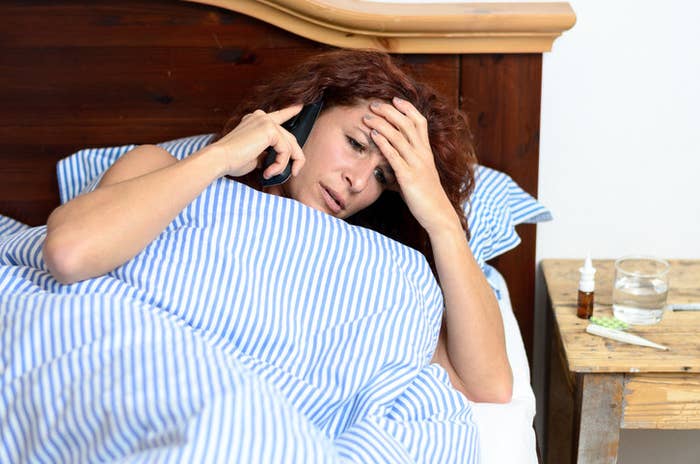 If you've ever taken a paid sick day, collected worker's compensation, or contributed to an employer-backed retirement plan, you've taken advantage of benefits that are accessible only to traditional employees. But millions of working Americans who aren't classified as employees — whether they work in the gig economy, or as temp workers, or some other precarious work situation — don't have these benefits.

On Thursday, the first piece of federal legislation aimed at addressing on-demand workers' lack of benefits will be introduced by Virginia Democrat Sen. Mark Warner. The bill would create a $20 million fund that organizations across the country could use to build and evaluate portable benefits programs for independent contractors.
The idea behind portable benefits is that contract-based workers should, along with the company or companies where they work, pay jointly into a fund that can be used to cover health care costs and lost pay in case of injury, or even fund retirements. They're called portable benefits because rather than being tied to a single worker with a single job, the fund can travel with workers from gig to gig, platform to platform, part-time job to full-time work, and back again.
Warner, who estimates that currently a third of the US workforce falls outside traditional employment and predicts that figure will increase to 50% by 2020, said his goal is to get people to break out of the "mindset that ... the only way you got benefits was if you're a full-time, permanent employee."
"[Portable benefits is] that emergency fund," Warner told BuzzFeed News Wednesday. "It might be a fund to take care of a disability if you get hurt. It might work with some existing retirement programs. Part of it would be, depending on what happens with Obamacare, an ability to help deal with health care expenses. I think there will be a variety of models."
Warner's fund, if approved, would allocate $5 million in grants to organizations already conducting portable benefits experiments, and $15 million to encourage new programs, according to a draft of the bill reviewed Wednesday by BuzzFeed News. He said a wide range of organizations, from nonprofits to startups to labor unions, are encouraged to apply. The grants made available in 2018 will be awarded by Labor Secretary Alexander Acosta and reviewed by the Government Accounting Office in 2020.
The notion of creating portable benefits funds for on-demand contractors has broad support, including from Princeton economist Alan Krueger and former labor secretary Robert Reich.
"There's no question we have to move toward portable benefits," Reich wrote via email to BuzzFeed News. "It's not just gig economy workers who need them, but the large and growing number of people working part-time on any number of jobs. One way to structure it would be for workers to pay into a joint fund that would spread risks and also gain them economies of scale. I also think companies that employ contract workers should be required to pay into the fund on the basis of how many workers they contract with."
Supporters of portable benefits at the Aspen Institute's Future of Work Initiative have argued that rather than sweeping change, the best way to figure out how to update the social safety net is through experimentation on the local level.
Warner, who worked in the technology industry prior to his career in politics, has been talking about creating laws to rein in the gig economy for years now. In 2015, the senator talked about creating a new classification of worker, a legal status that would ideally have blended the protections that employees receive with the flexibility and independence that contractors enjoy.
For now, the idea of creating a new type of worker in the US economy is pretty much dead. But, with Warner's help, the idea of creating a portable benefits fund has taken its place. "[Portable benefits] could evolve into a third worker classification," Warner said. "I think it will more likely evolve into a much more flexible benefits system that would be complementary to a traditional benefits system."
While Warner's bill is the first federal legislation to directly address the on-demand economy, a couple of states have proposed portable benefits bills. In Washington state, legislators are considering a bill that would require on-demand companies to contribute 25% of the money they make per transaction and put it toward a benefits fund. And in New York, a similar (though less generous) piece of legislation was recently tabled while Gov. Andrew Cuomo assembles a task force to investigate the issue further.
Meanwhile, some on-demand companies have already started introducing experimental programs around benefits for their workers. Care.com, which matches caregivers with families, announced last fall that it would be offering workers $500 a year to cover expenses associated with health care and transportation. More recently, Uber raised its rates in eight states by 5 cents per mile and said those funds would be made available to drivers, who have the option of using the money to buy personal injury insurance.
But while funds for portable benefits would help fill a crucial gap in coverage, not everyone thinks it's the best solution to the dilemmas that on-demand workers face. In the case of the proposed New York bill, the creation of a portable benefits fund would mean codifying in law gig economy workers' status as independent contractors. If the law was passed, the workers would never be classified as employees.
Workers across the gig economy have sued companies including Uber, Lyft, Handy, Instacart, and Postmates for misclassification, arguing that they should have been hired as employees and are owed back pay for minimum wage, overtime, and unpaid benefits. Some, including Harvard Law's Maia Usui and former NLRB chair Wilma Liebman, see the whole concept of creating portable benefits funds as a potential way for the tech industry to sidestep its legal obligations to workers. It's worth noting that on-demand cleaning startup Handy helped write the New York portable benefits bill, which was supported by lobbying firm Tech:NYC, an organization that counts Uber among its members.
Dan Teran is CEO of Managed by Q, an on-demand office management startup that's notable for hiring its workforce as employees, providing them with benefits, and even offering stock options. "The idea that we would create a framework to provide employer-paid benefits to people who can't currently access them is a net positive. However, it shouldn't be a trap door into deregulating labor," Teran told BuzzFeed News regarding the portable benefits debate. "As these new frameworks are being built, government agencies should continue to enforce existing worker protections."
Warner said he's familiar with these criticisms, but said focusing on the benefits and protections that have been lost won't help address the immediate problems people are facing in the 21st-century economy.
"We can't just wave a magic wand and say, 'Everyone is going to work the same job for 35 years again.' There were a lot of good things about the 20th-century economy. Even if you didn't have that much money, you had predictability," he said. "We don't have that now. This tries to meet the workforce where it's at, and where it's headed."