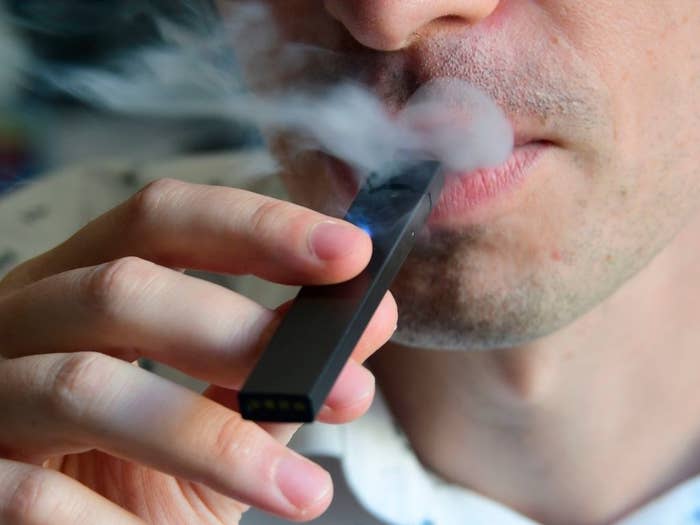 While binge drinking, cigarette smoking, and opioid abuse have declined among teens in the US in recent years, there's been an alarming spike in vaping, according to a new study. And many teens may not even know they're vaping highly addictive nicotine.
These findings were published in Monitoring the Future, an ongoing surveillance study of US teens in the 8th, 10th, and 12th grades. It's conducted by researchers at the University of Michigan's Institute for Social Research, who asked approximately 44,000 high school students about their substance use in the past 30 days.
"It's representative of the entire population of high school students in the US," Wilson Compton, deputy director of the National Institute on Drug Abuse, which funds the study, told BuzzFeed News. And for this generation, vaping has skyrocketed.
The percentage of 12th-graders who reported vaping nicotine in the past 30 days nearly doubled in a year, jumping from 11% to 21% from 2017 to 2018 — which translates into at least 1.3 million additional teens vaping nicotine, according to the report. This is the largest year-to-year increase of any substance used by adolescents in the 44 years the survey has existed, Richard Miech, principal investigator of the study, told BuzzFeed News. Miech's findings on teen vaping trends were also published in the New England Journal of Medicine.
There was some good news, however. Cigarette smoking has been on the decline for two decades, and the use of alcohol and other drugs, such as opioids, was down — binge drinking decreased among teens to 14% in 2018.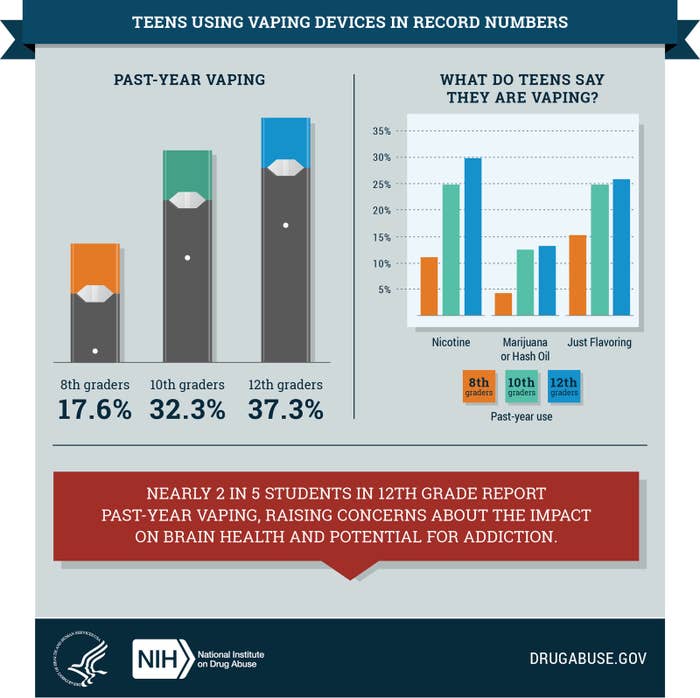 Vaping is the act of inhaling a vapor that is produced by an e-cigarette or another device that heats liquid into an aerosol. This liquid, often called "e-liquid" or "vape juice," contains a variety of chemicals, flavorings, and often (but not always) nicotine, a highly addictive substance that affects the brain. You can also vape marijuana, which is increasingly popular among high schoolers, according to the report.
Originally intended for adult smokers trying to quit combustible cigarettes, these discreet and easy-to-use nicotine delivery devices — such as the ultra-trendy Juul — have become wildly popular among teens, including those who had never even smoked. But many teens seem to not know they are vaping nicotine, researchers found.
A large percentage of the teens who reported vaping in the survey said that they were just vaping "flavoring." While there are nicotine-free vapes on the market, many — including the Juul — do provide a strong hit of nicotine masked by flavors like mango and mint. "Other research suggests that a large portion of youth believes the [e-liquid] only has flavoring but it actually contains a high dose of nicotine," Compton said.
According to the survey, the percent of 12th-graders who used nicotine rose sharply to 28.5% in 2018 from 23.7% in 2017 — an increase that was driven entirely by vaping, the report's authors wrote. Besides affecting brain development, using nicotine at a young age can set one up for a lifelong addiction and use of tobacco products, Compton noted.
Experts worry that a new nicotine-hooked generation may lead to a reversal in the two-decade-long decline in cigarette smoking among teens. "We have many studies now that indicate vaping leads to cigarette use. ... Kids who vape are four to five times more likely to use cigarettes in the following year than kids who don't vape," said Miech, a research professor in youth and social issues at the Institute for Social Research, University of Michigan, Ann Arbor.
Still, teens may not view vaping — even vaping nicotine — as risky. "Vaping comes out with one of the lowest levels of perceived risk of any substance we ask about," Miech said. One possibly reason why? The commercial availability of e-cigarettes, which makes it easy for minors to get their hands on them even though the legal age to purchase tobacco products is 18 in the US.
You could buy the Juul, for example, pretty much anywhere for most of 2018 — before the FDA cracked down on retailers and Juul Labs stopped selling most of its products in brick-and-mortar stores last month.
Another possible reason for the low perceived risk around vaping is that the long-term health effects are not yet known — but that does not mean they don't exist. "Unfortunately, the adolescents who are vaping now are sort of lab rats. ... We'll see what happens to their health in the future," Miech said.
According to the report, these findings indicate that the prevention policies put in place during 2017 and 2018 were not sufficient to curb the rise in vaping among teens. "This survey should ring the alarm bell. ... It's evidence that people really need to clamp down on use now and prevent the youth from vaping in the future," said Miech.