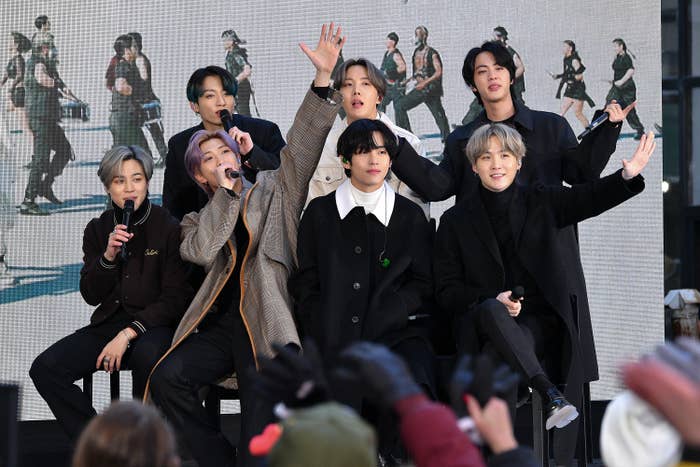 On Sunday, the Dallas Police Department asked people to send in "video of illegal activity" from the Black Lives Matter protests in the city through the iWatch Dallas app, where people can submit photo, video, or text tips about possible crimes. Instead, it received a flood of pictures and videos of K-pop artists.
In response to the tweeted request from Dallas Police, hundreds of K-pop fans replied with photos and videos of their favorite artists. Many people also claimed to have submitted videos of the police harming protesters, as well as fan edits of K-pop artists, to the iWatch Dallas app.
Within hours of the original tweet, the Dallas Police Department followed up with a tweet that the iWatch Dallas app was down temporarily "due to technical difficulties." (K-pop fans confirmed they too were having difficulties submitting to the app.) Hundreds of people subsequently replied to this Dallas PD tweet with memes and videos of K-pop artists.
Protests against police brutality have swept through the United States this week, with major demonstrations happening in Minneapolis, New York, Washington, DC, Los Angeles, Oakland, and Dallas. Police have often escalated peaceful protests and lashed out violently. In addition to the streets, protesters have also begun taking action online.

Dozens of people submitted one-star reviews to the iWatch Dallas listings on both the Google Play Store and iOS App Store. Many people used their reviews to say Black Lives Matter and call for justice for George Floyd.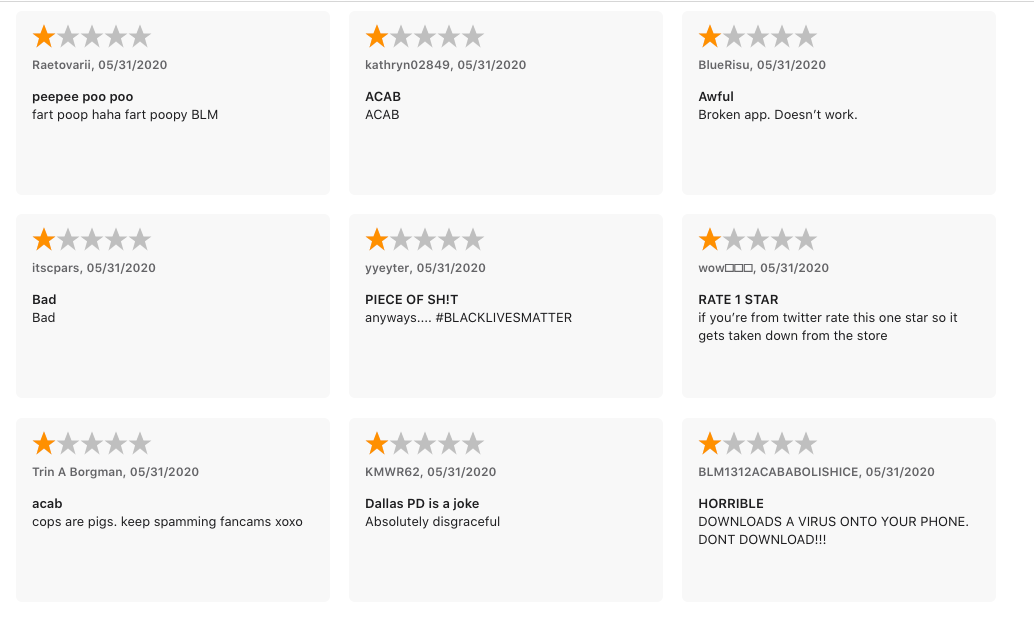 It's unclear if K-pop fans from Twitter overwhelmed the app with traffic, causing it to stop working, or if the police department simply wanted people to stop submitting photos and videos through the app. The Dallas Police did not immediately respond to a request for comment.

The digital protest started when a tweet from Twitter user @7soulsmap, which showed a screenshot of the original Dallas PD tweet, got retweeted thousands of times. A few hours later, @7soulsmap responded to their own tweet with a video and said, "If y'all post this one on their app I'll send you a $1, I promise."
"DOWNLOAD THE APP AND SEND ALL YOUR FANCAMS!!!" Twitter @ngelwy said in the now-deleted quote tweet of @7soulsmap. "SEND THEM ALL!!! MAKE THEIR JOBS AS HARD AS POSSIBLE!!! GET THEM FRUSTRATED!!! MAKE THEM TAKE DOWN THE APP!!!"

Hundreds of people responded to the @7soulsmap tweet, and several people shared screen recordings uploading K-pop videos to the iWatch Dallas app. User @ngelwy later apologized for encouraging people to download the app and encouraged people to delete it, noting that the app asks for a user's location before they submit a tip.
If a user tries to submit a tip without sharing their location, the app displays an error message that says "User is not registered."
@7soulsmap, who declined to be identified by name, told BuzzFeed News that they are happy with how people responded to their tweet.
"I feel like many people share the same sentiments in regards to how they view excessive use of force by law enforcement with protesters and how the general trust in them from the public has withered," @7soulsmap said. "Black Lives Matter PERIOD."
@7soulsmap added that many people who talked about submitting photos and videos of police brutality also noted that they would censor the faces of protesters from these uploads.
Police departments around the country often have access to a variety of surveillance tools that can be used to target protesters. The Minneapolis Police Department, for example, has used the facial recognition tool Clearview AI — which scraped billions of photos of people from social media to power its face-matching algorithm — more than 160 times. Facial recognition could be used to identify protesters depicted in pictures or videos posted on social media, or captured on CCTV cameras or home surveillance cameras, like Ring.
"I'm happy to see how many people are willing to help the protesters keep their identities hidden and stay safe," @7soulsmap said.