Morning Update: How The White Nationalists Lost This Weekend
Omarosa released a secret recording of her White House firing, the latest on the Seattle airplane crash, and the new season of "Insecure." Your BuzzFeed News newsletter, August 13.
Just a few white supremacists showed up for the "Unite the Right" rally in Washington, DC, on Sunday

Scores of white supremacists were expected to descend on the nation's capital this weekend for the anniversary of the first "Unite the Right" rally. In the end, only a small group turned out and were engulfed by a swarm of counterprotesters, police, and press.
Jason Kessler, the rally's organizer, led a group to Lafayette Square, where they were met with boos and screams from the crowd gathered nearby. He blamed others in the far-right for low turnout, as well as fear after the violence seen at last year's event in Charlottesville, Virginia. Either way, some reporters estimated that fewer than 20 white supremacists turned up.
Last year's explosive "Unite the Right" rally in Charlottesville began with people marching with tiki torches and chanting Nazi slogans, and devolved into violence the next day, leaving dozens injured. A white supremacist drove his car into a crowd of people protesting the rally — killing 32-year-old counterprotester Heather Heyer.
Meanwhile, Virginia declared a state of emergency ahead of the rally's anniversary. On Saturday, more than 200 anti-fascist protesters gathered in Charlottesville.

So what do we make of this weekend's poor turnout? While American racism may never die, it's an indicator that the alt-right and its goony tactics seem to be waning, writes BuzzFeed News' Blake Montgomery.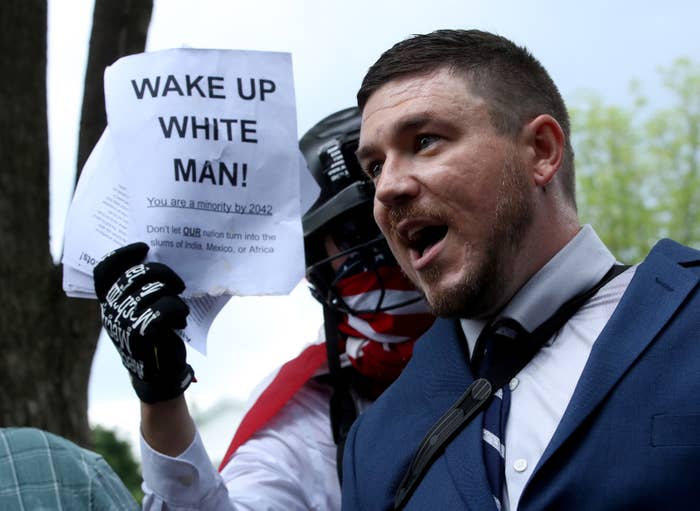 SNAPSHOTS

Omarosa Manigault Newman released a secret recording of John Kelly firing her from the White House. Trump's former aide on Sunday released the audio, which she says is of the chief of staff speaking to her inside the West Wing's Situation Room, saying he wants to make it a "friendly departure" that won't cause any "difficulty in the future relative to [her] reputation." Manigault Newman said that she perceived Kelly's statements as "an obvious threat," adding that she recorded the conversation to protect herself.
Kellyanne Conway seemed surprised when asked who the most senior black Trump aide is now that Omarosa's gone. During an interview with ABC's This Week, Conway was asked to name the most prominent, high-level black aide to the president following Omarosa's dramatic ousting from the White House. At first, Conway brought up Housing and Urban Development Secretary Ben Carson, the sole black member of Trump's cabinet, and then it honestly all went downhill from there.
The man who stole a plane from Seattle Airport and crashed it was a baggage handler. Richard "Beebo" Russell has been identified by colleagues as the airline employee who took a commercial plane Friday night, attempted to perform two stunts in the air, and then crashed after being chased by two fighter jets, killing himself. Russell, 29, who was a ground services agent, told air traffic controllers he was "just a broken guy" with "a few screws loose." Alaska Airlines says there were no other passengers or crew aboard the aircraft.
A jury has awarded nearly $290 million to a man who says a popular weed killer caused his cancer. In a verdict announced Friday, the jurors ruled in favor of Dewayne Johnson, a former groundskeeper for a San Francisco Bay Area school district, saying that agrochemical giant Monsanto caused him harm by failing to adequately warn about the potential dangers of using its popular weed killer Roundup.
Containers filled with donations for Puerto Rico hurricane victims have been found rotting in a parking lot. At least nine shipping containers that were meant to be sent to people affected by Hurricane Maria sat for almost a year in a parking lot, where contents rotted and were contaminated by vermin.
A grieving orca has finally let go of her dead calf after carrying it for 17 days. The mother orca caught the world's attention last month after carrying her baby's body on her nose. A thousand miles later, she finally dropped the decomposing body in the water, the Center for Whale Research said in a statement Saturday. The good news: She is now in good spirits now that her grieving is over, according to the center.
An Instagram star's cookbook has been recalled by the publisher after critics said its recipes could be dangerous. Rodale Books has pulledJohnna Holmgren's first cookbook, which included recipes using wild berries and mushrooms that experts say could be dangerous. Holmgren, known as Fox Meets Bear, is an influencer and lifestyle blogger known for chronicling her life in the woods with her husband, a chalk artist named Max, and their three daughters. She released her first recipe book in May, including recipes using food that readers can forage for in the forest.
THE AFTER-SLAY
The third season of Insecure starts today, and it's going to be all about new beginnings. The latest season of Issa Rae's hit HBO comedy will revolve around two characters, neither of them named Lawrence. (I'd say sorry, but Issa's not sorry.)
If you're looking for a place to talk about all of her drama, make sure to join us for Hella Opinions, a new show hosted by BuzzFeed News' Sylvia Obell, which, much like the show that inspired it, will be unapologetically black and culturally aware, and will feature conversations with some of the biggest and most influential voices on Black Twitter as they sip a glass of wine, whiskey, or cognac — depending on the craziness of each episode — and dive into the week's hot-button issues.