Guess Which Celebrity The President Is Now Attacking On Twitter
Trump said the actor has "received to many shots to the head." (That would be too*.)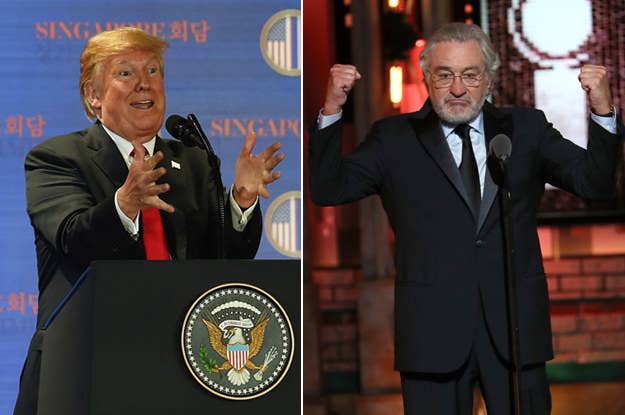 President Donald Trump might be catching up on his DVR now that he is back from his historic summit with North Korean leader Kim Jong Un in Singapore.

Because on Tuesday the president lashed out via Twitter at Robert De Niro, who cursed him out during the Tony Awards on Sunday, calling the actor a "very low IQ individual" and giving the actor a Trump-trademark nickname: "Punchy."
De Niro surprised the Broadway awards show when he suddenly and repeatedly declared, "Fuck Trump," before introducing Bruce Springsteen, eliciting a thunderous standing ovation from the audience.

Two days later, while on board Air Force One while returning from Singapore, Trump returned the insult on Twitter, saying that De Niro must have taken "to [sic] many shots to the head by real boxers in movies" and that the actor "may be 'punch-drunk.'"
"Robert De Niro, a very Low IQ individual, has received to [sic] many shots to the head by real boxers in movies. I watched him last night and truly believe he may be 'punch-drunk,;" he wrote.
"I guess he doesn't...realize the economy is the best it's ever been with employment being at an all time high, and many companies pouring back into our country," the president tweeted. "Wake up Punchy!"

Roughly 12 hours later, on Wednesday morning, he appeared to have deleted the tweets and put out them again, this time with the typo corrected.
Although De Niro has criticized the president before, he did not elaborate or offer any kind of explanation for Sunday night's outburst.

Instead, once the audience had calmed down, De Niro segued right into his prepared — and expletive-free — introduction of Bruce Springsteen, which was still tinted with a political message.

Last week, De Niro also lambasted Trump's leadership while addressing high schoolers at a writing awards ceremony. And during another awards show in January, the actor called Trump a "fucking idiot" and a "fucking fool." He also dubbed him the "jerk-off-in-chief."
This is the second time the president has used his Twitter to mock an actor who appeared in the 1978 movie The Deer Hunter, having previously blasted Meryl Streep as "one of the most over-rated actresses in Hollywood" after she criticized him at the 2017 Golden Globe Awards.