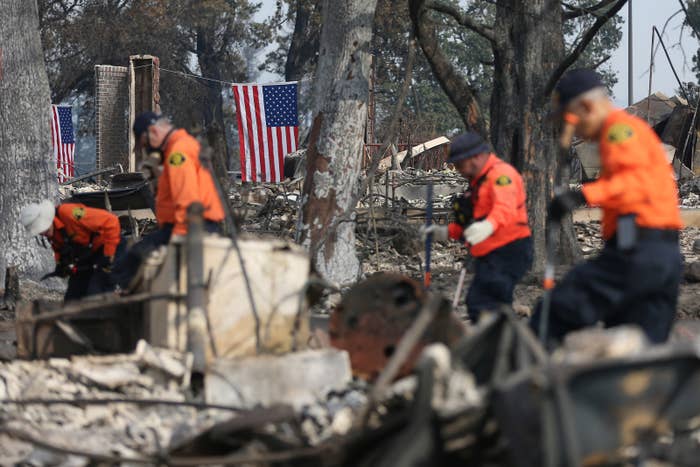 After an extensive investigation, California fire officials announced Thursday that private electrical equipment located next to a home tucked in the woodsy hillsides of the state's wine country sparked one of the deadliest and most catastrophic blazes in state history.
The Tubbs fire roared through Napa County and into the city of Santa Rosa on the dry, windy night of Oct. 8, 2017, killing 22 people and setting a terrifying new precedent for California's unpredictable fires.
Thursday's announcement that PG&E's equipment was not responsible for the fire came as a surprise, given that the state's largest public utility has been responsible for a spate of destructive, deadly fires that have ripped through California over the past several years, sending the company to the brink of bankruptcy.
Investigators from the California Department of Forestry and Fire Protection, also known as Cal Fire, concluded that the fire erupted at an unoccupied house on a rural, oak-shrouded property. PG&E equipment and private electrical systems were both on the property, according to Cal Fire's report, but officials said that private poles connected to the older residence started the blaze.

"During my investigation, I eliminated all other causes for the Tubbs Fire, with the exception of an electrical caused fire originating from an unknown event affecting privately owned conductor or equipment," Cal Fire Battalion Chief John Martinez said in the report.
Driven by rapid, strong winds and bone-dry temperatures, fire soon ravaged neighborhoods in Napa County. By 1 a.m., suburbs on the outskirts of Santa Rosa were up in flames as authorities scrambled to try to evacuate thousands of panicked residents, trapping many in their cars as people tried to escape the burning streets all at once. Flames consumed entire subdivisions, fast-food restaurants, a mobile home park, schools, health centers, and a slew of businesses.
Vicky Royer, who says she and her husband "ran for our lives that night," told BuzzFeed News that she is "disgusted" by Cal Fire's conclusion.
"I find it extremely suspicious that PG&E threatened bankruptcy and all of the sudden they are not at fault," the 55-year-old said. "It's appalling. PG&E has failed to do the necessary upkeep on the power lines all over California. There are still trees hanging over power lines all over this area — still!"
The retired couple used to live in the Santa Rosa's Larkfield neighborhood where she and her husband, a retired captain with the Novato Fire Department, lost all of their memories and belongings in the fire.
"We lost everything we own. All our grown children's baby books, my husband's family bible, my car, his Class A fireman's uniform, my wedding dress," she listed off. "We will never recover financially and will never be able to 'go home again' and it's just very disappointing that PG&E was allowed to get away with this."
The fire, one of 170 different blazes that burned across Northern California that October, left 24 people dead, including two firefighters, torched 36,807 acres, and 5,600 buildings. During that period in autumn 2017, fires across the region killed 45 people and destroyed more than 9,000 structures.

Cal Fire investigators have found that PG&E's equipment started 17 of the fires that ravaged Northern California that October. In 11 of them, the utility faces criminal charges. Officials are still probing whether the company is responsible for the horrific Camp fire, which killed 86 people in Butte County this past November and was one of the world's costliest disasters last year.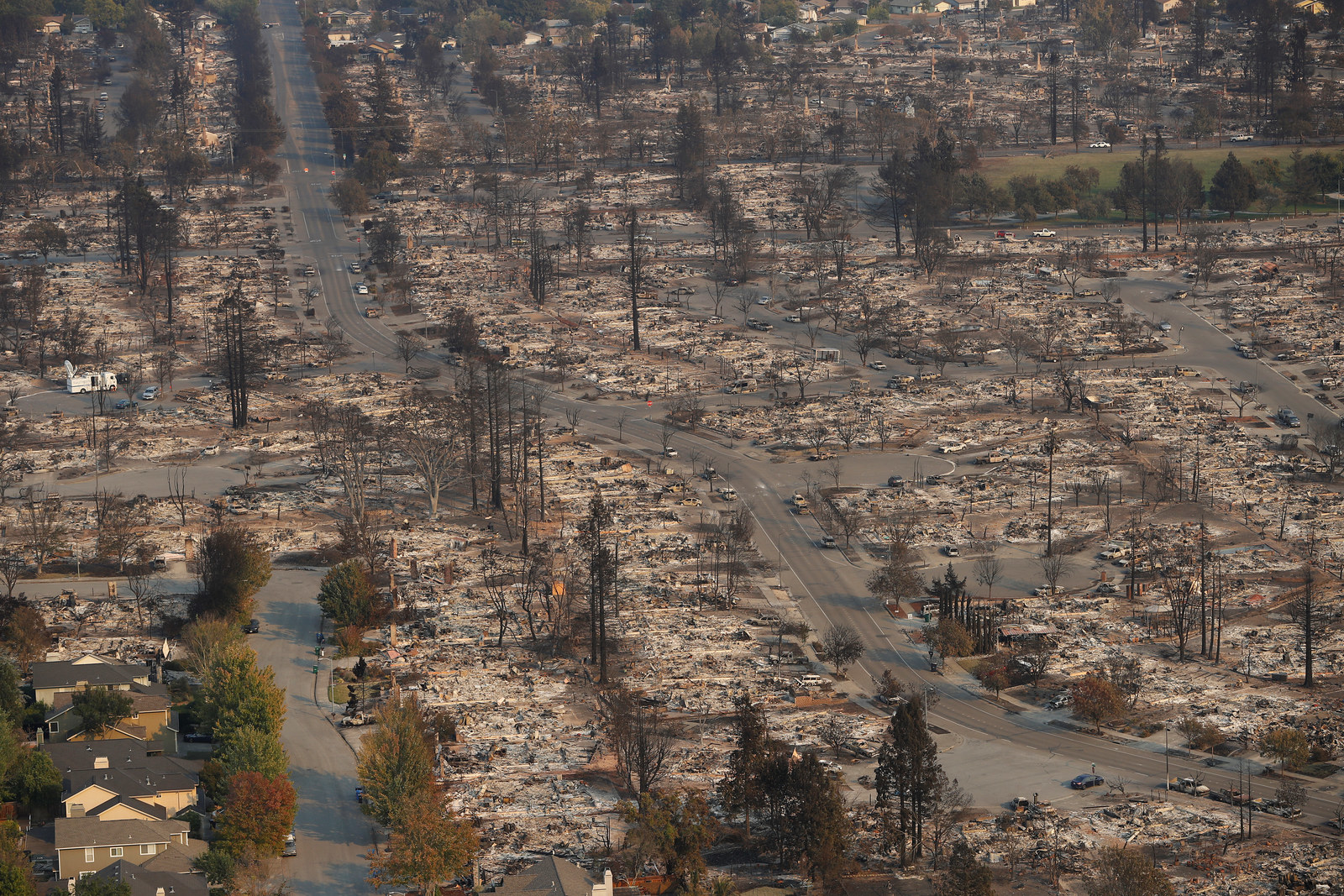 PG&E provides services for about 40% of households and businesses in the state.
Earlier this month, the utility announced that it was filing for bankruptcy, unable to survive the mounting lawsuits, nearly 800 filed so far from fire victims, $30 billion in liabilities, and potential criminal charges, including murder. However, the company had contended for months that its equipment was not at fault for the deadliest of the Northern California blazes.
Speaking to reporters after the news Thursday, the state's newly appointed governor, Gavin Newsom, said that PG&E's clearing removes about $17 billion from the $30 billion the utility outlined that it would be responsible for in its bankruptcy plans. Addressing Tubbs fire victims, the governor said he understood that many will now have concerns about getting compensated.
"I imagine you're going to hear a lot of folks question aspects of this, and they're going to be concerned and filled with some anxiety. We have to be sensitive to that," he said, adding that he expects some residents will challenge the report.

In response to Cal Fire's findings, PG&E stated that it was still "focused on helping affecting communities recover and rebuild."
The company has since ramped up its fire prevention efforts, erecting a 24/7 center to monitor threats, widening its vegetation management regulations from four to 15 feet around poles, and installing 100 weather stations since January in high-risk areas to better predict fires.

"Without question, the loss of life, homes and businesses during these devastating wildfires is heartbreaking," the company said in a statement Thursday. "The safety of our customers and the communities we serve is our most important responsibility, and we are committed to assessing our infrastructure to further enhance safety and help protect all of the customers we serve from the ever-increasing threat of wildfires."
CORRECTION
The name of the California Department of Forestry and Fire Protection was misstated in an earlier version of this post.